At one time, the United States was the centre of watchmaking for the world. In the hey-day of industrial, volume watchmaking, the famous names of Hamilton, Ball, Elgin and others were the leaders in watchmaking innovation and production. At that time, the Swiss were eager to learn from the Americans. Unfortunately, true watchmaking has been absent from the United States for quite some time.
Roland Murphy, President, RGM Watch Company, is out to change that with his new manufacture movement. "When you are a watchmaker, your goal at some point is to make your own movement or your own complication, something of your own design when it comes to the mechanics of the watch," he explains. "We have done complications over the years, but I always wanted to do my own movement, here in Lancaster County, Pennsylvania. I wanted to start off with something very traditional and classic. The bridge design I took from an early Howard design from 1915, the same with the winding click which is similar to American watches from the same period."
Murphy's company is located in Mount Joy, Lancaster County. Those who know their watch history will recognize Lancaster as the birthplace of Hamilton Watch Company.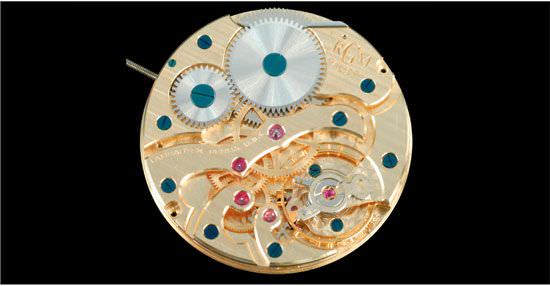 CALIBRE 801


"We are making the bridges and the entire mainplate here in Lancaster County," Murphy details. "We are making several winding and setting parts, along with a number of specialty springs and screws. We do use some Swiss parts, because the infrastructure of the watch business is no longer here in the United States.
"We have only made ten movements and we are doing it on a custom basis,"he continues."When we have an order, we finish the movement to the customer's desires. Right now, we have 100 more sets of parts in production. For 2008, we are looking at making and finishing between 80 -100 units. It's a very small and specialized production. There's a lot of hand work in each watch, and it is all done here."







Murphy plans to use this new movement as a foundation going forward for other complications that he will build in Mount Joy. "This is really exciting to have our own manufacture movement, and I plan to build on it and improve on it," he says. "We have a beautiful, solid mechanism. Eventually, we will probably build a second movement."
The new movement is called Calibre 801, because RGM's address is 801 West Main Street, in Mount Joy.

For further information, go to www.rgmwatches.com


Source: Europa Star April-May 2008 Magazine Issue