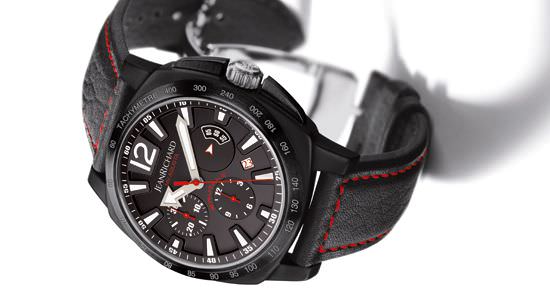 Chronoscope MV Agusta Brutale Nera Watch
JeanRichard has had a relationship with Italian boutique motorcycle maker MV Agusta (now owned by Harley-Davidson) for a few years now, and its range of motorcycle-themed watches have been well received by markets worldwide.
This year, JeanRichard introduces a new watch in the Brutale range, within the brand's Chronoscope collection.
In the same tradition as the models introduced in 2008, the Chronoscope MV Agusta Brutale Nera takes inspiration from the characteristic elements of the Brutale motorcycle. The generously-sized case (43 x 43 mm) is entirely covered in rubber, while the stamped dial mimics the design of a motorcycle wheel rim and is composed of a single element with a raised chronograph and markers to accentuate the dial's depth.
The chronograph's counters reflect the sporty aesthetic of the instruments on a motorcycle dashboard. The subsidiary seconds located at three o'clock, with its turning disk and Arabic numerals, adds to the watch's aggressive visual design. So do the touches of red on the dial. the bezel, the pushbuttons and the transparent back which are all PVD titanium. A tachymeter was added to the bezel. The watch comes with JeanRichard's famous hand-decorated manufacture movement JR1000, which can be admired through the smoky transparent back decorated with the MV Agusta logo.
The watch's finishing touches include the crown as well as an engraved titanium plate. The push-buttons were designed to fit the shape of the case, making the watch extremely comfortable to wear. the calfskin watchband has visible red stitching and is attached to the case using a special insert. This watch comes in a limited series of 290 numbered watches.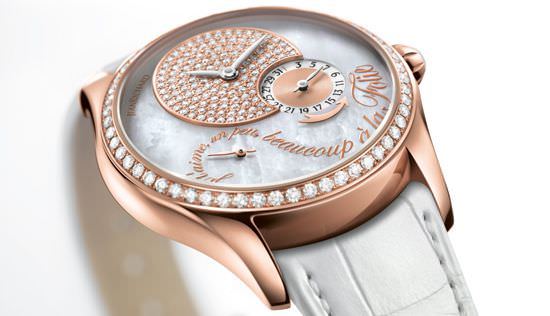 Lady Juliette
The Bressel Lady 'Juliette' achieves an idyllic blend of time and emotions - displayed across its elegant white mother-of-pearl dial is a sentimental flourish, "je t'aime, un peu, beaucoup, À la folie..." winding its way past the subsidiary seconds at seven o'clock and the power reserve at 4.30 o'clock. The small hour and minutes dial located at 12 o'clock is illuminated by a pavÉ path of 127 diamonds, separating itself from the sentimental hand-written letters.
The heart of the timepiece houses the JR1000 movement which powers the watch's sophisticated time display. The JR1000 movement can accommodate a variety of modules allowing the watchmaker broad independence in terms of designing complications. This allows JeanRichard to pursue its philosophy of 'reinterpreting time' and contribute its fresh perspective to the watchmaking universe by creating innovative, bold and contemporary products.
Inspired today by the avant-garde spirit of Daniel JeanRichard, considered one of the founders of the watchmaking industry in Switzerland's Neuchatel region, JeanRichard honours its namesake with its Bressel collection, named for a small village near La Chaux-de-Fonds where the watchmaker was born.
JeanRichard confirms its contemporary originality by enriching its Bressel Lady collection, adorning it with 18 carat pink gold on the case, with 58 diamonds on its bezel and with a sapphire cabochon on its crown. These harmoniously united elements are what give this timepiece its romantic architecture.


Source: Europa Star December-January 2009 Magazine Issue