Fifteen years ago, A. Lange & SÖhne entered the scene with the Lange 1, thus marking the return of Germany onto the world stage of prestige watchmaking. With its off-centred displays, its large date and the quasi-puritanical classicism of its double-barrel, manual-winding movement, the Lange 1—gradually becoming a family of six different models—has without a doubt become the emblem of the Saxon company. In fact, the brand's other creations have never succeeded in equalling its recognition.
Recently, the Zeitwerk (winner of the Aiguille d'Or (Golden Hand) at the Grand Prix d'Horlogerie in Geneva) demonstrated that A. Lange & SÖhne intends to develop new design directions by moving away—not from classicism—but from traditional displays. In this vein, the digital display, as successful as it is, remains in a very special niche. Nothing can really replace the intuitive reading of time by a set of hands.
Thus, it is with a new 'motorization' of its bestseller, made automatic for the first time, that the German company is taking a breath of fresh air after the departure of Fabian Krone and his 'tutelage' under JérÔme Lambert, moreover the CEO of Jaeger-LeCoultre.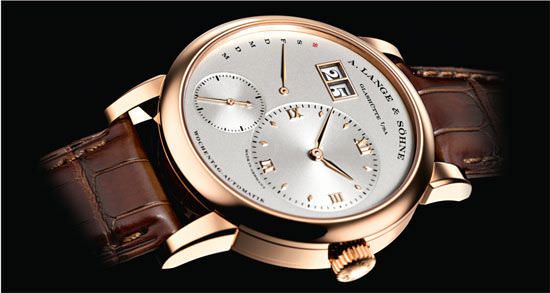 So, we now find the Lange 1 nearly like it was. The new Lange 1 Daymatic, however, beyond its new automatic movement, is innovative in a number of points. The arrangement of its dial has been revisited, with the hour and minute now placed—a question of ease of reading—on the right side of the dial. The famous large date has moved to the left as has the small seconds display. The power reserve indicator—less indispensable on an automatic—has been replaced by a day of the week hand.
The watch's case—in rose or yellow gold or platinum—has grown by a millimetre (now 39.5mm) in keeping with today's tastes. The 31.6mm movement is wound by a large rotor with a platinum perimeter, giving a power reserve of 50 hours. As for the rest of the movement, the brand has not spared any attention to detail and we find all the superlative artisanal finishings that have earned A. Lange & SÖhne its fine reputation.


Source: Europa Star December-January 2010 Magazine Issue