The use of crystal in all its shapes and sizes has become increasingly popular in wristwatches over the last few years, and we are not only talking about sapphire crystals to cover dials, but bezels, cut stones and even bracelets can all be found in this magical material. So it was no surprise when one of the most famous names in crystal, Swarovski, announced that it would be presenting its own watch collections to accompany the crystal jewellery and objects that have made the brand so famous.
One year after the inauguration at BaselWorld, Europa Star caught up with Robert Buchbauer, Member of the Executive Committee and part of the Swarovski family, to see how business had been and what is planned for 2010. "Our first Watches Collection benefited from a very positive welcome, which proves that we found the perfect balance between Swiss-made watchmaking and Swarovski's DNA," he explains. "The development of the segment followed our expectations which is encouraging in the current context."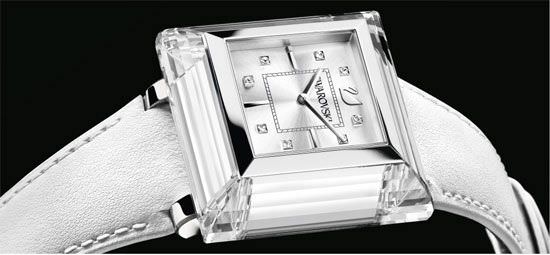 ROCK'N'LIGHT


One of the major attractions of Swarovski, apart from the amazing savoir-faire the company has in the art of cut crystal, has been the irresistible prices. When other companies are pricing crystal timepieces much, much higher, it is perhaps astonishing that Swarovski didn't decide to follow suit. "Our price positioning is in line with our global price policy," shares Bauchbauer, "it reflects the high technical quality of our watches as well as the know-how and heritage Swarovski has been constantly renewing for 115 years now. It is important for us to express our 'Modern Lux' philosophy by offering affordable watches."
So what is new for BaselWorld 2010? "We have several very different lines which all fit a specific mood, moment and occasion. The Rock'n'Light is the most daring piece of the collection, to this extent this watch is very exciting. By playing with spectacular volumes, Swarovski once more has achieved the most precise and expert work with a cushion cut crystal made up of 32 perfectly straight, symmetrical facets…I am very enthusiastic about the brand-new DressTime line. It's feminine and elegant design clearly embodies Swarovski's heritage and jewel spirit. I would also mention the recoloured Octea Sport as part of my 2010 favourites. The initial version met a huge public success, so we felt natural to interpret this easy-to-wear yet stylish watch with a bright orange and a vibrant red rubber bracelet," shares Bauchbauer.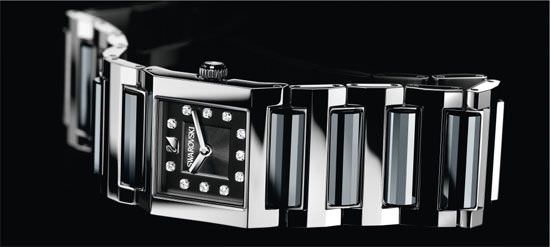 DRESSTIME


Watches are clearly a priority for Swarovski as the company expresses its craftsmanship, creativity and expertise in cutting crystal in this new art form. So for retailers looking for the ultimate in crystal watches.


Source: Europa Star April - May 2010 Magazine Issue