Ernst Benz this year introduces new limited editions, one in the ChronoDiver and the other in the ChronoScope collection.
The Chronodiver Chronograph Limited Edition uses Ernst Benz's signature 47-mm case in brushed stainless steel and black PVD. Powered by a Valjoux 7750 automatic movement, this impressive timepiece is available in four dial executions, limited to 250 pieces each: black mat dial with white luminous numerals, black mat with orange luminous numerals, black carbon fibre with white luminous numerals and black carbon fibre with orange luminous numerals. All versions are highly readable and unique in their design, instantly recognizable as an Ernst Benz timepiece.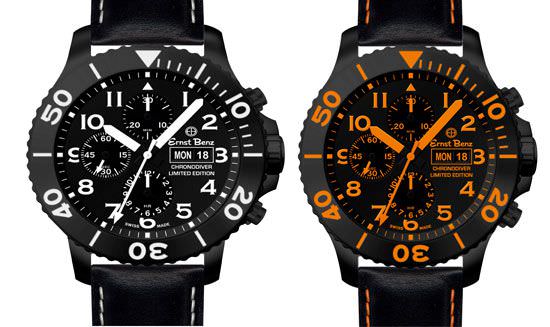 PVD CHRONODIVER


"The new PVD ChronoDiver is our latest creation in our continual efforts to develop and manufacture timepieces that reflect the spirit of aviation instrumentation, the art of watchmaking and the vision of the founder," says Leonid Khankin, Managing Director, Ernst Benz. "The Black mat PVD finish of this new interpretation of the ChronoDiver we released just two years ago closely resembles the original aircraft gauges Ernst began producing nearly 50 years ago. Adhering to our basic design principal for legibility; the dial, hands and, uniquely, the external bezel are treated with either white or orange luminosity. This model reflects the spirit and history of Ernst Benz timepieces, bringing together all the components which are symbolic of Ernst Benz."
In addition, Ernst Benz continues with the ChronoScope PEK Limited Edition, dedicated to the city of Beijing (Beijing's airport code is PEK) and perfect for the Chinese year of the Tiger, which debuted on February 14, 2010. This ChronoScope PEK Limited Edition series will be available in the 47-mm ChronoScope case with two different dial executions, Noir (Black) and Vermilion (China Red), with both versions limited to only 88 pieces hand-finished in brushed stainless steel. Additionally an even more limited version of only eight pieces per dial will be available in Black PVD (Physical Vapour Deposition) coated rushed steel. Both unique dials incorporate Traditional Chinese characters for the numerals.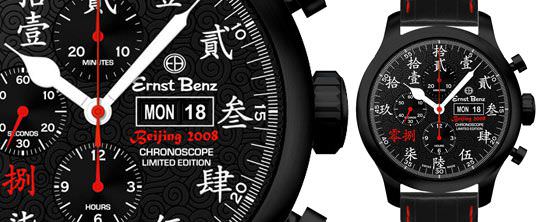 CHRONOSCOPE PEK LIMITED EDITION


In designing this timepiece, inspiration was found in Chinese numerology and the number eight, a continuous and perfectly symmetrical number that is a sign of prosperity and wealth in Chinese culture. With the design and aesthetics of this particular timepiece, Ernst Benz honours the magnificent past and brilliant future of Beijing.


Source: Europa Star April - May 2010 Magazine Issue