This year, Luminox dives deep, introducing the Deep Diver, a timepiece water resistant to 500 metres and using an automatic helium release valve. Long in development, this watch meets the specifications required to be designated a dive watch (ISO 6425).
Though many companies make watches with 200 metres water resistance, 500 metres is a different animal, altogether, requiring thicker sapphire crystal, thicker case backs and, since steel deforms at 500 metres, more robust overall case construction. In addition, Luminox developed a patent pending Bezel Locking System, which prevents the bezel from changing position.
The special 45mm Deep Diver timepiece is produced in limited quantities, as more tests are done and more time is required during the production process, with each watch individually numbered. The watch comes in a specially-designed, water resistant box, which can be used to store gear like the diver's mobile phone and camera more safely while on deck.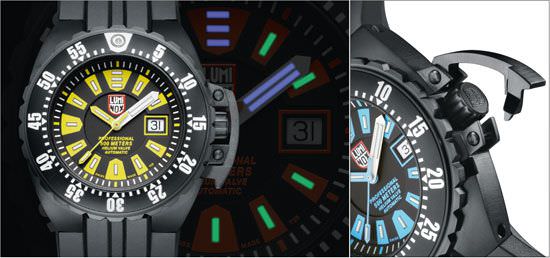 DEEP DIVER


Luminox goes racing with Tony Kanaan
Tony Kanaan, the IndyCar Racing League champion driver, was thinking about designing a watch, so he turned to Luminox.
The Luminox designers worked closely with Kanaan to make a brand new timepiece, creating a new sandwich case that will be the platform for all Tony Kanaan watches moving forward. At each step of the design and production process, Kanaan approved every aspect of the timepiece, from the overall design to the many small details.
The first timepiece, a limited edition of 500 pieces, will prominently feature Kanaan's signature colours, bright blue and orange. Individually numbered, this Swiss Made quality chronograph has a black PVD steel top affixed with six satin-finished screws, a black steel bottom and a black carbon fibre middle section, a nod to the high tech materials in IndyCar Racing. The numbers on the black dial are in Kanaan's orange, while bright blue marks the chronograph sub dials.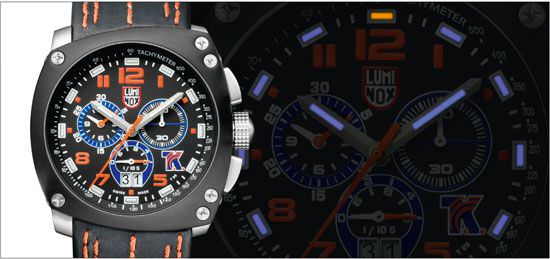 TONY KANAAN WATCH


"At Luminox, we are delighted to be working with Tony Kanaan," said Luminox President Barry Cohen."It's an honour for a Luminox timepiece to be part of his essential gear. Having him so deeply involved with the design was a true pleasure and we look forward to developing this partnership in the years to come."
The asymmetrical and oversized case, 44 mm, is a real departure for Luminox, the perfect way to mark the brand's first foray into big-time motor racing. The partnership with Kanaan is no one-shot deal, either. Plans are already in the works for three future Tony Kanaan-themed timepieces.
"It was a wonderful experience for me to work on the design and so many details of my watch," Kanaan said. "Design, performance and precision - I almost feel like my new Luminox watch is a part of me when I wear it."


Source: Europa Star April - May 2010 Magazine Issue