Opening IceLink's press kit triggers a questioning double take. We are so used to the 6TimeZones, rectangular collection, with all its 'ice', that this new round timepiece is quite a surprise.
Once over the initial astonishment, we start to discover the curved lines and spirited design of this new round timepiece that the brand has imaginatively christened Mood. This isn't the first round collection that the Los Angeles based company has created, there is also a round-shaped Premier collection; however this daring new Mood collection seems to better follow in the DNA footprints set down by the 6TimeZones Collection with its strong design, bold dials and great use of the IceFuel© technology.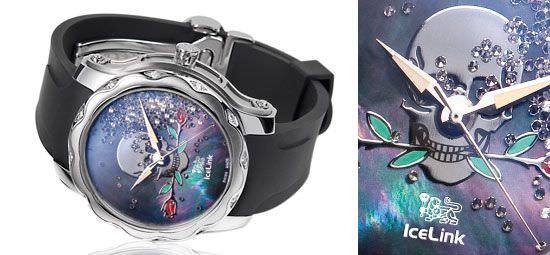 IceFuel© is a dense liquid which is mixed with diamonds, precious and semi-precious stones and is injected into the case, allowing the gems to float around the dial in their own timeless motion, following the rhythm of the wrist that moves them. It was first used in one of the small windows of the 6TimeZones Snow models and is now displayed in all its glory across the whole of the dial of each Mood timepiece. "I'm very happy to present this new collection the Icelink Mood," shares Andy Sogoyan, IceLink's Founder and CEO. "It takes the IceFuel© innovation a step further and proudly states: Life's too short - Shine".
There are four different moods to choose from: Discretion and elegance with the Mood All Black, dream and innocence with Mood Wings, sensibility and vision with the Mood Eyes and dynamism and rebellion with the Mood Skull. Each model is available in steel or PVD with a black or white rubber strap. IceLink also offers a choice of quartz or automatic movements for this new collection and each watch is water resistant to 30 metres and has a five year guarantee.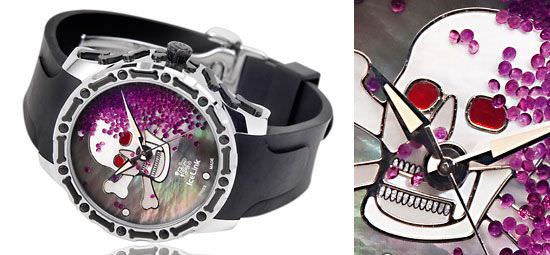 Source: Europa Star April - May 2010 Magazine Issue