There is nothing like a good splash of colour to cheer us up. So what a delight it was to discover Philip Stein's new Fruitz Collection with its 24 bright and sunny flavours. However there is more to the Fruitz collection than a cheerful colour, this watch collection also claims to boost energy levels, reduce stress, increase concentration and improve sleep - not bad for a watch!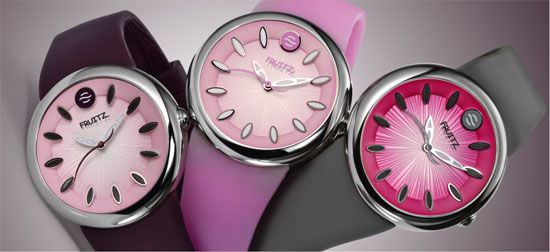 BALCKBERRY


The Fruitz Collection is equipped with the Philip Stein's proprietary Natural Frequency Technology that was introduced in 2008. It works thanks to a metal disc inside the watch that has been infused with key frequencies (7-9 hertz) corresponding to the chief resonant frequency of the earth. When worn on the wrist, the watch emits frequencies to the body's biofield that are harmonious and grounding, resulting in a variety of physical benefits.
Philip Stein wanted to create a new sporty collection that would appeal to a broader public at an affordable price. "We thought about the natural frequencies and decided to do something fun, colourful, full of vitamins and antioxidants," explains William Stein, President. "As the essential vitamins in fruit nourish your body, the technology in Fruitz watches provides essential natural frequencies which offer positive effects on the wearers overall sense of well-being." There are 24 fruity models whose dials depict the cross section of a fruit - everything from watermelons to oranges, blueberries to grapefruits, peaches to raspberries. Each dial is laser cut to show the different veins of the fruit and the indexes are raised seeds that add to the three dimensional effect. The 36mm watches come in gold-plated or steel cases with a three hand quartz movement and are fitted with a silicon strap in coordinating hues.
The principal market for Fruitz is currently the United States with the department stores Nordstrom, Neiman Marcus and Bloomingdales, however the brand is looking to expand into Europe and other markets.






LYCHEE


To see if the claims were true, I asked Philip Stein if I could personally test one of their Fruitz watches. The parcel arrived on the first day of the Geneva Shows so I was able to put it through its paces. It is difficult to know to what extent it worked, but I can honestly say that I have felt more relaxed, positive and motivated than usual. The design was also a huge hit as it was quickly spotted on my wrist by my fellow watch friends and colleagues. There is also a really cool website www.fruitzwatches.com to help customers choose which fruit they like best. So it definitely gets the Europa Star thumbs up!


Source: Europa Star April - May 2010 Magazine Issue