At the end of September 2004, Shanghai will be the meeting place for high-quality consumer goods manufacturers and dealers: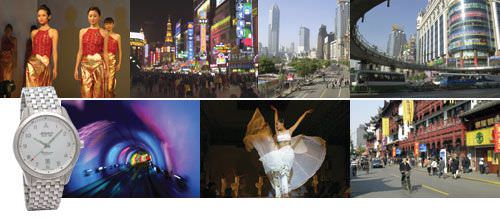 Watches and jewellery have their forum at Luxury China 2004.


Fashion China is the showcase for international fashion.
Both events will be held parallel to each other between 25th and 29th September 2004 at the Shanghai New International Expo Centre, China's exhibition centre with the most modern, international standards. In addition on 26th September, for the first time, Formula 1 motor racing will be held in China on Shanghai's new race circuit.
In a word: all those who feel a desire for luxury, will come together in the last week in September in Shanghai – a region with 100 million inhabitants, the highest per-capita income and consumption-orientated population in China.

Due to the heavy demand for high-quality watches and jewellery in China, for the first time, in September 2002, Messe München International in cooperation with its subsidiary IMAG, Messe Vicenza and the China National Arts & Crafts Corporation, held Luxury China – International Exhibition for Jewellery, Watches and Technology at the Shanghai New International Expo Centre. On the four days of the fair, around 7,000 buyers from the watch and jewellery sectors were registered, who came to view the product ranges presented by 286 exhibitors from 22 countries.

With the first Luxury China, the foundation was laid for the leading information and trade platform for this market segment in the world's largest market. The date of the second Luxury China (26th to 29th September 2004) directly follows the Jewellery & Watch Fair in Hong Kong, so that both events can be attended according to the motto "One Trip – Two Shows".

Luxury China combines several advantages for the manufacturers of watches and jewellery:


It serves as a market-entry platform for foreign manufacturers


It enables the further development of the sales network for companies already estab-lished in the market


It is an order event for companies with existing Points of Sale


It serves as a sector meeting place for manufacturers, buyers and distributors


With a general public day, it is a showcase for target groups with a high income, who want to inform themselves about the latest trends and international design.


As a media event with fashion shows and receptions, it serves the international manufacturers as a presentation platform for current models and collections.

At Luxury China, great significance is attached in particular to the watch segment. A separate hall is available for the international watch manufacturers with special presentation areas. Lecture events on current and trend themes are directly aimed at the Chinese watch market. Holders of the Inhorgenta Europe-GoldCard can also enjoy the advantages of this card for Luxury China.
In addition to the opening of the Chinese jewellery market to foreign companies - opening of the Shanghai Silver Exchange in June 2000, the Shanghai Diamond Exchange in October 2000 and the Shanghai Gold Exchange in October 2002; abolition of the trade barriers for the gold wholesale and retail trade, abolition of the import contingents – in recent years, the general framework has been created for the trade in foreign watches and the involvement of the foreign watch manufacturers in China:


In 2003, sales of watches and jewellery reached a total of 15.5 billion euros. Of this, the watch sector accounted for a sales share of 80% or 12.4 billion euros, an increase of 87% in comparison to 2002. The overall watch and jewellery market will probably grow by a further 15% in 2004.


In China, watches rank alongside an own flat and a car as a status symbol. In particular, watches from well-known Swiss brand manufacturers have become a status symbol for the White Collar Class and higher wage earners. A constantly growing target group for high-quality watches is China's million-aires. Between 1993 and 2004, the number of inhabitants with personal wealth worth more than one million US$ rose from about 500 to three million.


Even among the rural population, there are currently 1.6 watches to every family. In China, around 1.5% of income is spent on watches and jewellery. Although sales of domestic watches currently account for 70% of the Chinese market volume, they account for only 30% of sales.


According to the Federation of the Swiss Watch Industry, the export volume of Swiss watches to China (Mainland China) in January 2004 was 18.4 million CHF, the growth rate increased from 2002 to 2004 by a total of 225.5 percent. Since 2002, Hong Kong has been the largest customer for Swiss watches. In January 2004, the import volume was 108 million CHF. 80% of these imports are then sold on to China.

In many sectors, China is nowadays regarded as a market of the future. Economic performance and income are continuing to rise, luxury and western products are regarded as new status symbols. In 2003, the gross domestic product (GDP) was 1.15 billion euros and thus increased by 9.1% compared to the previous year. Due to the high private savings quota (250 euros) and changing purchasing habits, the Chinese consumer is becoming an increasingly important factor for many foreign suppliers. With China joining the WTO, the general conditions for locally-based involvement have improved considerably. An increasing number of sectors are being opened up for foreign suppliers and investors and the customs barriers are coming down.

In principle, the market in China is determined by tariff-based (customs) and non-tariff-based (certification) trade barriers. While import duties are levied on almost all foreign products, only 132 articles from 19 product groups are currently subject to obligatory certification. Watches and jewellery are exempt from this designation obligation.

Since autumn 2003, numerous measures aimed at the preparation and staging of Luxury China 2004 have been initiated in both Europe and China. In this connection, meetings were held in China with representatives of the customs authorities from Shanghai Pudong and the Shanghai Diamond Exchange Administration, which guarantees a perfectly smooth-processing of the import and export formalities for watches, jewellery and diamonds before and during the fair. Simplified import and sales conditions during and after Luxury China and direct sales to Chinese jewellers during the fair will be possible.

In the first quarter of 2004, a broad-based PR campaign was also launched in China, in which trade visitors in particular were also made aware of Luxury China. As a result of cooperation with China's leading trade journals - China Famous Watch and China Gold News – there are monthly reports on Luxury China, and exhibitors have the opportunity to publish editorial contributions free of charge. Companies which register in good time for Luxury China, can thus intensively publicize their trade fair participation.

Luxury China benefits both from the expertise of Messe München International, which the company has gained in over 30 years of staging Inhorgenta Europe, as well as from its many years of experience as a trade fair organizer in China and operator of the Shanghai New International Expo Centre. With Luxury China in Shanghai, Messe München International has thus created a forum which offers manufacturers and dealers an excellent platform, enabling them to become more familiar with the Chinese watch and jewellery market and to also develop and further consolidate business relations.

www.luxury-china.com

www.imag.de

Contact: [email protected]