The luxury goods industry faces unprecedented change. The pace at which a company identifies and acts upon changes in the marketplace will separate the future market leaders from the rest. With the introduction of the LGI Network's Retail Measurement Services (RMS) U.S. Fine Watch Market Annual report, broad and detailed consumer purchase information will become available to the industry for the first time. Access to timely information is critical to effective decision making. LGI's information is providing an alternative to the guessing and intuition-driven decision making brands, retailers and industry suppliers must rely on today. Each party will dramatically improve its decision making – leading to more efficient and profitable businesses. Companies that embrace the information that LGI provides will clearly gain a distinct competitive advantage

Measuring consumer sales
Watch brands and industry institutions such as advertising agencies, component manufacturers and industry analysts now have a new and powerful tool to help them make educated business decisions. There's finally a way to measure consumer watch sales in the United States. Utilizing monthly tracking data from over 3,100 U.S. retail outlets—including the biggest chains, prominent department stores, leading independent jewellers and smaller neighbourhood jewellers —LGI Network's Time Tracker™ service provides accurate, comprehensive retail activity data on fine watch sales based on over 2 million sales and inventory records processed in Time Tracker for 2003. This represents over US$ 1 billion in watch merchandise. The report, which covers watches retailing for at least US$ 150, includes the essential data manufacturers need to track how they performed this past year, which opportunities they missed, and what merchandising and industry trends they need to know to position themselves for a profitable 2004. It is now possible to be in a position to better understand the market and customize activities to take advantage of market changes. The report provides a snapshot of the customized data LGI's retailer and manufacturer clients receive from its monthly Time Tracker subscription service. It features statistics on total sales, unit sales, price points, regional preferences, materials, brand profiles and more—all meticulously cross-referenced for easy analysis.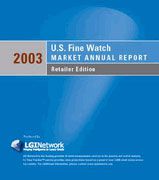 A portfolio of information
It also provides a portfolio of information services to help brands and retailers gauge product penetration, overall product performance, distribution, promotion effectiveness, and price sensitivity. Whether to address tactical decision making or to develop long-term strategy, Time Tracker™ provides essential information to its client subscribers on what is selling (models, styling, price-points, materials), where (geography and retail channel), and when.

Meticulously cross-referenced for easy analysis, the report content includes:
* Executive Summary
* U.S. Fine Watch Market Overview
* Distribution: Where Fine Watches are Sold
* Merchandising: Best-Selling Categories
* Retailing of Fine Watches: Relating What Sells and Where it is Sold
* Manufacturing
* Outlook: Questions Shaping the Future
* Brand Profiles

For further information:
www.lginetwork.com

At BaselWorld, information is available from the Europa Star Booth Hall 1.1 Stand A17