Sales of watches and jewellery in Great Britain amount to a good ¤6 thousand million every year. This figure makes Britain the world´s fifth-largest single market in the sector, after the US, Japan, China and Italy. Not surprisingly therefore, British retailers and manufacturers regularly put in a strong showing at Inhorgenta Europe, the EU´s leading specialist trade fair for jewellery and watches. 538 trade buyers from the UK came to the fair in 2004. And 21 British exhibitors – five more than the pre-vious year – came along to present their latest products to a trade audience of 27,076 visitors from 70 countries.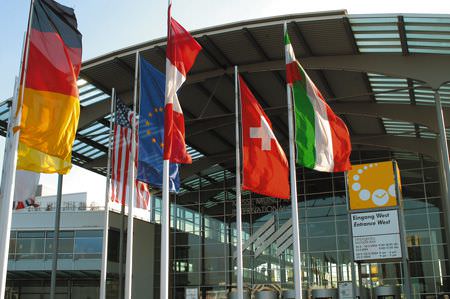 In terms of imports from the EU, jewellery from Italy, Germany and Spain has long had a dominant position in Great Britain. Exhibitors from these countries are traditionally among the strongest contingents at Inhorgenta Europe in Munich, as this is for them one of the most important watch and jewellery fairs. This presence is a main reason why British specialist retailers are keenly interested in Inhorgenta Europe.

According to Kathrin Schönke, De Beers LV Ltd., London, this sector event is: "one of the most exciting watch and jewellery fairs in the world. My main interest has been primarily in the enormous selection of platinum products. I was also particularly impressed by the many technical innovations on show at Inhorgenta. In addition, I find the whole infrastructure in the city of Munich very pleasant. That, I believe, is also a great locational advantage for the fair."

Maria Harper, of Jewellery by Design from Tiverton puts her finger on the difference to local fairs: "I am delighted by the tremendous atmosphere, the professional organisation and above all by the broad range of products and services on show in Munich. In my view Inhorgenta Europe devotes more space to innovations than fairs in our country, and it is more strongly focused on technology."

It´s not only the retailers from Britain that have discovered Inhorgenta Europe – British designers and jewellery manufacturers are also enthusiastic participants. In 2004 Noriko Matsumoto, a British jewellery designer, won the Inhorgenta Europe Innovations Award, presented each year at Inhorgenta Europe, by a high-ranking jury. "The range on show there in the jewellery area is unbelievably broad. For a young designer it is fascinating to face the competition in the framework of this fair," enthused Matsumoto.
For Matsumoto, the future looks as bright as it has turned out to be for the British winner of the Innovations Award in 2002, Gill Galloway-Whitehead, whose career rocketed after her first appearance at Inhorgenta Europe. Ms Galloway-Whitehead, who is now an honorary member of the British Crafts Council, points out: "The Inhorgenta Europe Innovations Award gave me a tremendous boost. And that has doubtless been helped by the many interviews in the international trade media, which came about as a result of the award."

Inhorgenta Europe in 2005 looks set not only to welcome a further increase in British exhibitors and trade visitors, but also a general increase in international participation. In particular as a result of the eastward expansion of the EU on 1 May 2004, the fair is poised to generate further interest and open up new market potential for all participants.

The Inhorgenta Europe 2005 will take place from 25 to 28 February 2005 at the trade fair grounds of the New Munich Trade Fair Centre.