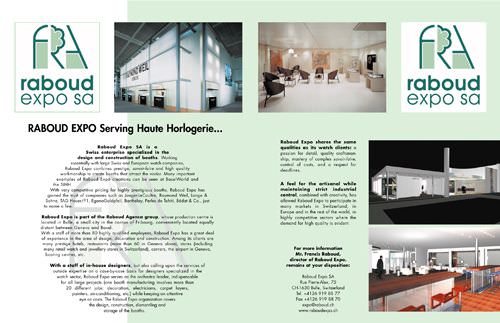 Raboud Expo SA is a Swiss enterprise specialized in the design and construction of booths. Working essentially with large Swiss and European watch companies, Raboud Expo combines prestige, savoir-faire and high quality workmanship to create booths that attract the visitor. Many important examples of Raboud Expo creations can be seen at BaselWorld and the SIHH.
With very competitive pricing for highly prestigious booths, Raboud Expo has gained the trust of companies such as Jaeger-LeCoultre, Raymond Weil, Lange & Sohne, TAG Heuer/F1, EganaGoldpfeil, Barthelay, Perles de Tahiti, Bédat & Co., just to name a few.

Raboud Expo is part of the Raboud Agenca group, whose production centre is located in Bulle, a small city in the canton of Fribourg, conveniently located equally distant between Geneva and Basel.
With a staff of more than 80 highly qualified employees, Raboud Expo has a great deal of experience in the area of design, decoration and construction. Among its clients are many prestige hotels, restaurants (more than 60 in Geneva alone), stores (including many retail watch and jewellery stores in Switzerland), corners, the airport in Geneva, boating centres, etc.

With a staff of in-house designers, but also calling upon the services of outside expertise on a case-by-case basis for designers specialized in the watch sector, Raboud Expo serves as the orchestra leader, indispensable for all large projects (one booth manufacturing involves more than 20 different jobs: decoration, electricians, carpet layers, painters, air-conditioning, etc.) while keeping an attentive eye on costs. The Raboud Expo organization covers the design, construction, dismantling and storage of the booths.







Raboud Expo shares the same qualities as its watch clients: a passion for detail, quality craftsmanship, mastery of complex savoir-faire, control of costs, and a respect for deadlines.

A feel for the artisanal while maintaining strict industrial control, combined with creativity, has allowed Raboud Expo to participate in many markets in Switzerland, in Europe and in the rest of the world, in highly competitive sectors where the demand for high quality is evident.







For more information
Mr. Francis Raboud,
director of Raboud Expo,
remains at your disposition:

Raboud Expo SA
Rue Pierre-Alex, 75
CH-1630 Bulle, Switzerland
Tel. +4126 919 88 77
Fax +4126 919 88 70
[email protected]
www.raboudexpo.ch