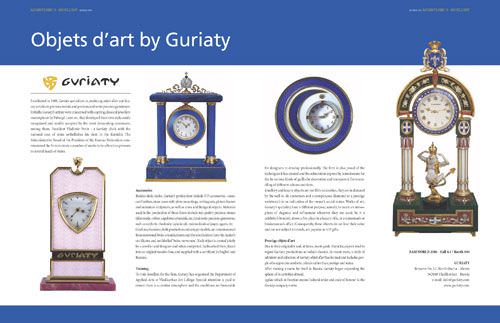 Established in 1988, Guriaty specializes in producing objets d'art and luxury articles in precious metals and precious and semi-precious gemstones.
Initially, Guriaty's artists were concerned with copying classical jewellery masterpieces by Fabergé. Later on, they developed their own style, easily recognized and readily accepted by the most demanding customers, among them, President Vladimir Putin - a Guriaty clock with the national coat of arms embellishes his desk in the Kremlin. The Administrative Board of the President of the Russian Federation commissioned the firm to create a number of works to be offered as presents to several heads of states.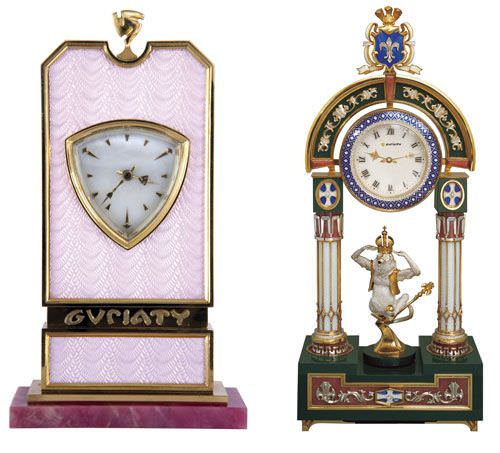 Accessories
Besides desk clocks, Guriaty's productions include VIP-accessories, cases, card holders, stone vases with silver mountings, writing sets, picture frames and miniature sculptures, as well as icons and liturgical objects. Materials used in the production of these items include top quality precious stones (diamonds, rubies, sapphires, emeralds, etc.) and semi-precious gemstones, such as nephrite, rhodonite, lapis lazuli, various kinds of jasper, agates, etc.
Clock mechanisms, both production and unique models, are commissioned from renowned Swiss manufacturers and the mechanisms have the maker's certificates and are labelled 'Swiss movement'. Each object is created jointly by a jeweller and designer and when completed, hallmarked then placed into an original wooden box, and supplied with a certificate in English and Russian.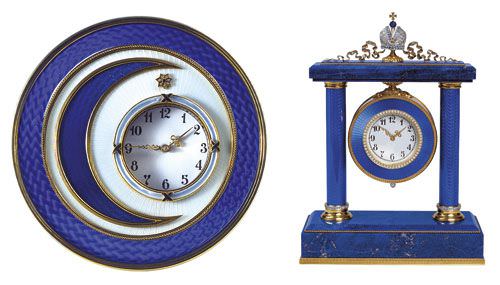 Training
To train jewellers for the firm, Guriaty has organized the Department of Applied-Arts at Vladikavkaz Art College. Special attention is paid to ensure there is a creative atmosphere and the conditions are favourable for designers to develop professionally. The firm is also proud of the techniques it has created and the admiration express by connoisseurs for the its various kinds of guilloché decoration and transparent fire enamelling of different colours and tints.
Jewellery and luxury objects are not life's necessities, they are in demand by the well-to-do customers and a conspicuous diamond or a prestige wristwatch is an indication of the owner's social status. Works of art, Guriaty's speciality, have a different purpose, namely, to create an atmosphere of elegance and refinement wherever they are used, be it a celebrity's boudoir, above a fire-place in a luxury villa, or a statesman's or businessman's office. Consequently, these objects do not lose their value and are not subject to trends, are popular as VIP gifts.

Prestige objets d'art
Due to their originality and, at times, avant-garde character, experts tend to regard Guriaty productions as today's classics. In recent years, a circle of admirers and collectors of Guriaty objets d'art has formed and includes people who appreciate aesthetic criteria rather than prestige and status.
After making a name for itself in Russia, Guriaty began expanding the sphere of its activities abroad.
Agdau which in Ossetian means 'cultural order and code of honour' is the Guriaty company motto.

BASEWORLD 2006 - Hall 4.1 / Booth A04

GURIATY
Botoeva Str. 12, North Osetia - Alania
362040 Vladikavkaz - Russia
e-mail: [email protected]
www.guriaty.com


Source: Europa Star April-May 2006 Magazine Issue