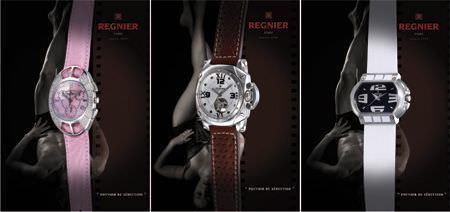 Founded in 1920 in Charquemont, in the French Jura, by Mr. Vuillemin and Miss Régnier, and then managed for four generations by their family, the brand Vuillemin-Régnier was forced into liquidation in September 2003.
Three factors played a role in accelerating its downfall: its entry-level positioning in a domestic French market caught up in the throes of a recession (the internal market accounted for 85 percent of the brand's sales); the concomitant emergence of many globalized players from the world of fashion; and when confronted with these new challenges, the brand was unable to react fast enough.
Philippe Barro, who already had some 15 years of experience in the watch industry and who was working at Vuillemin-Régnier at the time, was convinced that the brand's heritage could still be a strong force in the marketplace. He quickly realized the opportunity that presented itself to him, and formed a partnership with an Englishman, Lance Prebble, a specialist in strategy and marketing, with ten years of experience in the watch industry. After a Homeric battle against a group that was also interested in taking over the company, Barro and his partner proved victorious, largely due to their passion for the watch brand, which they renamed as simply Regnier.







Watchmaking assets
"Beyond my desire to launch a brand, a desire that has been with me for a long time, what was it that pushed me to seize this opportunity?" he asks. "In my opinion, the brand possessed several important assets. First of all, it is a basic brand, we could say, one that has been around since 1920, and therefore a brand that has acquired a lot of experience. The members of the team who work here have, on average, 15 years of experience and have acquired a definite level of savoir-faire. Moreover, the brand had several advantages in terms of its products, assets which were only waiting to be developed."
But, before re-launching the brand and setting off to re-conquer its markets, Philippe Barro and Lance Prebble took a hard look at everything about the company, "from A to Z": name, strategy, quality policies, design, work procedures, as well as communication, advertising, stands, buildings, ateliers, "even down to the cable used in the elevator," says Philippe Barro.






Model reference R800
CADRAGE LINE - LONA MODEL
Stainless steel case with white lacquered ornaments, equipped with a Swiss quartz movement, water-resistant to 50 metres. Registered design and made in France.


The Cadrage, spearhead of the new conquest
The strategy for re-conquering the brand's former markets found its central support in one product, the veritable signature piece of the brand, the famous Cadrage. Launched in 1994, rewarded with a Cadran d'Or in 1995, this timepiece is quite unique.
"The Cadrage is inspired by a concept from the world of movies," explains Philippe Barro. "The first Cadrage takes the form of a cinematographic film photogramme, the proportions of which have been kept, and which is mounted on a bracelet that flows under the openings in the case. This very characteristic timepiece allows us to anchor the watch in a very strong universe, the cinema, and a universe rich in potential that has the advantage of evoking dreams. With the Cadrage, we have an axis of communication which remains still largely unexploited."
The re-launch of this watch is therefore one of the main activities of the Regnier team. In 2005, the new oval Cadrage was presented, while in 2006, the brand will introduce the Cadrage Xtrême set with diamonds and available in an automatic version, the Cadrage Cambia with interchangeable bracelets, the Cadrage Luna whose horizontal case comprises a stone-set mother-of-pearl dial, and the Chrono Cadrage which is more masculine and sporty.
A veritable ambassador of the brand, the Cadrage line also incorporates other qualities that Regnier wants to emphasize as a part of its values: the alliance between true watchmaking savoir-faire, based on its long tradition and experience, and an intense sensitivity to the times and trends. "It is in this area that we want to clearly distinguish ourselves from the 'fashion' brands that have invaded the watch territory little by little, but that do not have the long-term timekeeping authenticity."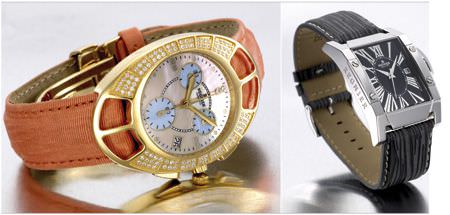 Model reference R785
CADRAGE LINE - OVALINE MODEL
Stainless steel case with 104 hand-set white diamonds, mother-of-pearl dial with a combination of two colours, two diamonds set at 12 o'clock, equipped with a Swiss quartz movement, water-resistant to 50 metres. Registered design and made in France.

Model reference R704
AEL LINE
Stainless steel case equipped with a Swiss quartz movement, water-resistant to 50 metres. Registered design and made in France.


Collections designed with the markets in mind
With this double goal, both in terms of the art of watchmaking – thus looking for perpetuity – and a sensitivity to current trends, Regnier has created a whole series of new collections, quite different from the Cadrage. They comprise twelve lines, including four men's collections (today, 70 percent of Regnier's production is in ladies' watches).
"In proposing these collections, we have been attentive to two factors. On one hand, we are introducing a design touch that is specific to Regnier, which distinguishes our products from those of the competition, while on the other hand, we are creating products that are specific to the various markets where we are now active. In this manner, for example, we offer diamond-set pieces to the Middle East, but we concentrate on automatic watches for Russia. Everything depends on the type of market. As another example, our plans for moving into the United States market call for a totally Swiss Made offer, and a specific adaptation of the size of the cases…"
On the distribution front, Regnier has rapidly changed the brand's previous policy, moving from an export level of only 15 percent, with the former management, to 70 percent today! This represents a dramatic shift in strategy. "In this regard," says Barro, we have two totally different markets: the export side, where we enjoy an image of innovation, based on the watchmaking qualities and the design of our timepieces, and the domestic French market, which is still very traditional and where our image still lacks consistency and recognition."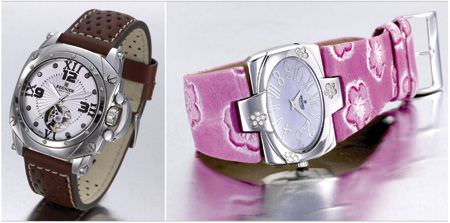 Model reference R016
VARIYA LINE
Stainless steel case, silvered dial, guilloché centre. Equipped with a Swiss made automatic movement, alternance 10, water-resistant to 50 metres. Registered case and dial designs and SWISS MADE.

Model reference R749
SEVA LINE
Stainless steel case with 20 hand-set white diamonds, pink mother-of-pearl dial, pink flowery-patterned strap. Equipped with a Swiss quartz movement, water-resistant to 50 metres. Registered design and made in France.ance 10, water-resistant to 50 metres. Registered case and dial designs and SWISS MADE.


New marketing tools
In terms of distribution, Regnier is planning on taking an innovative approach. It is also this aspect that Lance Prebble is especially excited and passionate about. "The arrival of the Internet has dramatically changed everything," he explains. "We might even say that it is comparable to the arrival of quartz onto the watchmaking landscape. In the jungle of watch distribution and promotion via the Internet and other new channels such as the television shopping networks – much more developed in the Anglo-Saxon countries than, for example, in France – many players with no timekeeping authenticity have emerged on the scene, especially in the mid-range sector, which is our market. For the most part, these players are uniquely interested in quick profits, and are destroying the necessary foundations of trust, since they offer products of mediocre quality and ignore after-sales service."
Prebble continues, "We must not however turn away from these new channels because the future of distribution is in the mix between traditional roads and new avenues, but we must utilize them differently. Our task is one of educating the general public about the true values of the art of timekeeping, about the savoir-faire, the quality, and the historical authenticity. The Internet, direct communication, television shopping…why abandon these new technologies, which market to the masses? They allow us to maintain direct, close, and personalized relationships with consumers. Regnier therefore plans to be strongly present in these channels, by soon launching innovative initiatives and creating good will, and by bringing together true watchmaking actors, in our sector. There is no reason why the authentic watchmakers in the mid-range have to remain on the sidelines! We must make the consumer understand that when he buys a Regnier watch, it is a watch for life."
Timekeeping qualities and legitimacy, revisited collections that are recognizable by their very particular design touch, innovative marketing initiatives… Regnier is bringing together the necessary conditions, which will give new sparkle to the mid-range watchmaking sector. An initiative to be followed…


Source: Europa Star June-July 2006 Magazine Issue