Time Force is part of an important holding company, Valentin group, which has extensive, far-reaching experience in the watch sector.

It has its own production plants at the epicentres of world watchmaking : Hong Kong, Switzerland, and of course Spain. But this is not the only facet of its international expansion, it is just the tip of the iceberg. Time force also has its own design team made up of top designers, along with distribution scattered around 25 countries over the world.

This company's vast resources are clearly paving the way for expansion abroad. But Time Force's key to success is the premium quality of its materials and the technology used to manufacture the watches.

And, of course, it is essential to highlight the freshness, innovation and avant-garde design of everything Time Force makes.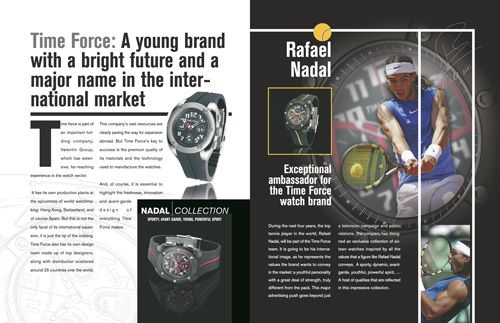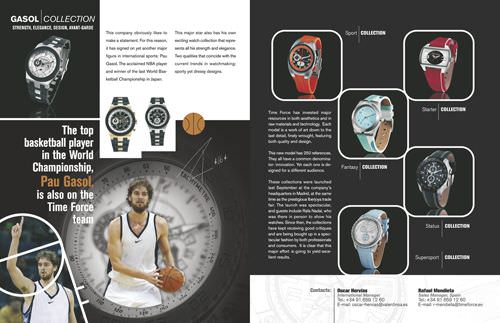 Exceptional ambassador for the Time Force watch brand
During the next four years, the top tennis player in the world, Rafael Nadal, will be part of the Time Force team. It is going to be his international image, as he represents the values the brand wants to convey in the market : a youthful personality with a great deal of strength, truly different from the pack. This major advertising push goes beyond just a television campaign and public relations. The company has designed an exclusive collection of sixteen watches inspired by all the values that a figure like Raphael Nadal conveys. A sporty, dynamic, avant-garde, youthful, powerful spirit, ... A host of qualities that are reflected in this impressive collection.

The top basketball player in the world Championship, Pau Gasol, is also on the Time Force team
This company obviously likes to make a statement. For this reason, it has signed on yet another major figure in international sports : Pau Gasol, The acclaimed NBA player and winner of the last World Basketball Championship in Japan.
This major star also his own exciting watch collection that represents all his strength and elegance. Two qualities that coincide with the current trends in watchmaking : sporty yet dressy designs.

Time force has invested major resources in both aesthetics and in raw materials and technology. Each model is a work of art down to the last detail, finely wrought, featuring both quality and design.
This new model has 250 references. They all have a common denominator : innovation. Yet each one is designed for a different audience.
These collections were launched last September at the company's headquarters in Madrid, at the same time as the prestigious Iberjoya trade fair. The launch was spectacular, and guests include Rafa Nadal, who was there in person to show his watches. Since then, the collections have kept receiving good critiques and are being bought up in a spectacular fashion by both professionals and consumers. It is clear that this major effort is going to yield excellent results.


Contact : Oscar Hervias
International Manager
Tel. : +34 91 659 12 60
E-mail : [email protected]

Rafael Mendieta
Sales Manager, Spain
Tel. : +34 91 659 12 60
E-mail : [email protected]


www.timeforce.es

Source : Time Force, Valentin Group