Discovering the watches from Bernard Richards Manufacture is a little like admiring the race cars on the starting line of a Formula 1 Grand Prix.
This is to still believe that mechanical performance and lofty human goals can be amply linked to push ever farther the limits that we fix for ourselves every day.







Wearing a BRM watch evokes strong feelings, a personal engagement at the starting line of the most beautiful of all competitions: that which consists of living life and passion at 100%!
Solidly attached to the wrist, like a race car driver is harnessed to his seat, a BRM timepiece is made to instantaneously respond to the most advanced technical demands. Entirely crafted by hand, each BRM watch is a unique piece. Cases, bracelet clasps, horns, pushbuttons, and hands are machined, decorated, polished, and brushed in our own ateliers, where highly qualified technicians individually provide the finishings that are specific to each of our models.







BRM watches are produced in very small series. This will always be the case because a BRM that is mass produced will no longer be a BRM as our clients would no longer be getting a truly exclusive timepiece.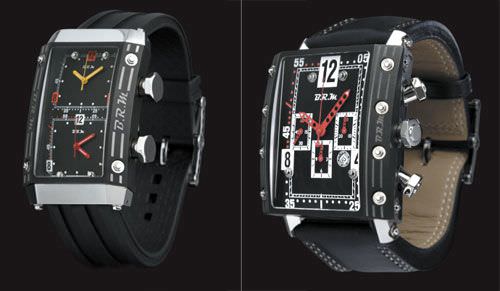 www.brm-manufacture.com


Source: Europa Star April-May 2007 Magazine Issue