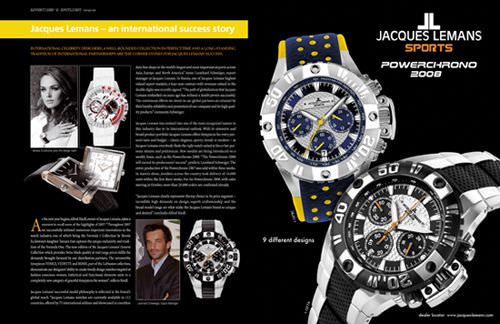 As the new year begins, Alfred Riedl, owner of Jacques Lemans, takes a moment to recall some of the highlights of 2007: "Throughout 2007 we successfully initiated numerous important innovations in the watch industry, one of which being the Formula 1 Collection by Bernie Ecclestone's daughter Tamara that captures the unique exclusivity and tradition of the Formula One. The new edition of the Jacques Lemans' Geneve Collection which provides Swiss Made quality at mid range prices fulfils the demands brought forward by our distribution partners. The noteworthy timepieces VENICE, VEDETTE and ROME, part of the LaPassion collection, demonstrate our designers' ability to create trendy design watches targeted at fashion conscious women. Esthetical and functional elements unite to a completely new category of graceful timepieces for women", reflects Riedl.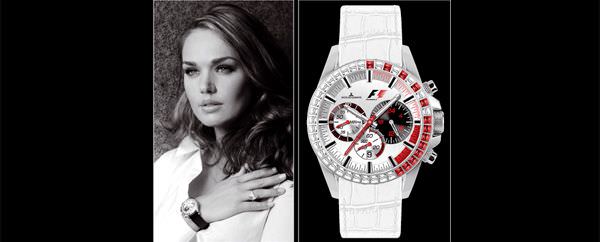 Tamara Ecclestone joins the design team


Jacques Lemans' successful model philosophy is reflected in the brand's global reach. "Jacques Lemans watches are currently available in 112 countries, offered by 75 international airlines and showcased in countless duty free shops in the world's largest and most important airports across Asia, Europe and North America" states Leonhard Schweiger, export manager at Jacques Lemans. In Russia, one of Jacques Lemans highest valued export markets, a four-year contract with revenues valued in the double digits was recently signed. "The path of globalization that Jacques Lemans embarked on years ago has without a doubt proven successful. The continuous efforts we invest in our global partners are retuned by their loyalty, reliability and promotion of our company and its high quality products" comments Schweiger.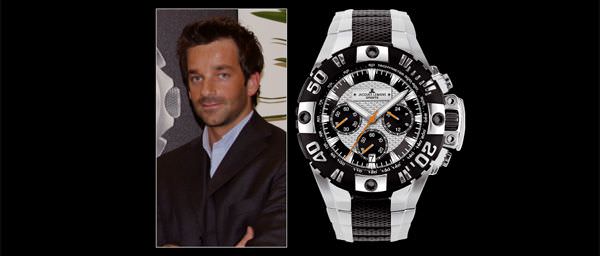 Leonhard Schweiger, Export Manager


Jacques Lemans has evolved into one of the most recognized names in this industry due to its international outlook. With its extensive and broad product portfolio Jacques Lemans offers timepieces for every person's taste and budget – classic elegance, sporty, trendy or modern – at Jacques Lemans everybody finds the right watch suited to his or her personal desires and preferences. New models are being introduced on a weekly basis, such as the Powerchrono 2008. "The Powerchrono 2008 will exceed its predecessors' success", predicts Leonhard Schweiger. The entire production of the Powerchrono 2007 was sold within three weeks. In Austria alone, jewellers across the country took delivery of 16,000 units within the first three weeks. For the Powerchrono 2008, with sales starting in October, more than 20,000 orders are confirmed already.







"Jacques Lemans clearly represents the top choice in its price segment – incredible high demands on design, superb craftsmanship and the broad model range are what make the Jacques Lemans brand so unique and desired" concludes Alfred Riedl.


Source: Europa Star December-Januar 2008 Magazine Issue