The OrientWatch Company Limited was founded on July 13th 1950 in Hino City, Tokyo and has been continuously producing unique, state-of-the-art, mechanical timepieces ever since. 60 years of accumulated experience at the highest level of mechanical horology has lead to a number of historical timepieces.
In 1967 OrientWatch produced its Calibre 3990, which was mounted on the "Fineness" Collection and drew particular attention as a phenom-enally thin automatic watch that was a mere 3.90 mm thick. In comparison, the next competing automatic watch at the time was 4.48 mm. In fact, the "Fineness" was the thinnest automatic watch made in Japan until 1974.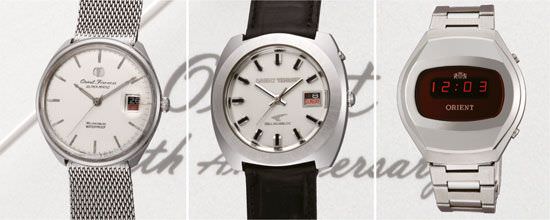 "FINENESS" Collection (1967), "TENBEATt" Collection (1970), "TOUCHTRON" Collection (1976)


Three years later, in 1970, Orient Watch's Calibre 9980 was launched in its sub brand "Tenbeat".This amazing movement operated with 10 oscillations per second and became part of the glory days of automatic watches through the commercialization of a series of what were then cutting-edge technologies. The Calibre 9980 was developed to achieve high precision exceeding five or six oscillations per second, the most common oscillation frequency of movements at that time.
When quartz and digital technology became increasingly popular in the 1970s, Orient Watch was proactive and released a number of interesting products as the company actively sought to develop new timepieces and new technologies. The company built a solid reputation with products such as the "Touchtron" that employed a mechanism that turned on an LED lamp simply by touching the edge of the case, and the "Orientron Just", which was equipped with a simplified time correction feature that was groundbreaking for an AQ watch at that time.
However, when the trend for mechanical watches started to recover in the 1990s Orient was the first to restart development of mechanical movements. The brand's Calibre 46F40, featuring a power reserve indicator, was developed in 1996, enabling it to offer power reserve mechanical watches at accessible prices.
In 2003, Orient Watch released the all-new thin Calibre 88700 with eight oscillations per second. This was followed by a diver's watch with a saturation diving function in 2006. Orient Watch had kept all its mechanical watchmaking savoir-faire from its foundation in 1950.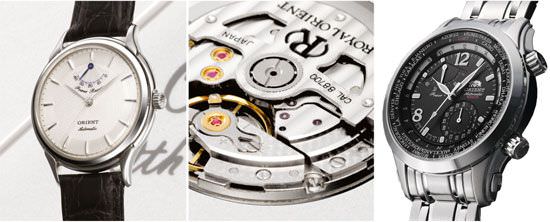 CALIBRE 46F40 (1996), THIN CALIBRE 88700 (2003), WORLD TIME LIMITED EDITION (2003)


In celebration of this 60th anniversary year, Orient Watch will be launching several new models, including a special limited edition for its global market that will be released mid 2010. Limited to an exclusive 3,000 models, this classically styled, mechanical, hand-wound model will have a special movement that has the addition of a power reserve indicator. The collection will have a retro feel to it as it is inspired from Orient Watch's timepieces from the 1950s. The dial will have a calligraphic Orientlogo and '60th Anniversary' engraved on the dial. Initial reactions to the collection have been so positive that Jiro Miyagawa, Director of Global Business Headquarters, is concerned that he may not have made enough!
Orient Watch produces an incredible 2.3 million timepieces per year, which are distributed globally to over 60 countries. The company has strong visibility in South America, China and other Asian countries, Eastern Europe and CIS countries, where it intends to enhance its sales and marketing activities, although it is also looking to develop markets such as India and Africa, which present considerable opportunity. The aim is to be present in the majority of the world's countries by the end of the next decade.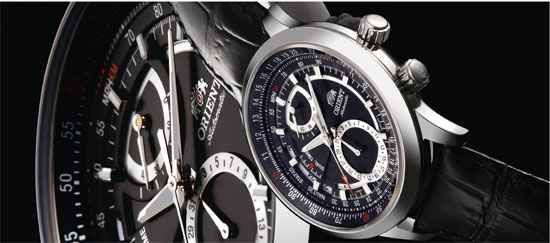 DUAL TIME (2009)




PROFESSIONAL DIVER(2006)


"Celebrating our 60th anniversary this year, we will continue to bolster our product line up and deploy market strategies mainly based on precision machinery development and manufacturing technologies." Explains Miyagawa. "In particular, for mechanical watches, we would like to continuously develop new movements with new features and structures and provide high-quality products at affordable prices unique to Japan, so that we can improve the awareness and image of the Orient brand."
Looking to future product development, OrientWatch is currently creating new products equipped with calibres that feature additional functions, and products with unique mechanisms with great structures and water resistance. These features will be seen in releases from 2010 to 2011. "We are confident that the next-generation of OrientWatch products will meet your expectations," shares Miyagawa.
At a time when sure values, quality products and a renewed interest in mechanical timepieces are so important to the watch consumer, OrientWatch, with its six decades of continuous watch production, is in a perfect position for the future.

www.orient-watch.com


Source: Europa Star April - May 2010 Magazine Issue