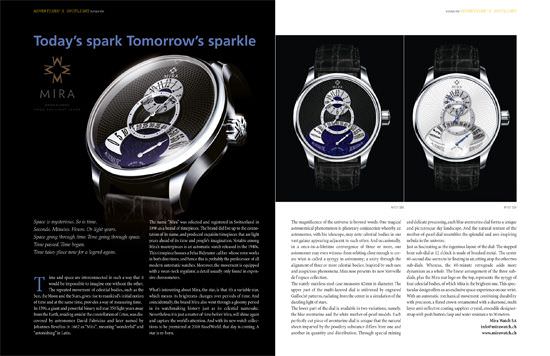 Time and space are interconnected in such a way that it would be impossible to imagine one without the other. The repeated movement of celestial bodies, such as the Sun, the Moon and the Stars, gives rise to mankind's initial notion of time and at the same time, provides a way of measuring time.
In 1596, a giant and powerful binary red star 350 light years away from the Earth, residing amidst the constellation of Cetus, was discovered by astronomer David Fabricius and later named by Johannes Hevelius in 1662 as "Mira", meaning "wonderful" and "astonishing" in Latin.
The name "Mira" was selected and registered in Switzerland in 1896 as a brand of timepieces. The brand did live up to the connotation of its name, and produced exquisite timepieces that are light years ahead of its time and people's imagination. Notable among Mira's masterpieces is an automatic watch released in the 1940s. This timepiece houses a Felsa Bidynator caliber whose rotor works in both directions, and hence this is probably the predecessor of all modern automatic watches. Moreover, the movement is equipped with a swan-neck regulator, a detail usually only found in expensive chronometers.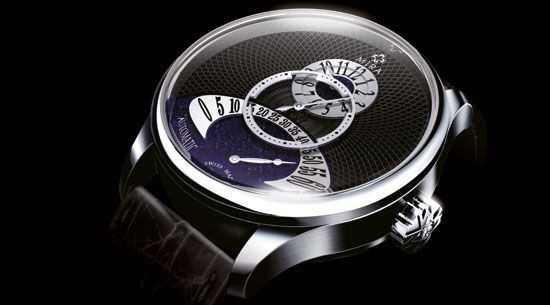 M101 SBK


What's interesting about Mira, the star, is that it's a variable star, which means its brightness changes over periods of time. And coincidentally, the brand Mira also went through a gloomy period in its watchmaking history just as its celestial namesake. Nevertheless it is just a matter of time before Mira, will shine again and capture the world's attention. A star is re-born.

The magnificence of the universe is beyond words. One magical astronomical phenomenon is planetary conjunction whereby an astronomer, with his telescope, may note celestial bodies in our vast galaxy appearing adjacent to each other. And occasionally, in a once-in-a-lifetime convergence of three or more, our astronomer may even witness them orbiting close enough to create what is called a syzygy in astronomy; a unity through the alignment of three or more celestial bodies. Inspired by such rare and auspicious phenomena, Mira now presents its new Merveille de l'espace collection.
The stately stainless steel case measures 42mm in diameter. The upper part of the multi-layered dial is enlivened by engraved Guilloché patterns, radiating from the center in a simulation of the dazzling light of stars.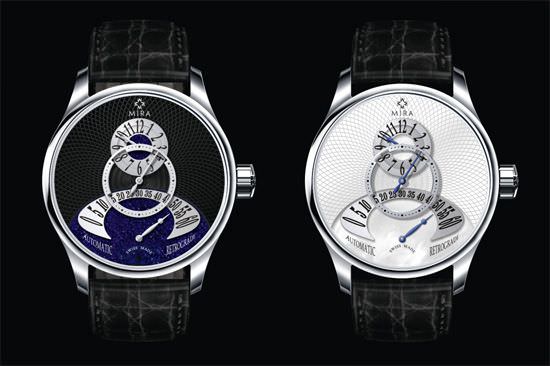 M101 SBK, M101 SSV


The lower part of the dial is available in two variations, namely, the blue aventurine and the white mother-of-pearl models. Each perfectly cut piece of aventurine dial is unique that the natural sheen imparted by the powdery substance differs from one and another in quantity and distribution. Through special mining and delicate processing, each blue aventurine dial forms a unique and picturesque sky landscape. And the natural texture of the mother-of-pearl dial resembles the splendid and awe-inspiring nebula in the universe.
Just as fascinating as the ingenious layout of the dial: The stepped hour sub-dial at 12 o'clock is made of brushed metal. The center 60-second disc seems to be floating in air, sitting atop the other two subdials. Whereas, the 60-minute retrograde adds more dynamism as a whole. The linear arrangement of the three sub-dials, plus the Mira star logo on the top, represents the syzygy of four celestial bodies, of which Mira is the brightest one. This spectacular design offers us an exclusive space-experience on our wrist.
With an automatic mechanical movement combining durability with precision, a fluted crown ornamented with a diamond, multi layer anti-reflective coating sapphire crystal, crocodile designer-strap with push button clasp and water resistance to 50 meters.

Mira Watch SA
Contact:[email protected]
www.mirawatch.ch


Source: Europa Star April - May 2010 Magazine Issue