Photo: CXXCHRONOGRAPH WITH DIAMONDS

Clerc, founded in 1874, is back with a new, larger and diversified collection. Its style is still powerful, still striking, and is very contemporary and easily recognizable.
The sculpted steel timepieces, sometimes set with coloured stones or diamonds come in cases with distinct and strong shapes.
From divers' watches to feminine timekeepers, the Clerc Collection has added new forms while conserving the strength of its design.
Swiss quality, with precision quartz movements or automatic COSC chronographs, all the watches are individually numbered and have a three-year guarantee.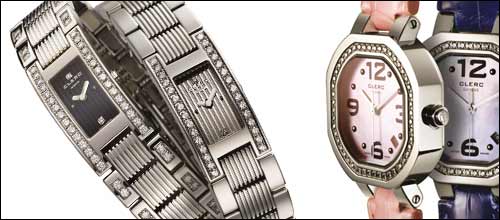 LADIES' C-ONE SMALL SIZE WITH DIAMONDS and LADIES C125 BRACELET WATCH WITH DIAMONDS

www.clercwatches.com

Source: April-May 2004 Issue
(Please credit europastar.com)