Yema is becoming 100% French again thanks to a daring acquisition by Louis Eric Beckensteiner, who has purchased the brand and its premises from the Seiko Watch Corporation Group.

Founded in 1948 in Besançon (Doubs) by Henry Louis Belmont, the company distinguished itself in the very beginning by creating the first automatic chronometers manufactured entirely in France, and became famous for the technical qualities and sports characteristics of its watches. The history of the brand is marked by mythical models with names such as Superman, Yachtingraf, Rallygraf, Spationaute (which travelled through space on the wrists of Jean Loup Chrétien and Patrick Baudry), North Pole
(designed for Jean Louis Etienne who crossed the North Pole), Flygraf, Bipôle, Cap Horn…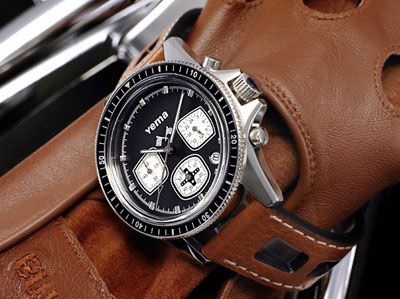 "Rallygraf", produced as a limited series of 200, delivered in a case with a pair of gloves


Purchased in 1982 by the Matra group, the company was taken over in 1988 by the Hattori-Seiko group; it became a subsidiary to the group in 1995 under the name Yema S.A., and in that year Louis Eric Beckensteiner joined the company, before taking over as General Director in 2001. Heading an SAS (Société par Actions Simplifiées: company with simplified shareholder procedures) and joined by 25 Yema S.A. staff with whom he worked for 10 years, the new Chairman has set a target for watch sales of 50,000 in 2005 and 100,000 pieces with a turnover of 10 million euros in 2008.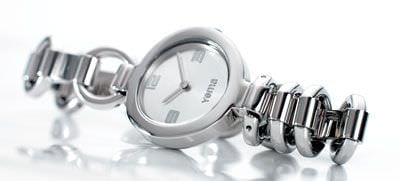 "Rive droite Rive gauche": women's watch with steel case and bracelet, water-resistant to 50 metres


He has established a new positioning for the brand,
personified by the institutional signature "Yema Maison Horlogère Française 1948". His ambition is to return the brand to its rightful place, privileging a strategy which enhances French origins and style, with collections based around 3 strong ideas (audacity, common sense and expertise), a competitive value for money/quality positioning, irreproachable quality of sales and after-sales service as well as a huge advertising campaign for the distribution network and also consumers.


Yema wants to offer top-quality models which are innovative, daring and classical, using the expertise of the master watch-makers and its research and development department, at the cutting edge of new technologies. It also favours partnerships with European suppliers (mainly Swiss and French), rigorously selected for the quality of their expertise.
The new creations are produced in collaboration with
reputed watch designers. Each seasonal collection
(Spring/Summer, Autumn/Winter) has 250 waterproof
models (to between 50 and 300 metres), using the best steel and available in retail prices between 130 to 300 euros. They are developed around three themes:



"Yema Création", the innovation dimension, for an urban target, looking for fashionable products;



"Yema Lab", the technological showcase with daring creations for a clientele looking for modernity;



"Yema Classique", the heritage tradition which meets consumer demand for comfortable and stylised products.

Limited series will also be available for certain times
of the year (Mother's Day, Father's Day, Christmas).
In parallel to these new collections, Yema is reissuing
designs which made the brand a success, such as
Rallygraf (1970), the watch for automotive sportsmen,
Superman (1963), the first watch water-resistant to
300-metres…

Photo on the top: Mr. Louis Eric Beckensteiner



Source: CFHBJO www.emotionfrance.com

www.yema.fr

Contact : [email protected]
(please credit europastar.com)