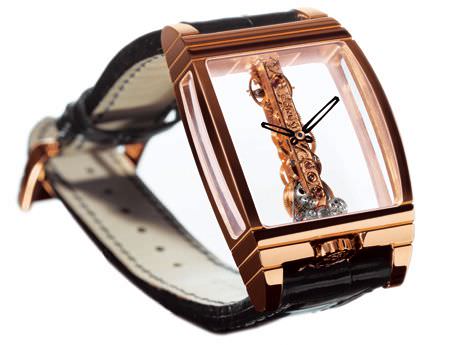 Universally admired by readers of L'Hebdo, Cash and Edelweiss magazines, who chose this model among the 42 candidates, the new Golden Bridge by Corum was awarded the trophy in the prestigious «Watch of the Year» competition organized annually by «Montres Passion» and «Uhrenwelt».

Jean-Philippe Arm, a member of the jury, presented the Public Prize trophy of the Watch of the Year to Michael Wunderman, President of Corum, during the prize award ceremony held at La Manufacture (the Academy of Dramatic Art for the French-speaking part of Switzerland) in Lausanne, on Wednesday, 2 November at 7 pm.

From 7 November until mid-February 2006, the Golden Bridge will be exhibited exclusively at the International Watchmaking Museum in La Chaux-de-Fonds, alongside the 41 other timepieces which went through to the final of the competition.

This will be the second time since the beginning of the third millennium that Corum has won the Watch of the Year title. In 2002, the trophy was awarded to the company by the Montres Passion and Uhrenwelt jury for its Classical Jumping Hour model.


A golden bridge between art and technique

To mark Corum's 50th anniversary in 2005, a revolutionary concept created in the firm's workshops 25 years ago, the world-renowned Golden Bridge timepiece has been given a new lease of life. The reinterpretation of this model features a resolutely new design adapted to the very latest cutting edge technologies developed by expert watchmakers in these early years of the 21st century. This masterpiece further enhances the wonderful purity that was so typical of the original version.

Imagine baguette-shaped 18 carat gold bridges, finely hand-engraved with delicate scrolling patterns, tiny gears lined up in a row, and slender open-worked black gold hands, all seemingly suspended in the space created by the transparency of the four sapphire crystals enveloping the case. The latter is crafted in fine 18 carat gold or platinum ribs, with a slightly convex shape known as a «tonneau» and inwardly curved underneath for an outstandingly comfortable fit on the wrist.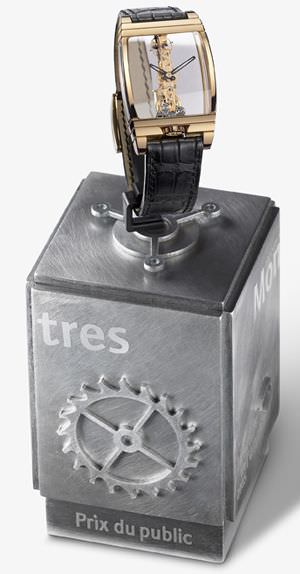 The miniature mechanical movement features a variable inertia balance which is adjustable by means of four 18 carat gold inertia-blocks. It has been entirely redesigned and developed exclusively in cooperation with the famous Swiss manufacturer Vaucher of Fleurier. The unique concept behind its slipping spring winding system, with 40 hours power-reserve, enables the winding and time-setting crown to be positioned at 6 o'clock between the horns of the case.

The new Golden Bridge by Corum is available in several variants. Among them, the unique and spectacular piece created with the participation of the famous contemporary Swiss artist Hans Erni, who painted two strong pure breed horses facing each other, exclusively for Corum. This image has been reproduced in miniature and hand-painted on the dial below the movement. A special 50th anniversary commemorative model has also been produced. It is available in four editions: platinum, yellow gold, rose gold and white gold. Each version comes in a limited and numbered series of 50.

The fact that the new Golden Bridge won the Public Prize in the "Watch of the Year 2005" competition is undoubtedly the finest 50th anniversary present that Corum could possibly have won!


Source: Corum

www.corum.ch

Contact: [email protected]
(Please credit europastar.com)