The celebrated Atelier Bunz is highlighting its extraordinary Moontime III moon phase watch at the World Fair for Jewellery and Watches – masterfully crafted with astronomical precision.

The moon is an icon for the infinite rotation of the celestial bodies that has remained irresistible and yet shrouded in mystery to this very day. For ages, it has exerted a magic attraction on the beholder that also becomes perceptible in Bunz' extraordinary moon phase watches. As far back as 1993, this celebrated company came up with the first model of Moontime. At that time, it had the highest degree of moon
phase display precision and a patented mechanical movement. Moontime III is now the second advanced model that will mesmerise you with its next-generation design and love for detailed workmanship.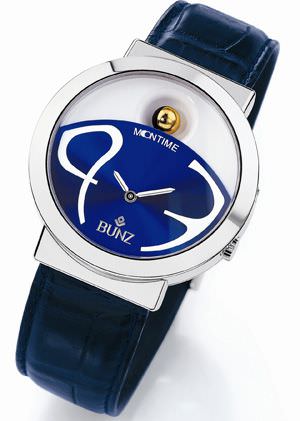 Sparkling lustre emanates from the purist case design of this precious watch while calling to mind the delicate shimmering of the moon in a winter's crystal-clear night. This new model's ingenious highlight is its fully plastic semi-gold-plated moon. It charmingly rotates around its own axis on the white firmament of the watch face at 12 o'clock to indicate to its owner the current phase of the moon. This is set into motion by an angular drive located above the watch work that gets its strength from a crown gear above the hour tube. But, this extraordinary watch face has even more interesting features: numbers three and nine are artistically curvatured to encase the delicate silvery hour and minute hands on an elegant dark-blue background. They are faithfully driven by a rare Lemania 1932 Swiss watch work or, at your choice, a valuable precision quartz movement.

The structured deep blue alligator leather strap masterfully takes up the theme of the changing nuances in the watch face to put the finishing touches on this model's overall appearance. The moon as a faithful companion, mounted in immortal shapes and precious materials. Moontime III combines precision, design and engineering into an impressive whole to create an individualised treasure for the person owning it.

Source: Bunz

www. bunz.de

Contact: [email protected]
(Please credit europastar.com)