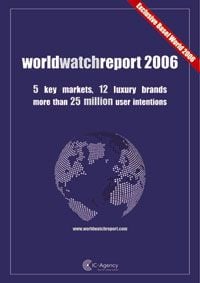 Speaking with Claudia De Pretto, eLuxury Specialist in charge of the WorldWatch-Report at IC-Agency, we got a better understanding of this new kind of market research.

What are the main differences between a classic market study and the WWR?

Actually, when you consider the data being analyzed and the way it is gathered, comparing the two would be like comparing apples and oranges. The WorldWatchReport's cost-effectiveness, lack of sample bias, short time lag from scope to production, as well as data relevance are just a few of the advantages of using Internet technology to gather reliable customer insights.

Lack of bias you said?

Yes lack, because consumers are basically anonymous and freely search for products and services of their liking without any negative repercussions. Our proprietary technology DemandTracker™ allows us to collect, and most importantly decipher, information. This is all thanks to cutting edge algorithms implemented to produce non-biased studies. An individual searching for a specific model using Google is much closer to the act of purchase, on average, compared to someone reading an international magazine picked randomly to conduct a survey on the matter. The latter was generally the case prior to the World-WatchReport. As for the sampling quality and volume, the internet today exceeds 60% penetration for countries in the western world. Even in developing countries such as Russia where the penetration is 10% or 20%, we clearly have the segment of the population that is considered to be upper class with greater buying power.

Do these online results really reflect the offline market situation?

Indeed, when comparing our results with currently available market figures, we noticed that we are in line with more traditional reports. This tendency was also confirmed through submissions of our reports to a few key brands - which reacted very positively to the precision of our results concerning model and intention specific searches.
In addition, for one brand in particular, we noticed that one of their models exhibited a strong demand while sales for this particular model were relatively low. Investigations are underway to determine whether or not the problem is related to retailer supply.

What about the US market?

In the US we observe a pull towards self actualization in every sense. The quest for products that respond to personal value, quality and enjoyment are all important factors. The most revered visionaries in the industry, like Franco Cologni, have understood both the importance and the need to educate the consumer. The most promising markets are being exploited by luxury brands who capitalize on this holistic trend by marrying passion and value in their offline marketing. All the while, educating the consumers in regards to technological elements and promulgated with the help of glamorous brand ambassadors. In the US, despite an extreme yet shallow passion-based phenomenon like the "bling generation", a whole new potential customer base is opening up. A vast community of potential consumers who have the money and the desire to purchase luxury watches. The market's appeal of tradition, craftsmanship, and heritage has created intense desire for high-end models. However, they also are in need of elements to justify the investment. Add the intention element, and any brand can reap the harvest of the underexploited market. The Internet can be used to transfer understanding of the premium value of the product and convince prospects to "trade up" to true luxury.

Granted the luxury industry has been reticent in the past to exploit the Web, but most companies now have detailed reporting on their websites. Why would they be interested in the WorldWatchReport?

The WorldWatchReport is all about performance benchmarking and competitive intelligence. Take the example of the online customer who visits a brand's corporate site, their online showcase. Marketers receive feedback on customers like this one in the number of visitors and click through rate, page depth, etc. Now imagine that the company could know the intentions of millions of similar customers, where they live and how that affects their openness to the Web when looking for a luxury watch, what other brands and specific models they consider, or whether price is a crucial comparative factor in certain markets. Finally, the WorldWatchReport provides them the opportunity to quickly measure their "online" market share. They just have to cross WorldWatchReport data with their own website traffic statistics.

How is that information usable?

We've seen many examples of a measurable correlation between online and offline actions. For one, Web response to offline promotions and new product launches is one of the few quantifiable measures available for offline promotion. Think about it - no watch retailer is going to tell you how many customers were interested in the new model launched at Basel World. However, they have not yet received these new models in their shop. Our report becomes a real tool for sales and inventory management as it provides these retailers with brand and model trends. Moreover, looking at historical trends and seasonal shifts in online searches in the World-WatchReport, it provides brands with actionable benchmarking. Search volumes alone on competitor's brands and models give a clear indication of market response to new technical developments or changes in brand ambassador. And knowing which markets are underexploited by your brand, allows you to focus more marketing efforts where they will be the most fruitful.

Can you give us an example?

Take Italy, for example. Culturally you might expect Italians to prefer face-to-face interaction in traditional retail boutiques as the source for information when seeking to purchase a luxury watch. What's surprising is that the Italian market, despite having one of the smallest populations of Internet users in Europe, shows search results for the 12 brands far superior to more "techy, modern" markets like Germany or even France. In the WorldWatchReport, it carried almost 35% of the 3.26 million European (four-country) online searches. Together with the UK these two markets made up 70% of all European searches. Knowing this, a brand could channel more marketing and communication efforts online, focusing where the reach is and even optimize distribution on new models with limited availability.

How could the WorldWatchReport profit a brand which does not figure in the selected 12 brand group?

The market comparisons and insights are valuable tools for any watchmaker interested in growing into new markets or expanding their current business abroad. All would be interested in knowing how the competition is faring in the global marketplace, especially concerning details about online interests for classic or recent models. In the WorldWatchReport, they'll be able to see which models are successful, to what extent competitors' search online, and which exceed or underperform compared to their own competing models. Furthermore, we can of course also generate tailor made reports to include specific brands not currently appearing in the WorldWatchReport.
Several brands have requested to become part of our study. If they meet our eligibility criteria, soon to be published on WorldWatchReport.com, we will likely integrate them in our 2007 edition.

How can I obtain the WorldWatchReport?

The WorldWatchReport is now available directly through IC-Agency Geneva (+41 22 702 07 60) or IC-Agency Canada (+1 506 546-8097), as well as BaselWorld 2006. You can of course also order it on our website www.worldwatchreport.com. Due to a strong demand, we have also created a smaller WatchReport focused on either one or a few markets. Please contact us for further details.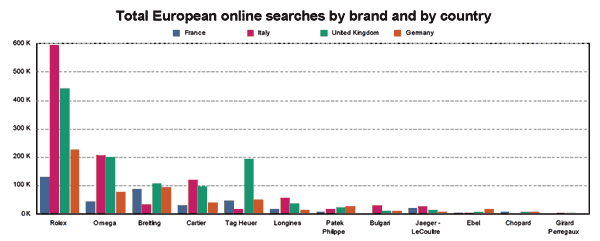 Source: Europa Star April-May 2006 Magazine Issue