The Heliozentric World Positioning Display by Martin Braun was completely conceived and created by Martin Braun, who utilized complex mathematical calculations to design the earth's cycloid orbit as well as a great deal of cranial acrobatics to fit the extra 71 parts of the module into the allotted space. He also had to determine how to best use the energy of the ETA 2892-A2, the base movement supplying the power, to drive the additional sixteen wheels located in the MAB 3 module.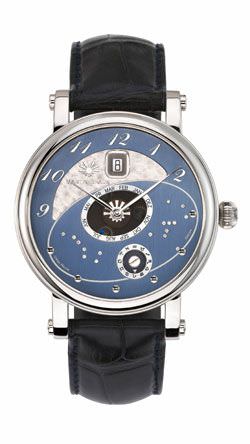 In creating this new timepiece, Braun set out to display the position of the earth in relation to the sun. The earth moves in an elliptical orbit around the sun, and, logically, at the same time every year the earth moves into the same position in relation to the sun. Representation of the relationship between the sun and the blue planet we call home could be resolved in many different ways on a watch dial. For example, Braun could have the earth move around the dial on a type of track system, but he felt that he could style the display in an even more visually intriguing manner for the watch aficionado. For this reason, Braun set to the task using both advanced mathematics and classic mechanics, creating a gear to generate a curve, or more precisely a cycloid, for the ellipse. The central sun wheel turns twice a year, and a carrier with three planetary wheels makes an annual revolution, all counter clockwise, with both of the main wheels engaging each other. A symbolic blue earth located on one of the planetary wheels illustrates the planet's elliptical orbit. This orbit moves completely naturally in a counter clockwise direction, as it does in nature. A practical side effect is that the earth's position can also be used as a month display, which Braun has marked with the appropriate names on the edge of the cutaway.









One physical detail has been altered to improve the dial's optics. The earth rotates around the sun in an elliptical orbit, and the sun in all reality is positioned in one of its focuses (First Law of Kepler). However, Martin Braun decided to place the sun centrally within the ellipse for aesthetic reasons. "An off-centre sun really aggravated the dial's aesthetic visuals," Braun explains.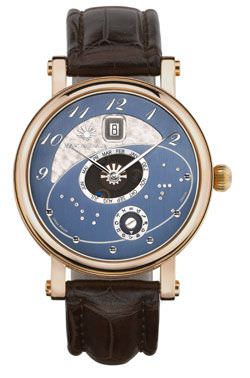 A second function of the Heliozentric is the display of the zodiac. While the earth is moving around the sun, a separate indicator on the lower half of the dial illustrates which of the twelve signs of the zodiac is the current one. Both complications can be quickly set separately using correctors located at 4 and 8 o'clock. By pushing the corrector, the complex planetary gear in the centre of the dial can be adjusted to the current month. This is also the case with the zodiac sign, as the corrector moves the indicator arrow that points to the sign. If the watch is kept wound, both displays change automatically.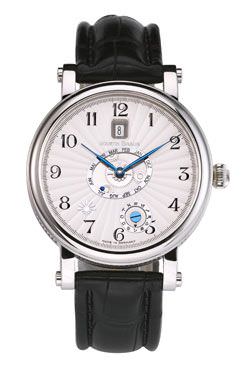 The Heliozentric will initially be offered in a 42 mm coin-edged case in stainless steel or 18-carat rose gold, the perfect size for comfortable wear in any situation. This case was designed by Martin Braun himself and contains a lavish 122 half-circles cut into the middle section to form the fluting. Martin Braun's reliable technology and high-quality design remain in the spotlight, including two sapphire crystals, a screwed-down case back secured with seven individual screws, and screwed-in strap lugs. An alligator skin strap, featuring an 18-carat rose gold buckle designed by Martin Braun or a deployant clasp in the stainless steel version, round out the timepiece.

Two dial variations are currently available. One features the sunburst guilloché so well known from Martin Braun's EOS models, with one small difference: The 'origin' of the rays is in the centre of the dial. This variation is only available as a silver-coloured dial with applied rhodium-plated markers.

The second dial represents a true innovation in design. This dial is made of blued steel located on a stainless steel background dial. True scale depictions of two constellations are located on the left and right sides of the dial, Ursa Major - the Great Bear - the largest constellation in the northern sky, and Orion, the Hunter, are represented by diamonds.

Source: Martin Braun

www.martin-braun.com

Contact: [email protected]
(Please credit europastar.com)