The CX Swiss Military timepiece 12,000 Feet is now the officially acknowledged world record holding diver's watch with a water-resistance of 12,000 feet or 3,657 metres.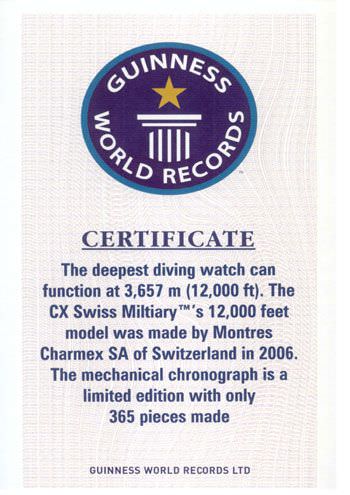 In 2003 Frank M. Bürgin tackled the daunting task of developing the most water-resistant mechanical diver's watch known to man – the 12,000 Feet, under the brand name of CX Swiss Military Watch™.

It took several prototypes of different stainless steel compositions to optimize the weight/pressure resistance quotient. While a professional diver's equipment might easily weigh up to 50kg, no one wants a watch adding another 1kg!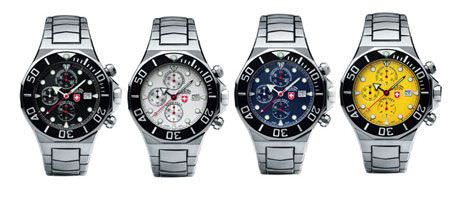 The crystal also needed a completely different approach to any average diver's watch on the market, with a pressure of up to 370kg / cm2, a series of laboratory tests finally resulted in a 8mm thick domed sapphire crystal – a record on its own. The anti-reflective coating ensures that the dial can still be read perfectly under all conditions.

A new approach was used for the helium relief valve, too – no moving parts that might get clogged with sand, salt or debris.

The extreme conditions for which the 12000 Feet is designed meant that the standard tests for diver's watches had to be changed completely.

In order to develop and test the case and crystal a new pressure tank capable of building a pressure of up to 800 ATM had to be built and tested from scratch.

All individual parts of the watch underwent a multitude of tests before mass production, ensuring the quality all CX Swiss Military Watch™ timepieces are known for.

The final and successful type testing was undertaken by the renowned Oceanographic Institute of the University of Southampton in the United Kingdom (see www.soc.soton.ac.uk), based on the ISO norm 6425.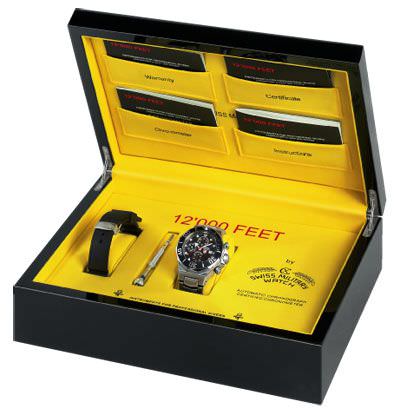 Source: Swiss Military Watch

www.12000feet.com

Contact: [email protected]
(Please credit europastar.com)