Ventura is Switzerland's first and only 'Manufacture électronique' entirely dedicated to the manufacture of advanced electronic time-keeping instruments. The development of operating systems and software, the careful production of our own movement and module calibers and the final hand-made assembly of our uniquely designed wristwatches, all take place within our modern facility.
Aficionados have learned to appreciate our competence in the design and production of high-end mechanical chronometers; Ventura has now taken the lead in establishing the aesthetical and technical benchmarks against which future generations of electronic wristwatches will be measured up.
Paolo Fancelli, a talented Swiss-Italian industrial designer, has created the new Sigma Collection, the latest addition to the current line of Ventura contemporary timepieces.
His architecture deliberately crosses the traditional boundaries of the past by taking full advantage of the technical possibilities offered by modern electronics. Yet, Fancelli's design is devoid of effects, impressing with its elegance, sense of proportion and a radically re-defined ergonomic quality.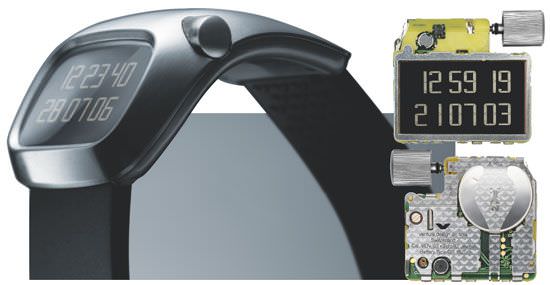 v-tec ∑
The core of the v-tec Sigma is the latest version of Ventura's own patented EasySkroll® operating system which offers numerous intuitive, easy-to-use functions without the need to read a manual.
A well-exposed yet protectively embedded scrolling cylinder further enhances the ergonomic operation, and the digits of the crisp, contrasting LC-display come in the exclusively designed 'Ventura' font to provide excellent readability; in the dark, a built-in backlight makes it easier to tell the time.
The water-resistant case is made of Durinox®, a hardened and scratch-resistant stainless steel, and the liquid-crystal display is protected by a sapphire crystal, giving the v-tec ∑
its distinctive high quality appearance.
These technical qualities aside, the v-tec ∑ impresses with its unconventional, radically modern design, which locates the display sideways on the wrist to enable discreet reading of the time without the habitual twisting of the wrist.

For further information: www.ventura.ch

Ventura concentrates exclusively on digital