Jimmy Olmes, the Founder and Creator of Reactor, has been designing and making watches for the past 25 years. His is committed to innovation, quality and customer satisfaction. He creates sport watches that can be worn while practising all sports, even the extreme ones, without fear.

Quality
Every Reactor watch shares 6 quality attributes known as the Reactor D.N.A.:

Case and bands are forged from solid 316L stainless steel
316L stainless steel is the most corrosive resistant stainless steel available and the preferred choice of high-end performance Swiss Watches. Solid forged construction of 316L provides years of carefree performance regardless of how often it is used in salt water. Each band link is hand finished with a corner radius to provide pinch free comfort.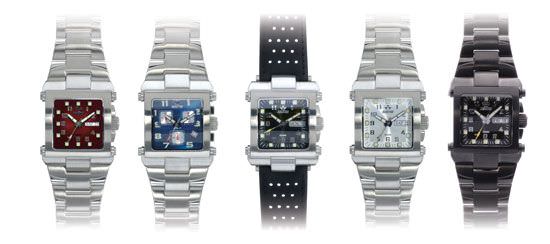 The crown is screwed-down, and has a unique triple o-ring system
These crowns bring extra water resistance and better stem protection. They are themselves protected by crown guards.
Most companies rely so heavily on the screw down crown for water resistance that they void their warranty if the water enters the watch through the crown when unscrewed. Reactor warranties every watch against leakage, regardless of where the water enters the watch and regardless of the cause. "We don't do this to encourage our customers to wear unscrewed watches when practising their passion, we only want to ensure that if, for example, after an exhausting long distance flight, they forget to screw-down the crown after resetting their watch, it won't leak if brought into the water" says Jimmy Olmes. The triple o-ring system secures the watch from leaking at a depth of 100 meters. Reactor is probably the only company that tests its watches twice for water resistance, first to 100 meters with the crown unscrewed, and then to the depth rating of the watch with the crown screwed down.

Highly phosphorescent Superluminova on dial markings and hands allows a powerful luminosity for 8 hours
Genuine Swiss Superluminova is used on all dial markings and hands. The careful application and layering of Superluminova on the dials and hands provide intense brightness and readability in darkness of a minimum of 6 and up to 12 hours. Reactor has been proven to exceed the luminosity standards of even the most expensive Swiss sport watches.





Pin-less band-to-case interface attachment
Reactor has replaced the typical spring bar that attaches the band to the case with a unique solid screw bar that utilizes over size Allen head screws. This construction provides an increase of strength of over 500% and eliminates the fear of watch loss, regardless of your sporting activity. The best spring bars break at about 15kg, while this construction withstands a force of over 75kg.
In addition this construction provides a "free floating" hinge interface that ensures superior fit and comfort.

Forged case back
Reactor mirrors the construction of high-end Swiss watches, using expensive forged case backs to guarantee maximum water resistance and convenient battery replacement. Most watches in Reactor's price range use less expensive stamped case backs that can flex and loose sealing, making it very difficult to guarantee water resistance after a battery replacement.

Triple secured clasps
It requires three steps to open, making it virtually impossible to loose the watch.

A token of this quality: The two years warranty is unconditional!

Source: H2O Distribution

www.reactorwatch.com

Contact: [email protected]groupeh2o.com
(Please credit europastar.com)