Under the slogan "100 years of passion", Franco Lucchesi, President of the Automobile Club Italia (ACI) has presented the full details of the centenary celebration of the 1907 Peking-Paris raid. The 2007 edition will see the same Itala car from 1907 leave Paris to embark upon the arduous 15,000 kilometre return journey to Beijing across Europe, Russia and the Mongolian steppe.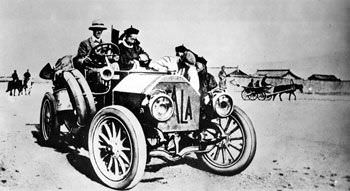 1907: Scipione Borghese and Luca Barzini en route in 1907

Wyler Genève will be with the convoy every step of the way as the official watch of the Paris-Beijing 2007. The drivers of the Itala will wear the Wyler Genève Chronograph model with its unique triple shock protection – the perfect companion for the harsh environments that will be encountered.

The adventure will be supported by the famous orange trucks of Italy's Overland World Truck Expedition, under the leadership of Beppe Tenti, who will provide full film coverage of the event for a wide audience via Italy's national broadcaster RAI.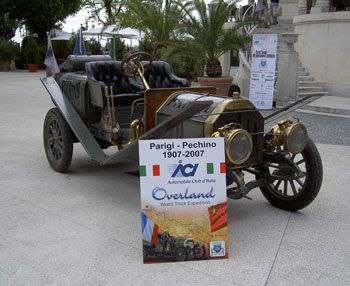 2007: The 1907 Itala in the Villa Borghese park at today's press conference in Rome

Paris was chosen as the start rather than the finish because of the changes in the geopolitical situation over the past 100 years. Whereas Paris was a major centre in 1907 and one of the world's great cultural capitals, in 2007 all eyes look to China as a major power that is experiencing incredible growth. Beijing was therefore a fitting choice for the centenary finish line.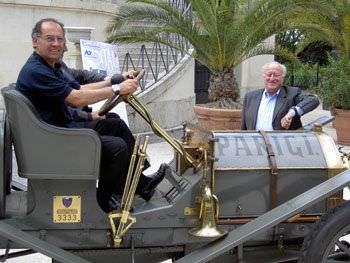 SfiligoiÐTenti1: Fiat Powertrain expert Mauro Sfiligoi, left, and Overland's Beppi Tenti, right, pose with their Wyler Genève Chronographs

One of the many changes that have occurred over the 100 years since the original race is a much greater awareness today of the automobile's impact on the environment. The organizers have taken this into account by making the Itala's journey carbon-neutral. They are supporting a project to plant thousands of trees to reforestate a region of Costa Rica.

The 2007 Paris-Beijing raid will depart from the Place de la Concorde in Paris on 20th July.

Source: Wyler Genève

www.wylergeneve.com

Contact: [email protected]
(Please credit europastar.com)