A special event deserves a special watch! Paul Picot was chosen by F.C. Internazionale, the prestigious Italian football club, to manufacture a watch which has exceptional features and at the same time reflects the values and long-standing tradition of this world-famous club. The out-come is the Paul Picot Technograph F.C. Internazionale.

The success story of F.C. Internazionale is unique: 15 Italian championship titles, 3 UEFA Cup titles, 2 European Champions' League Cup titles and 2 World Cup titles. Inter Milan is undoubtedly one of Europe's most successful football clubs and also the only Italian club which has never been demoted to the second division since its founda-tion. It is not just these countless successes which have turned Inter Milan into a myth, but rather the emotions and the passion which this club embodies.




Emotions and passion also typify Paul Picot's timepieces. "Noblesse du detail" is the philosophy governing the design of these watches and each individual piece fully lives up to that motto. The Paul Picot Technograph F.C. Internazionale is the finest example of a perfect union of great watchmaking skill and original design or, to put it differently, of tradition and passion. The striking chronograph presentation of this timepiece com-prises two superimposed dials in the middle of which the hour and minute display will be found. On the upper dial, the anniversary logo of F.C. Internazionale appears in gold, black and blue.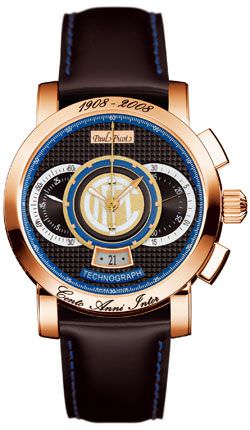 The real time seconds and the minutes of the chronometer function are displayed on the lower dial on two half moon-shaped oversized counters. The small seconds can be read on a subdial at 9 o'clock on the left-hand side. The shorter end of the hand (coun-terpoise) indicates the first 30 seconds in the inner circle and disappears behind the central dial at 12 o'clock. This is where the sophisticated system comes into play be-cause, from this very moment, the long part of the same hand (arrow) takes over the seconds function by displaying the next 30 seconds in the outer zone of the circle. This arrow in turn disappears after 30 seconds at 12 o'clock behind the central dial after showing the sixtieth second. The same function is shared by the 30 minute time meas-urement of the chronograph function at 3 o'clock, with the sole difference that the first 15 minutes are displayed on the outside and the next 15 minutes on the inside of the circle. The solid case of the Inter Milan watch made of stainless steel, 18-carat rose or white gold bears the inscription "1908 – 2008 Cento Anni Inter" (on the bezel), symbol-ising the tribute to the legendary club.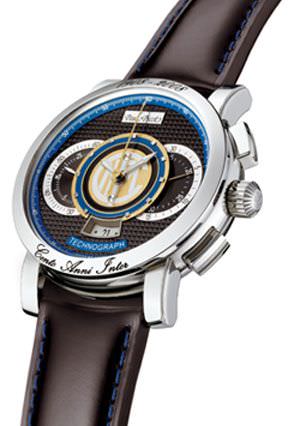 The Technograph F.C. Internazionale created by Paul Picot is limited to 100 copies in rose gold, 100 in white gold and 2008 in stainless steel. Each watch is numbered, fur-ther enhancing the unique quality of this model. This precious timepiece will be pre-sented exclusively, for the first time in Switzerland, at BASELWORD 2008.

Source: Paul Picot
www.paulpicot.ch
Contact:[email protected]

(Please credit europastar.com)