To celebrate its 60th anniversary, Yema Maison Horlogère Française 1948 is moving into a new factory in the Parc Lafayette, in the heart of Besançon's business park. The new 1,400 square metre plant, which includes two buildings, offers the brand the means required to achieve its ambitions. Take a guided tour of the new international head office.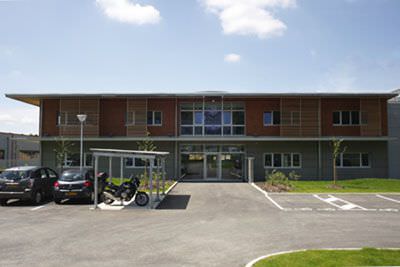 A brand new show case
The large glass bays on the front of the building bathe the interior in a dazzlingly bright atmosphere. An indoor staircase is illuminated by a central shaft of light, whose circular form recalls the dial of a watch. The bright atmosphere offers pleasant working conditions, while encouraging bonds with the outside world.
The building materials are the perfect reflection of the image of the brand.
The 400 square metres steel-covered logistics centre resembles a safe, while the first floor of the main building is decorated with wood panelling, symbolising the brand's perpetual renewal and spirit of innovation. The colour code of the interior reflects the latest Yema timepieces: flint-coloured floors, light walls and black doors with brushed steel handles. .
The fine, rectangular profile of the building evokes the functional efficiency of its design. With its two 500 square metre storeys, the building provides the 40 employees of the company's different departments with a functional and spacious working environment. The technical watch making workshop is a genuine white room that is visible from the building's entrance through a long window. Customer service, a show room and three reception rooms are located on the ground floor. The administrative, sales and marketing offices and senior management are all housed on the first floor for greater ease of communication.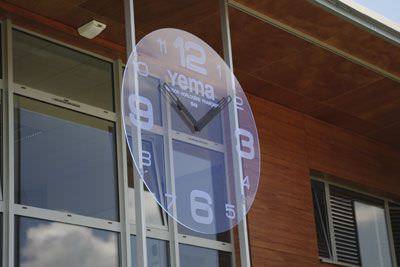 Environmentally friendly
Construction work started in the spring of 2007 under the management of the local architect's bureau Archi.Tech. It took 10 months to build the new facility. Famous for his "environmentally sustainable" works, the architect Ferrini succeeded in blending the stylish and distinctive buildings into the surrounding landscape. The wooden framework recalls the tree-covered hills just behind the factory. Close attention was paid to the insulation and the use of exterior galleries providing protection against the sun's rays and rain avoids the need for air conditioning in the summer and cuts energy consumption in the winter. Right from the outset, the building was designed with a future extension in mind in order to limit the need for additional works and further protect the local environment.

Distinctive signs
A huge blue clock, which does not work, is positioned on the front of the building to recall the French roots of the brand. "We are here to sell watches, not to tell the time", repeats the Chairman of Yema, quoting one of Fred Lip's statements. The congenial Chairman also asked for a petanque court to be built, so that employees can relax in typically French style!

Off to conquer the world
Situated in a free zone in the heart of a booming industrial and business zone on the edge of Besançon, the new factory is close to major road and rail routes, including a highway to the future high-speed train station. Ideally situated, the new factory is a functional showcase for Yema Maison Horlogère Française 1948, promoting a new image that reflects the renaissance of a brand with worldwide ambitions!

New address:
Yema Maison Horlogère Française 1948
18 rue La Fayette
25000 Besançon
Tel: +33 (0)3 81 54 24 50

Source: Agence COPEGA

www.yema.fr

Contact: [email protected]
(Please credit europastar.com)