In the course of the past 25 years, Chronoswiss' founder Gerd-Rüdiger Lang has proven that he has a very fine sense for the oh-so-flighty spirit of time. In this anniversary year 2008, the master watchmaker has launched his latest creation, the "Edition Zeizeichen" ("Signs of the Times Edition").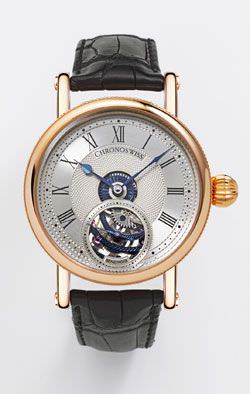 The mellifluous name denotes a creation that pays homage to various traditional crafts which flourished for centuries in the surroundings of watchmaking and which Chronoswiss has now revived and reanimated – like Sleeping Beauty awakened from her enchanted slumber. Because of the elaborate craftsmanship involved in its manufacturing, this line is being launched only in a very small, strictly limited series. The first wristwatches in "Edition Zeizeichen" embody the high arts of skeletonizing, engraving and guilloche. They are embellished in collaboration with a renowned master of these skills: Jochen Benznger from Pforzheim.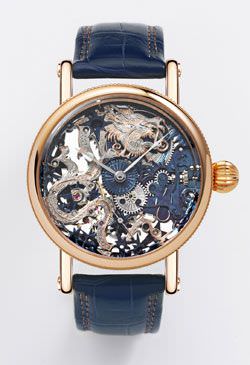 When Chronoswiss' owner Gerd-Rüdiger Lang was searching for a specialist to embellish his brand's new line, he soon chose the collaborator with whom he would create his first "Zeizeichen". Like Lang himself, Jochen Benzinger lives in the present moment, eagerly and regularly drawing inspiration from the past, as well as being a firm believer in handcraftsmanship. These qualities inspire both men to create genuine timekeeping artworks whose uniqueness assures that they will preserve their value - or even increase in worth – for many long years. Gerd-Rüdiger Lang envisioned ennobling watch movements in accord with the noble traditions of the various artistic handicrafts. Jochen Benzinger was enthusiastic about Lang's ideas, which he implemented with bravura. The differences are extraordinary between a raw movement and the ticking artwork that gradually takes shape through extremely time-consuming processes, which include the skilful redesigning of the bridges and steel parts.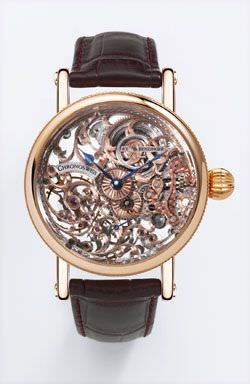 The new collection is taking shape under the aegis of two horological enthusiasts who perfectly complement each other and whose collaboration assures optimal results. Each of the four different models has its own irrestistible appeal, a beauty that can only be achieved through the combination of skilled handcraftsmanship and love for the metier, and when masterful artisans blithely ignore the passage of time and single-mindedly immerse themselves in their beloved tasks. These ticking artworks are all the more appealing thanks to their glass blacks, which are characteristic features of Chronoswiss watches.

Source: Chronoswiss

www.chronoswiss.com

Contact: [email protected]
(Please credit europastar.com)