Actress Charlize Theron has renewed her contract with Italian luxury brand Breil Milano and will appear in the company's advertising campaigns until 2011.

In addition to featuring watches and jewelry from the brand, the upcoming campaigns will also show Breil Milano's new lifestyle extensions, including its leather bags and eyewear collection.

Photographer Jean-Baptiste Mondino shot the most recent campaign with Theron in Los Angeles.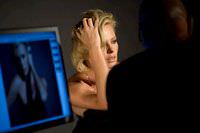 Charlize Theron backstage at the photo shoot for the latest Breil Milano advertising campaign.

An Academy Award-winning actress, Theron first partnered with Breil Milano last year, sporting watches and jewelry in the brand's fall advertisements.

Source: Nationaljeweler.com
www.nationaljeweler.com