"Sensual curves of a Tuscan pebble with a drop of water poised on it, Doppia displays the minutes through an astonishing set of mirrors."

Every year, Bertolucci pioneers new creations, where the 4Cs - the very essence of the brand - feature fully: Creativity, Curves, Comfort and Construction. In the Casual chic world of Maison Bertolucci, the emphasis is on classic, timeless lines with their audacious, original design.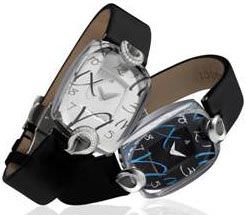 Building on its 2007 success, the Bertolucci Casual Chic flagship range - Doppia - is introducing new models in 2008 where the glance plunges into an aerial tourbillon. The sapphire crystal is adorned with five Roman numerals printed underneath it, inside the crystal itself, whilst the silvered-white or black dials, both with iridescent reflections, have seven silvered Arabic numerals.

Elegantly modern, with its daring yet soft perfect two-colour process set off by diamonds to each woman's choice, Doppia is an easily wearable watch for the original, contemporary woman.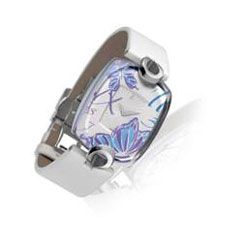 The new 2008 models are also a tribute to nature and creativity. The Doppia Butterfly dial with its iridescent reflections features butterflies in soft, pure colours which reveal the discrete motif, butterflies flying in the heat of a Latin summer.

Source : Bertolucci

www.bertolucci-watches.com

Contact: [email protected]
(Please credit europastar.com)