Binda Group announced that an agreement has been signed
whereby the Italian watches and jewelry company acquires 100% stocks of the US watches and clocks manufacturer and marketer Advance Watch Group Ltd. (known by the commercial name of Geneva Watch) from the US private equity fund Heritage Partners.

With the acquisition of Geneva Watch Group, the Binda Group aims at reaching total annualized sales revenues in excess of 450 million euros (>665 million dollars) in 2008 and attains a significant strengthening of its presence in the North American market, the largest and most
important for watches and jewelry. As a result, the Binda Group forecasts annualized sales revenues in the USA in excess of 200 million dollars in the current calendar year (>135 million euros), around 30% of its total worldwide business.

Besides the US operations of Geneva Watch, the Binda Group will also incorporate production units in the Far East with around 1,200 employees plus 300 top-notch quality control specialists.The Binda Group's brand portfolio is now to add various new licenses, the largest of which is the Kenneth Cole brand, currently one of the top fashion watch brands in U.S. in terms of market share, and the house brand Freestyle, a historic sports-watch brand that is particularly popular among West Coast surfers.

This acquisition is part of the Binda Group development plans which target 1 billion euros sales revenues by 2015.

Geneva Watch is to be headed by the newly appointed CEO Jeff Gregg, previously COO and CFO of the same company, reporting to Gianni Pieraccioni, Group Managing Director.

The Binda Group
The Binda Group, established in 1906, is the Italian market leader located in Milan and currently considered a benchmark in Europe for watches and jewelry.

Headed by the brothers Marcello and Simone Binda, grandsons of the founder, the Binda Group operates in more than 70 markets with approximately 400 employees worldwide, half of whom at the Milan headquarters.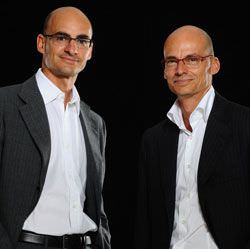 Marcello and Simone Binda

The Group ended 2007 with consolidated revenues of 297 million euros and sales of approximately 5 million pieces. It has 8 subsidiaries (Binda Italia, Binda USA, Binda Brazil, Binda UK, Binda Deutschland, Binda España, Binda Portugal and Binda China), with 50 distributors, to serve over 12,000 retail stores worldwide and 47 Breil Milano monobrand boutiques and Group multibrand stores under the B-Hip! name.

The Geneva Watch Group
It was established in 1974 and headquartered in New York, is today one of the leading US-based company in the design, production and distribution of watches and clocks with around 1800 employees worldwide and locations in New York, Michigan, Hong Kong and China. Geneva Watch has been owned by the private equity fund Heritage Partners of Boston since 1999.

During the year ending March 2008, the Group recorded net revenues of $192 million (124million euros at current exchange rate) and sold around 25 million watches. Geneva Watch employs approximately 300 people in the US and 1,500 in the Far East.

Source: Binda Group

www.bindagroup.com

Contact: [email protected]
(Please credit europastar.com)