The appearance of the Incursore Power Reserve DLC reminds one of a speedometer in a car. This timepiece will be launched into the market in a limited edition of 300 watches.

After launching the Incursore Power Reserve in 2006 Glycine now presents a very special further development of this watch with power reserve display: The Incursore Power Reserve DLC. Its case is treated with Diamond-Like-Carbon, DLC for short. The diamond-like carbon coating gives the satin steel case an elegant, anthracite coloured appearance and makes it extremely resistant. DLC is several times harder than steel.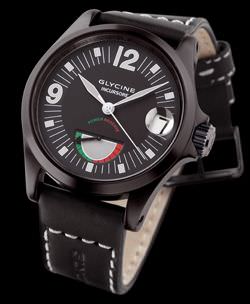 With the power reserve display at six o'clock the owner can see if the watch is running ideally: In the middle of the green area it reaches the best power values, if the hand is on red the watch needs to be moved.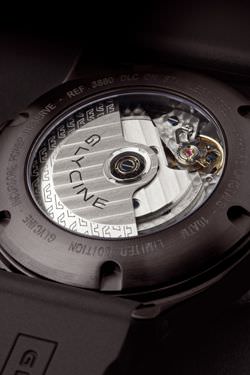 The Incursore Power Reserve DLC's design reminds one of a speedometer in a car: The delicate minute-circle displays each second individually, almost like the speed on the instrument panel. The clear design, as well as the luminous elements on the numbers and power reserve display underline this look. With this model Glycine once again demonstrates that they place great value on good legibility.

The Incursore Power Reserve DLC will be on the market in early November 2008 in a limited edition of 300 watches.

Source: Glycine

www.glycine-watch.ch

Contact: [email protected]
(Please credit europastar.com)