Photon Limited Edition of 600 Features Eddie and Troy "Skulls" Image on Special Luminous Dial

Southern California-based Reactor, maker of durable and progressive sport watches, announced that they have partnered with Dillard's and country music superstar duo Montgomery Gentry on an exclusive Limited Edition of 600 sport watches with special luminous skulls representing Eddie Montgomery and Troy Gentry on the dial.

The Montgomery Gentry Photon watch will retail for $300 to $350, and is only available at select Dillard's stores. Additionally, Montgomery Gentry will donate their royalties to their favorite personal charities: Camp Horsin' Around and Make-A-Wish of Middle Tennessee.

Reactor's MG Limited Edition Photon is available in two different versions: Stainless steel with a high polished case and band; and IPB black case and band that is sandblasted for a heavy matte texture; both styles use the same dial.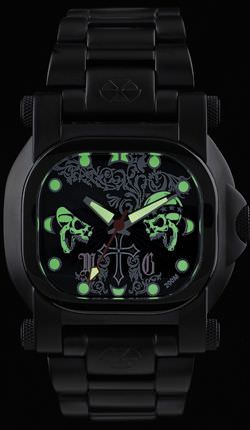 "When we learned that Montgomery Gentry and Dillard's were interested in a limited edition MG watch, we were excited about the opportunity," said Reactor Founder Jimmy Olmes. "Our goal was to use one of our more successful existing cases that had a large dial so we could do a good job with the art. We selected the Photon with its broad 44.2mm case."

Capitalizing on the fact that Reactor leads the industry in luminous dial technology, Reactor decided to use Superluminova not only on the hour markings and hands but also on the skulls. "And, yes, the skulls on the dial also light up in the dark!" says Olmes.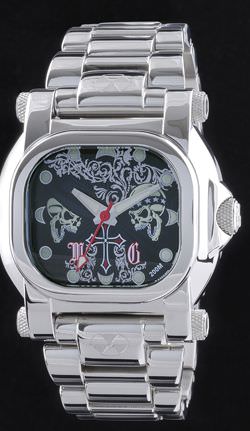 The specific features on the limited edition MG watch include: a solid forged stainless steel case and band, a day/date movement, a solid screw bar interface between case and band for added strength, a free floating hinge design for a terrific fit; and Superluminova dial markings and hands. Additionally, the watch features a screw-down crown and has been depth tested to 200 meters. Each watch is individually numbered on the caseback and comes in a special Montgomery Gentry Gift Box.

Source: Reactor Watch


www.reactorwatch.com

www.dillards.com

Contact: [email protected]
(Please credit europastar.com)