Wyler Geneve has signed a new licensing agreement to produce the official watch of the Italian national soccer team.

For the watch brand, it is a return to its roots. Nearly 75 years ago, Wyler Geneve and the Italian distributor Innocente Binda put the company's watches on the wrists of the Squadra Azzurra, Italy's soccer team for the 1934 World Cup.

Wyler Geneve today remains a company of the Binda Group, headed by Innocente Binda's grandsons, Marcello and Simone Binda.

To coincide with Italy's first qualifying matches for the 2010 World Cup, Wyler Geneve will renew its association with the Italian soccer team by producing a watch built around the brand's unique shock-absorbing case.

The timepiece will be the first-ever wristwatch to feature a design by Andrea Zagato, the head of innovative Italian design firm Zagato.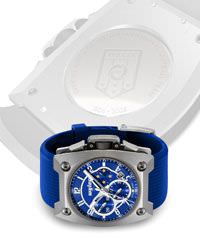 The official watch of the Italian national soccer team.

The watch features a stainless steel caseback with a scratch-resistant sapphire crystal aperture and special engraving that reads "Official Watch of the Italian Football Team, 1934-2009."

"I'm immensely proud of this renewed association with the Italian football team, which takes us back to the roots of our company," Wyler Geneve Managing Director Bruno Grande said in a media release. "The advertising slogan for our shock-absorbing chronograph is 'Time Suspended' and to come back to partner with the Italian team after 75 years certainly does feel like time has been suspended."

Source: nationaljeweler.com
www.nationaljeweler.com