Luxury watchmaker Wyler Genève, the official timekeeper for the 2009 Dakar, unveiled the official watch of the rally: a limited-edition chronograph made of the rare metal tantalum.

Slated to appear in stores in time for the run-up to the Dakar, which starts in Buenos Aires on 3rd January 2009, the production run for this watch is limited to 182, which was the number of competitors in the first-ever Dakar rally 30 years ago.

In addition to on-screen credits as official timekeeper and the right to produce the official watch of the Dakar, Wyler Genève's three-year agreement with the event organizers also includes the obligation for a life-cycle analysis of the event financed by Wyler Genève. The results from this will be used to determine the scope of a Wyler Genève prize, to be awarded for the 2010 edition, to recompense ecological endeavors by participants, organizers or anyone else involved in the Dakar.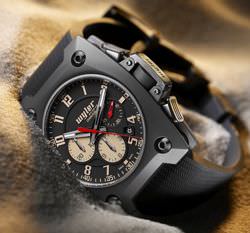 The official Dakar watch uses Wyler Genève's unique shock-absorbing case, in which the movement is sealed in a titanium container that is held in place in a carbon-fibre resin frame. The upper and lower plates are then fixed to this construction on sprung titanium screws, leaving the movement suspended inside. The use of tantalum for these plates leaves no doubt as to the exclusive nature of the Dakar watch. Not only is tantalum rarer than gold, it is also more difficult to machine – especially for the complex Wyler Genève case – meaning that there is only ever a limited number of models available with the intriguing blue-grey sheen of this rare metal.


Source: Wyler Genève


www.wylergeneve.com

Contact: [email protected]
(Please credit europastar.com)