New player in the Luxury industry and positioned on the market of high-end watch making, the Swiss Company Ladoire announces that the European capital development Company Aurinvest Capital 2 has undertaken a 37% stake holding in the Company.

This stake holding undertaking represents a milestone for Ladoire's future development in the segment of high complication Helvet manufactured watches, in which it specializes.

Benefitting from a solid experience, the Aurinvest Capital 2 Company will assist the Ladoire Company in its growth strategy and in the development of its activities on the international market of high-end watch making with the launch of innovating timepieces elaborated in the purest Helvet tradition.

On the occasion of this stake holding undertaking, Lionel Ladoire, President of Ladoire SA declares: "we are delighted to take advantage of Aurinvest's extensive network of competences. Aurinvest is the ideal partner to help us modernize watch making, which takes its sweet time."

Michel Demont, President of Aurinvest Capital 2, underlines: "we are very glad to become the development partners of Ladoire, professionals of watch and fine jewelry making with a great reputation and active in a booming segment on the international scene".

The first timepiece created by Ladoire, the RGT – Roller Guardian Time is equipped with an automatic winding mechanical movement, entirely exclusive and adorned with a daring neo-classical design.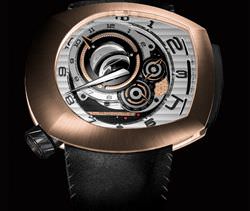 The fruit of a breakthrough technology, this innovating watch is already being appraised by the press specialized in the watch industry.

Source: Luxeco
www.aurinvest.com

Contact: [email protected]
(Please credit europastar.com)