Like the mechanical original, it features the indication of hours, minutes, seconds, date and a 2nd time zone. Through the display backside of the watch one can see the wonderfully refined movement.

The backside of the iPhone-Airman shows an exact and working image of the winding oscillating weight. Of course, it does not have a winding function, but the watch aficionado will be enthusiastic about this view and the toy factor is just amazing.

The second time zone can be easily set with a slider. The "prevent auto-lock"-feature allows to use the Airman Clock as the perfect desktop clock when your iPhone is placed in the dock.

Airman Clock on the iPhone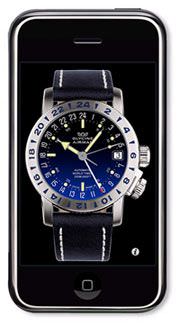 Front side indicating actual time and date and a 2nd timezone.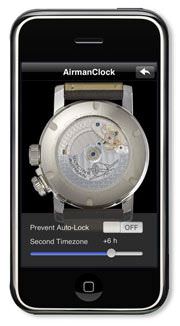 Back side with setting elements and rotating windling mass

Source: Glycine Watch SA
www.glycine-watch.ch
Contact:[email protected]

(Please credit europastar.com)