ORIGINS
At the end of the 1920s, the race to create an automatic powered movement was raging among watch manufacturers. In 1931, the brand with the crown logo created the so called "Auto-Rotor", based on a model produced by Aegler, a calibre manufacturer for Rolex (bought back by the brand in 1930). The movement pioneered what later became the automatic winding system as we know it today. By adding to their manual movement a winding mass capable of rotating in a 360° arc both clockwise and counter-clockwise, the engineers had found a simpler, more robust and reliable solution than the "bumper" movements in contemporary use.
The rounded, bulbous case back designed to make room for the automatic rotor
Although they were highly regarded and sought-after by Rolex collectors from the 70s to the 90s, Bubble Backs are largely neglected today in favour of sportier models of the brand such as the Daytona, Submariner or Explorer. However, Japanese collectors are still on the hunt for such timepieces and, as always, their sharp and tasteful eye is once again right. Bubble Backs are indeed reminiscent of a particular era in watchmaking (1930s-1940s) when art deco design, combined with the purest and most elegant shapes, formed the cornerstones of this majestic period for watches.
Beautiful example with a Californian dial

©robertmaron.com
Italian collectors are also tracking down timepieces born during the two most interesting decades of watchmaking, in terms of design purity and audacity. They like to call these Bubble Backs "Ovetto" or "little egg" in Italian, referring to the odd rounded shape of the redesigned Oyster case.
For more than twenty years, the Rolex Bubble Backs were the bestselling models of the brand, and became the foundations of what Rolex watches were known for: elegant yet robust daily beaters, leaving a true legacy cherished by their more dressy offspring, the Datejust and Day-date.
DESIGNS AND VERSIONS
Given that "Bubble Back" was just a nickname for various references of Oyster Perpetual with a rounded case back, many dial and movement variations exist on the market.
In the same way, the highly influential and aesthetic Art Deco style can be seen in the different dial combinations found on Rolexes of this era. Some of them have impressive sector dials, while others were designed with a mix of Roman and Arabic numerals, also referred to as the Californian dial. The same goes for the hands; some used the overly famous Mercedes/rising star hand, while others came with more subtle ones.
Rolex Oyster perpetual with a Californian dial
The 30s/40s were a testing ground for design and originality; the sheer freedom and willingness to experiment, along with a certain futuristic imagination, led to some incredibly beautiful creations that are still today regarded by most as the pure definition of style.
Nonetheless, when we talk of Bubble Backs, we consider every automatic/perpetual Rolex watch, built around the famous Oyster case and the screw-down crown.
Because they were incredibly tough for their day, thanks to their case construction and breakthrough water resistance, as well as being extremely popular, these timepieces can still be found in relatively good condition for the old grandmas that they are (approaching the 90-year mark).
Once again, calibres can also vary slightly in terms of technical performance and features. The majority of Rolex Oyster Perpetuals came with chronometer certification, but some rare examples proudly avoid mentioning it on the dial.
In my mind, the ones with the little seconds display are even more aesthetically pleasing, compared with the more contemporary central seconds hand.
Bubble Backs were offered in stainless steel, but they also came in 14k or 18k yellow gold and pink gold cases, and in various sizes from 32mm to 34mm. Although small by modern-day standards, these watches still have an elegant and somehow original presence on the wrist, and aren't in any way shockingly ridiculous to wear. Note that the latecomer 36 mm case watches, also known as jumbo Bubble Backs, are already closer to what would eventually replace the previous generations, and later become the Datejust series.
A marked bezel was added to some references, and it was available in steel or rose gold. The metal piece sometimes resulted in unusual but nonetheless beautiful two-tone combinations.
A 1944 Bubble Back in a stainless-steel case with a rose gold bezel and a Californian dial

©Luxify.com
Complemented with a "vitello martellato" leather strap or with a Gay Frères riveted steel bracelet, these watches can be worn with practically anything. However, if you want to go one step further, I recommend you wear your Bubble Back during your next summer trip to Italy. With a linen shirt, sleeves rolled up, you will undoubtedly be mistaken for an Italian watch dealer.
A two-tone example with a beautifully original bamboo style Gay Frères bracelet

©Watches in Rome
PRICE
The prices of Rolex Oyster Perpetuals from that era can fluctuate enormously depending on the condition, quality of the dial, originality, features and working order. Although not really Bubble Backs, some Oyster Juniors, reserved back in the day for a younger or more feminine clientele, still capture the look and feel of their automatic big brothers, and come with a notable discount, approaching the 1000 CHF mark.
After that, for between 1500 CHF and 2000 CHF you could possibly find beaten up examples, but I suggest you stay away from those pieces. From 2500 CHF to 4000 CHF, and with a sharp eye, you can find a good, respectable piece without too much trouble. Over the 4000 CHF mark you can aim for the range of full gold examples, rare dial versions, retailer signed dials and, potentially, period correct steel bracelets.
A sector dial, alpha hands Bubble Back with the Italian retailer Ronchi Milano signature

©rolexpassionmarket.com
WHAT TO LOOK FOR
Condition, condition, condition! Given that they are hard to repair, due to a lack of original furniture, I highly advise you to look for watches that look great and work great. Be alert to fake or repainted dials. Check that watches are not overly polished (rare because of the long lifespan of these models) and have the correct hands. A lot of literature exists on Bubble Backs, so do your homework and double check if the dial version you're looking for exists somewhere else. Don't bother about the box and papers, which are nearly impossible to find and just bump up the price.
The holy grail for me would be in stainless steel with the marked bezel, sector dial, radium painted Mercedes hands, sub seconds counter and, of course, Gay Frères stainless-steel bracelet, something similar to this model:
www.phillips.com ">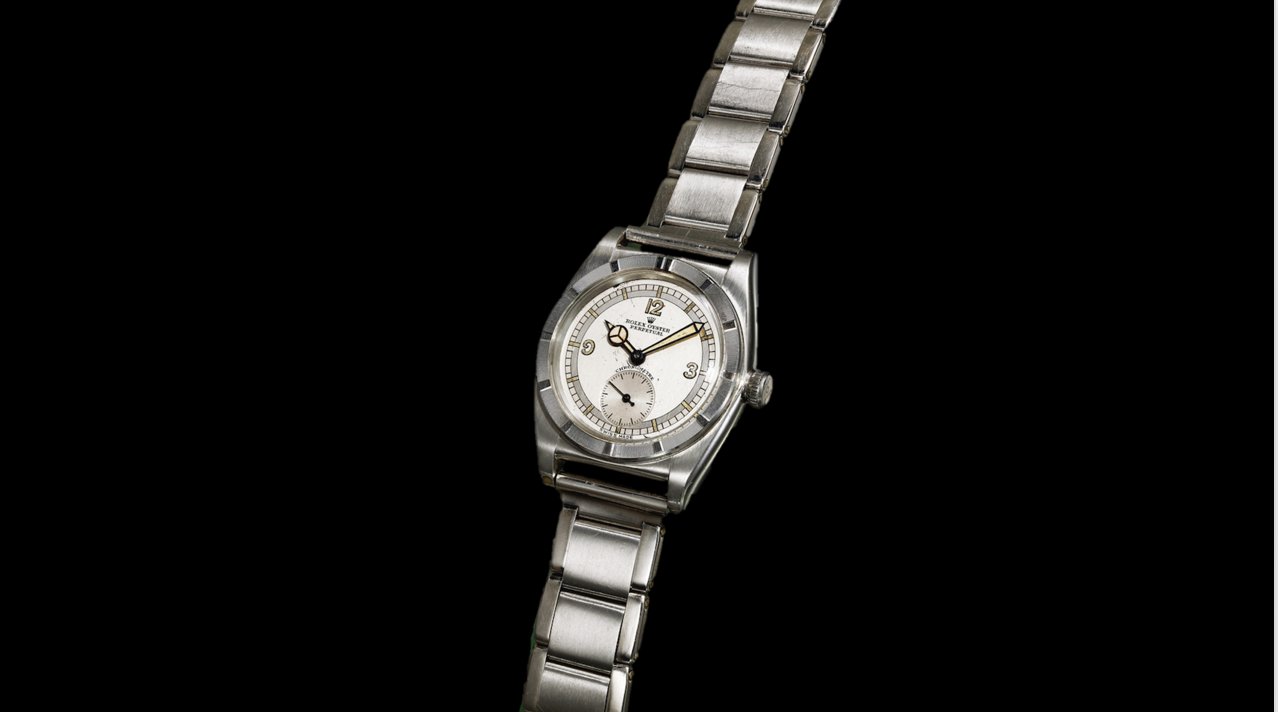 CONCLUSION
By establishing the two pillars for which Rolex would become renowned – the automatic movement and waterproof case – the Bubble Backs are what launched and set in motion the now most recognisable and unstoppable crown machine that is Rolex.
Even today, the screw-down crown, the Oyster shaped case, the automatic movement and the Mercedes/rising star hand still form a prominent part of Rolex's contemporary offerings.