D
esigned to recreate a garden on your wrist, this breath-taking timepiece features the colors of the rainbow and draws its power from a delicate butterfly tourbillon movement. The tourbillon, time display, and upper level multicolored sapphire flowers all travel around the dial clockwise, while the mother-of-pearl base set with rainbow sapphire flowers moves counterclockwise. The 18K rose gold case features a bezel and inner ring set with rainbow sapphires, and atop the movement sits an incredible 288-facet Jacob-cut grass-green tsavorite.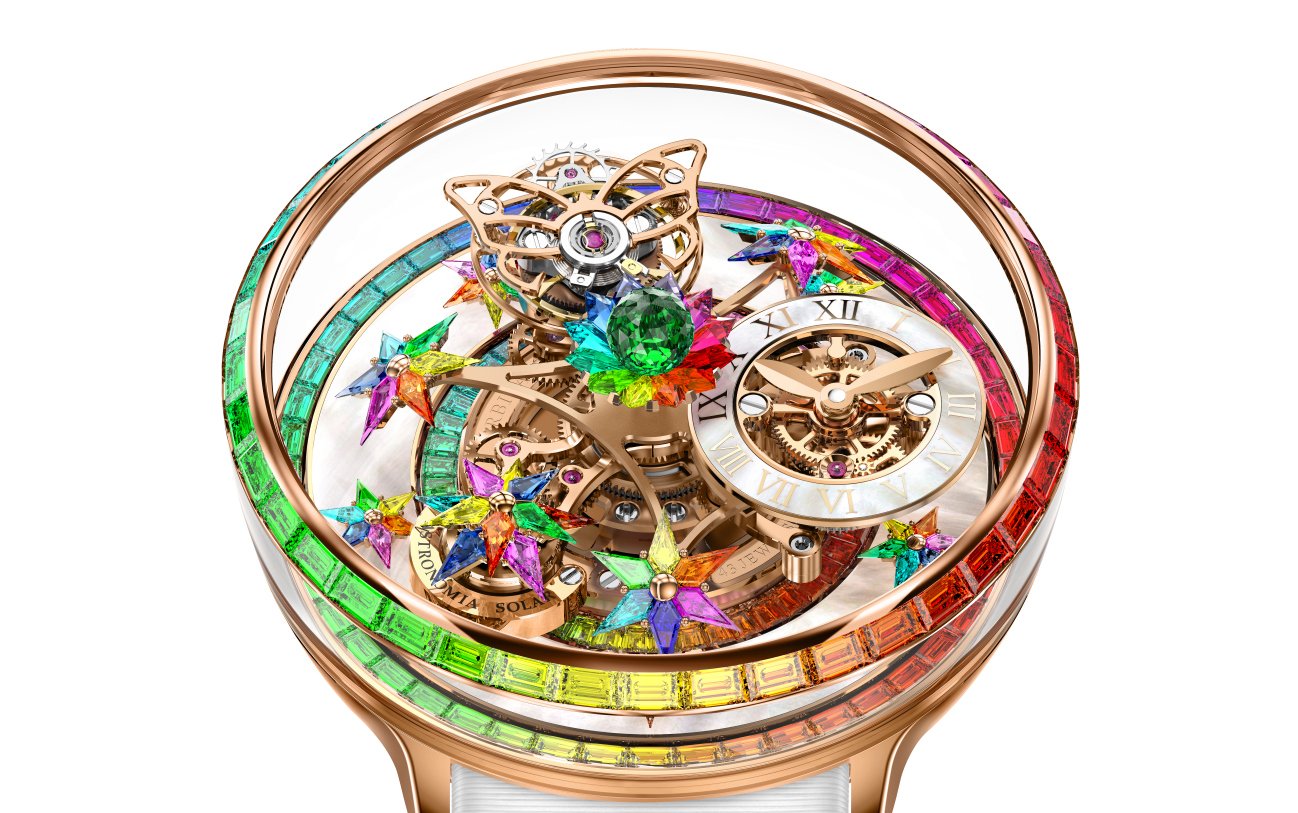 Recognized by the Industry
Introduced in 2019, the Fleurs de Jardin instantly transformed the way people viewed feminine horology. Incorporating the techniques learned with the Astronomia and the Astronomia Solar, Jacob & Co. created its first true high complication specifically designed for women. In 2019, the Fleurs de Jardin was officially pre-selected from hundreds of women's timepieces for inclusion in the Ladies Complication category of the GPHG, the "Oscars" of watchmaking. This selection underscores the Fleurs de Jardin's importance in horology.
Fleurs de Jardin Rainbow
The most important challenge that arises when crafting a rainbow watch is sourcing the right color gemstones. With exceptional craftsmanship at the forefront, the team of designers at Jacob & Co. are masters in sourcing and selecting stones. Showcasing their expertise with flawless color, the Fleur de Jardin is a gemstone masterpiece. The 42.5mm 18k rose gold bezel of the Rainbow is set with 40 rainbow sapphires, while the inner ring features 48 rainbow sapphires.
Sitting on top of the movement is a beautiful green, 288-facet Jacob-cut Tsavorite, while the frame carrying 11 flowers with kite-shaped multicolored sapphires rotates clockwise once around the dial in ten minutes. The flying tourbillon and the time display also rotate clockwise in ten minutes. The mother-of-pearl base set with rainbow sapphire flowers rotates counterclockwise in 10 minutes. This stunning new version of the Fleurs de Jardin is limited to 101 pieces.
The Fleurs de Jardin Movement
Hidden below the delicate beauty lies the legendary timepiece workmanship for which Jacob & Co. is famous, including the vertical Astronomia double-axis flying tourbillon movement, which makes a full clockwise revolution in ten minutes around the central axis, with the patented Differential Gears System that allows the time display to maintain the 12/6 o'clock position regardless of where it is in the rotation. In addition, the flying tourbillon cage rotates on itself once every sixty seconds.
There are tales of hidden treasures at the end of rainbows, but with the new Fleur de Jardin from Jacob & Co., there is no need to look further than your wrist.
Explore the Europa Star archives - Join us as a Club member
New: 40'000 pages added, since the year 1950!
Our data base contains over 100,000 pages and 70 years of fully searchable back issues, up to the most recent publication. A treasure trove for all knowledgeable professionals and aficionados.