L
ike a cluster of other quality artisanal watch brands, Czapek is recording rapid, almost exponential demand. This "rush" on the independents, which has built strongly over the last two years, is proving especially beneficial to those that are able to offer a model that fits the most popular genre of our time: sport-chic. In the case of Czapek, that would be the Antarctique, its flagship model, which today represents 80% of its orders.
Czapek's Antarctique model, which now accounts for 80% of its orders, is a prime example of the sought-after sport-chic genre.
Xavier de Roquemaurel, the head of the company with an unusual business model (it has 200 shareholders!), has been moving mountains since the launch of the first models in 2016 in an effort to place the brand's historic name in centre stage. The entrepreneur has attended every show and launch, and continued to explore new aesthetic and commercial avenues with a view to finding the right balance between the great tradition to which the brand lays claim, and contemporary tastes. We met him.
Europa Star: You've just suspended orders for your Antarctique model for a year – a move we've recently seen from other independent watchmakers such as Grönefeld. Is that the price of success?
Xavier de Roquemaurel: This model has propelled us into another dimension, to the point where we can no longer keep up with demand! When the Grönefeld brothers announced their decision last September, I was perplexed. But now, a few months later, we are in the same situation. Czapek has 2,800 orders in hand, 80% of which are for Antarctique models. We will not be able to produce more than 800 watches this year. Our shareholders agreed: this was simply a safeguard and protection measure for the brand.
Two years after the launch of the Antarctique line, this year Czapek introduced the Antarctique S with a new, thinner 38.5 mm case and three new dials.
Why?
We're not free to expand our capacity at will , because these models are equipped with our own movement, the Calibre SXH5. This is a very good thing, because we are internalising more know-how, but you have to know when to take your foot off the gas, to set up an appropriate production structure. This is why we have just moved into new workshops in La Chaux-de-Fonds, almost five times larger than those we occupied in Le Locle. And we are recruiting. We're not about to go into a system of multi-year waiting lists. We want to grow proportionately, not by accumulating backlogs.
"We're not about to go into a multi-year waiting list system. We want to grow proportionately, not by accumulating delays."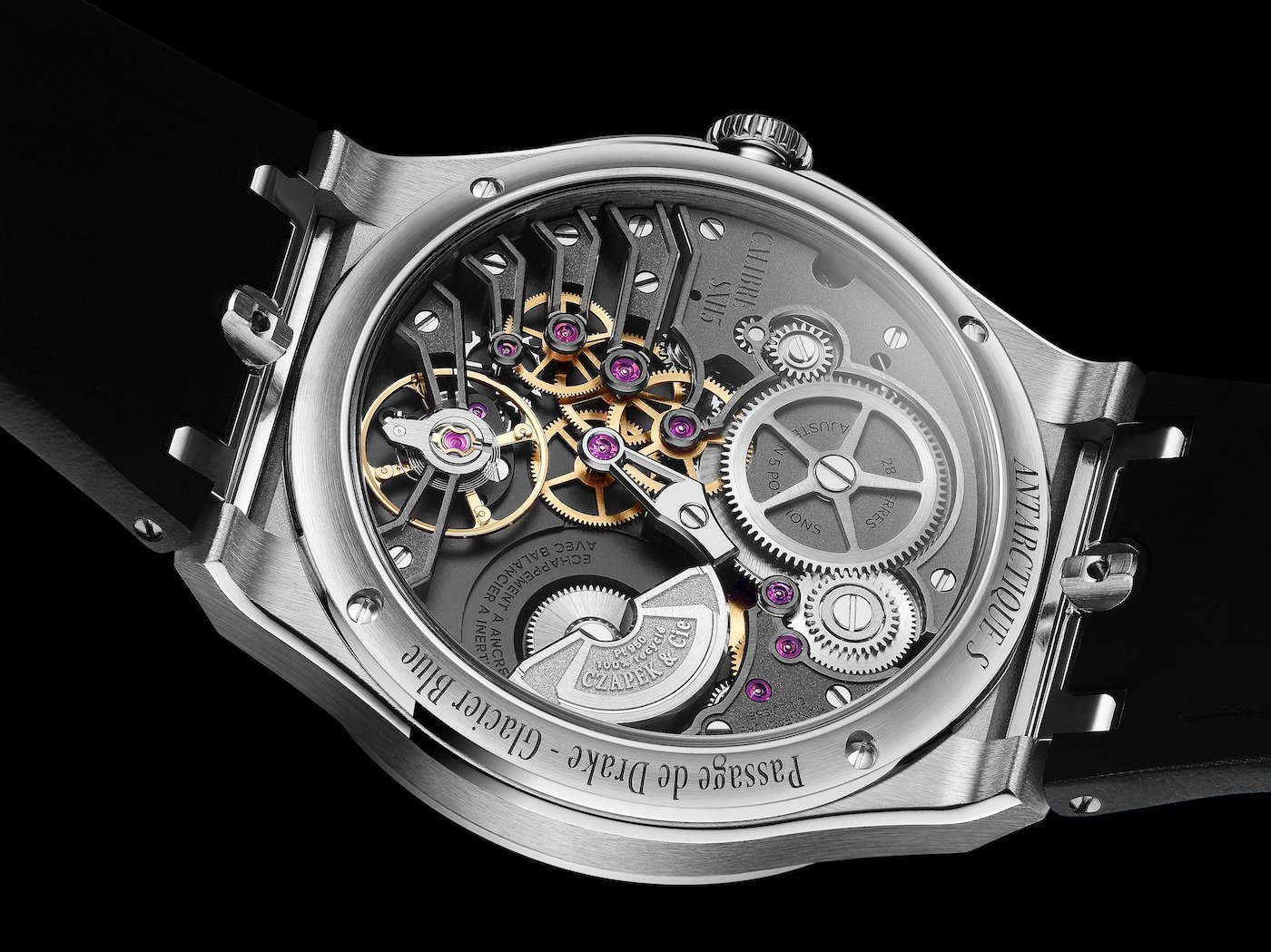 What's the maximum annual production could you ramp up to?
First, you have to realise how far we've come: between 2016 and 2020 we produced 500 watches in total; last year we produced 300; this year, probably 800. For the future, we don't have a numerical target, but we have no intention of growing beyond 5,000 watches per year. 3,000 to 4,000 should be enough. We want to satisfy demand while remaining exclusive. The Antarctique model will again be available in the current collection. Only the split-seconds version is produced in a limited series.
The new Antarctique S Frozen Star
One of your most sought-after models is the new Antarctique S, with a reduced diameter of 38.5 mm.
Indeed, since its launch at Watches and Wonders this model has accounted for half of the new orders we received. It is still equipped with our in-house calibre but we have done a lot of work on the case, bracelet and dial. To create a case that was 3 mm smaller than the original model we had to start from scratch, not just shrink it down. The case had to be completely redesigned and the codes rewritten to ensure that all the proportions worked perfectly, including the ratio between the overall thickness and the new diameter.
We worked closely with our partners AB Concept and Metalem on the design. Three dial options have already been launched: the Stairway to Eternity pattern, presented in blue in the Glacier Blue Drake Passage and in salmon in the Salmon, as well as the Frozen Star dial, which is made from osmium, the rarest precious metal on earth and one of the six metals in the platinum group. The number of colours available will increase – we have many new dials in development, which will need to be ready by the time orders reopen.
How do you keep a cool head in the face of such rapid growth? It's not without its dangers.
We see this as the beginning of recognition, but we are still driven by our passion for watchmaking, sometimes against the prevailing trends. We worked very hard before launching Antarctique, and the pandemic presented us with a "double or quits" situation. The company could have gone under, but we redoubled our efforts and took a risk by pushing our business forward, regardless of the cost, and launching this collection in May 2020, when we had not received a single watch order for some months. In the end, it turned out to be the right model at the right time – so much so that today we can't keep up with demand. We had to drink the cup and row the boat before we learned to ride the waves!