A
fter studying law and art history, Isabelle Cerboneschi was destined for a career as an auctioneer but, being "in love with words", she became a journalist instead. For 15 years she was in charge of the special edition of the Swiss daily newspaper of reference, Le Temps.
Fashion, watchmaking and jewellery are the favourite subjects of this "lover of the professions of all things beautiful",as she describes herself – a cross-disciplinary perspective she is now putting into effect in her own online magazine, ALL.I.C (in French and English), created in 2017.
Passionate, cultivated and selective, Isabelle Cerboneschi takes an informed, keen and personal look at the close relationship between watchmaking and jewellery.
Isabelle Cerboneschi
Passionate, cultivated and selective, Isabelle Cerboneschi takes an informed, keen and personal look at the close relationship between watchmaking and jewellery. Europa Star met her.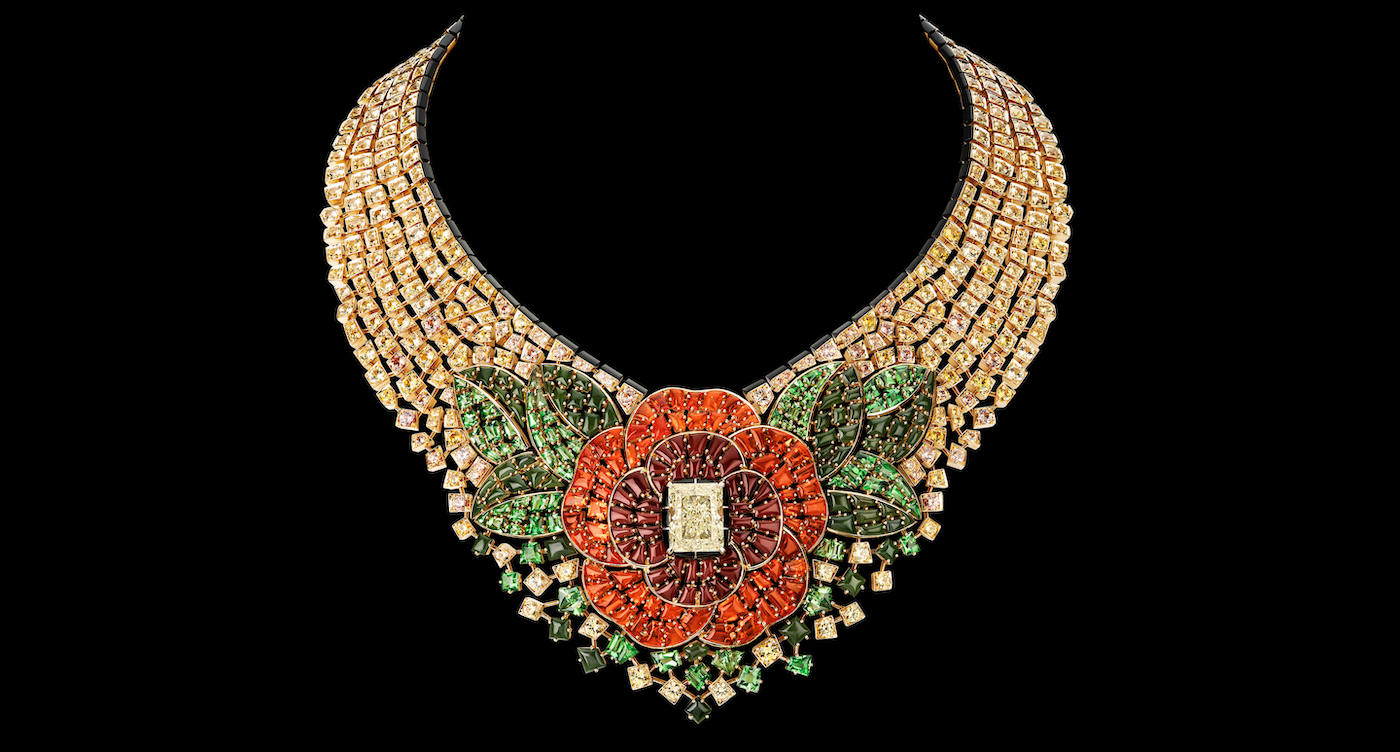 Historical depth
Europa Star: At a time of great economic and financial manoeuvring in the jewellery world, and watchmakers' growing interest in it, you remind us that it is useful to look to the past, where we can see that the link between these two lines of business was originally forged in Geneva – thanks, ironically, to the Puritan, John Calvin.
Isabelle Cerboneschi: When you look at the emergence of watchmaking in Geneva, ironic congratulations are due to John Calvin (1509-1564). He banned jewellery there, because he regarded it as futile and contrary to sumptuary law and the strict principles of Protestantism, but he allowed watchmaking as socially useful. The unemployed goldsmiths of Geneva consequently joined forces with the French goldsmiths and watchmakers, who were Protestant like them and had taken refuge in Geneva to escape religious persecution. Calvin prohibited jewellery, but not the ornamentation of timepieces. It was this union of watchmakers and goldsmiths that spawned the high-end watchmaking industry of Geneva.
"Starting in 1879 and for nearly 60 years, until 1938 to be exact, Vacheron Constantin formed a close alliance with the Parisian jeweller Ferdinand Verger to create truly sublime jewellery watches."
Without going into the detailed history of this relationship and its consequences, one extraordinary example of the alliance between watchmakers and jewellers is especially enlightening – that of Vacheron Constantin. Founded in 1755, the company soon began to excel in ornamentation. Starting in 1879 and for nearly 60 years, until 1938 to be exact, Vacheron Constantin formed a close alliance with the Parisian jeweller Ferdinand Verger (which became Verger Frères in 1921) to create truly sublime jewellery watches. They are the result of close, genuine collaboration between Paris, its trends, fashions and jewellery craftsmanship, and Geneva with its mechanical watchmaking savoir-faire. It can be regarded as the originator of jewellery watchmaking.
Vacheron Constantin, lady's wristwatch in white gold, baguette-cut sapphires, single-cut diamonds, millegrain decoration, pearl bracelet, 1920
Movements before jewels
Making a genuine jewellery watch is about more than just setting jewels into the bezel of an existing model. It's the result of a genuine exploration of form stimulated by watchmaking technology and carried out in concert with it.
If we take a closer look at the great successes in the domain of jewellery watches, we see that the finest examples emanated from innovative movements that allowed new forms to emerge. Let me take two examples.
The first is Calibre 101, created by Jaeger-LeCoultre in 1929. This minute mechanical movement, the smallest in the world, appeared when women began wanting to wear a watch that was also a piece of jewellery on their wrist. Its tiny size – "the weight of two butterflies," as legend has it – allowed Jaeger-LeCoultre to create sublimely beautiful watches. The fact that in 1953 Queen Elizabeth II chose to wear one at her coronation lent it an exceptional aura.
The Jaeger-LeCoultre Calibre 101 watch of Queen Elizabeth II. "The weight of two butterflies," as legend has it.
Another example is the ultra-thin 9P movement created by Piaget and showcased at the Basel trade fair in 1957. Just 2mm thick, this calibre made previously unthinkable creations possible. For example, the movement made it possible to produce the first dials in coloured gemstones (turquoise, lapis lazuli, coral, etc.), which marked the style of the period – and which certain brands have striven to relaunch. And let's not forget that Piaget also had its own gold foundry in Geneva, so it had extensive knowledge of gold-working techniques.
Piaget 1960s cuff watch in yellow gold, coral and turquoise

Credit: Philippe Garcia
"To my eyes, Piaget is the greatest of all jewellery watchmakers. One of those who, on the basis of their watchmaking expertise, succeeded in becoming real jewellers."
In 1959, the Piaget manufacture at La Côte-aux-Fées exhibited jewellery creations for the first time, many of them rather extravagant. But although the company had been a movement manufacturer from its inception in 1874, the "purist" watchmakers regarded these "fanciful" items with suspicion. To their eyes, this was not watchmaking. To my eyes, Piaget is the greatest of all jewellery watchmakers. One of those who, on the basis of their watchmaking expertise, succeeded in becoming real jewellers.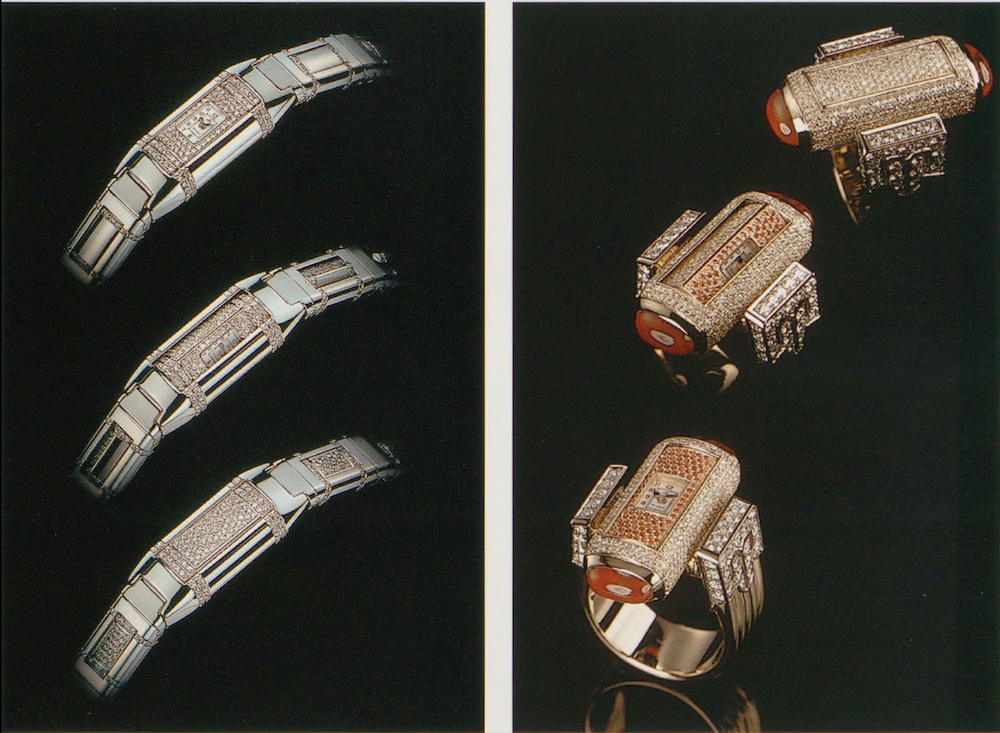 Jewellers who became watchmakers
Looking at it the other way round, at jewellers who became watchmakers in every sense of the term, we can think of several jewellery companies who succeeded in "changing their spots" and now have a firm footing in watchmaking.
Take Chopard, their path was the diametric opposite of Piaget's. In the 1960s, Karl Scheufele, basically a jeweller in Germany, was looking for movements for the watches he created. He came to Switzerland and bought the workshop and the name of Chopard in 1963. The Happy Diamonds watches launched in 1976 – the brainchild of Ronald Kurowski, a stage designer who also happened to be the designer of the Chopard stand at the Basel fair – proved to be game-changers. Their success was the result of a genuine interaction between watchmaking, micromechanics and jewellery, since each floating diamond is set in a kind of socket with a rounded base that makes it dance over the dial.
But it's to Karl-Friedrich Scheufele that we owe Chopard's transformation into a real watchmaker. Even before the Swatch Group announced its restrictions on movement supplies, he was convinced that he had to have control over his own internal industrial tool to gain independence and to endure. And so he opened a watchmaking manufacture in Fleurier in 1996. No one expected to see him move into that territory, and the whole thing was done in total secrecy. Since then, however, he has amply proved that he is capable of producing movements of the highest quality. And even of reviving a name like Ferdinand Berthoud, which produces highly complicated watches entirely in-house.
The Cannes Palme d'Or, designed by Caroline Scheufele
In the meantime, Karl-Friedrich's sister Caroline, who was equally convinced that Chopard had a card to play in the jewellery domain, set off to conquer the Cannes Film Festival. In 1998 she redesigned the Palme award given to the winners, and it is her jewels and jewellery creations that adorn the necks and wrists of many a star. A double success.
Cartier is quite a different case. In line with its motto "Jeweller of Kings, King of Jewellers", which suits it very well, Cartier the jeweller has gone through some extraordinary creative phases historically. I'm thinking especially of the Art Deco period, and the legendary designer Jeanne Toussaint, the woman behind the Panthère, who produced some extraordinary pieces between 1933 and 1970. Decades of intense creativity. I'm also thinking of the exuberant years of extravagant requests from certain customers, like the singer Maria Félix, for example, and her iconic Crocodile necklaces. Cartier has had great designers and great customers. An outstanding history.
Maria Félix wearing her Cartier Crocodile necklace

© Photograph by Snowdon / Trunk Archive
But where watchmaking is concerned, Cartier has remained first and foremost a jeweller who also makes watches and reissues its iconic pieces – the Tank, the Baignoire, the Crash and so on – on an industrial scale. With the exception of one period, now over, during which Carole Forestier, when she was in charge of R&D at the Cartier manufacture, set up and led a genuine fine watchmaking department with which she designed some extraordinary models, I feel that Cartier has not succeeded in becoming a fully-fledged watchmaker, or has given up trying. And that's despite its industrial tooling and its investment in the arts and crafts. But from the jewellery making perspective, what the company has produced since its inception in 1847 is still dazzling.
Bulgari followed a slightly different path, and today you could say that the Rome-based jeweller has grown into a genuine watchmaker. The foundations for the transformation were laid twenty years ago, with the purchase of Gérald Genta and Daniel Roth in 2000, but it was with the arrival of Jean-Christophe Babin, the ex-CEO of TAG Heuer, who was appointed head of both the jewellery and watchmaking arms, that Bulgari's watchmaking business fully asserted itself with the exceptional Octo Finissimo series. Equipped with innovative, ultra-thin in-house movements, they've become the new watchmaking icons of the 21st century.
Bulgari Serpenti bracelet watch in golds with polychrome enamel dial and emeralds, 1967
But the bridge to jewellery is the other icon, the Serpenti watch, which was designed in 1940 and lends itself to a thousand horological and jewellery interpretations. The Serpenti harks back to Bulgari's grand jewellery period. The 1950s, 1960s and 1970s saw the emergence of jewels of extraordinary colour, with a mixture of materials, precious and semi-precious stones, in designs of exceptional taste. For me, Bulgari's vintage jewellery is the most beautiful, the most dazzling, the most colourful. It's truly emblematic of la dolce vita and the perfect counterpart to fashion like Pucci's. Gianni Bulgari, who headed up the company from the 1960s to the 1980s, was an enchanting colourist.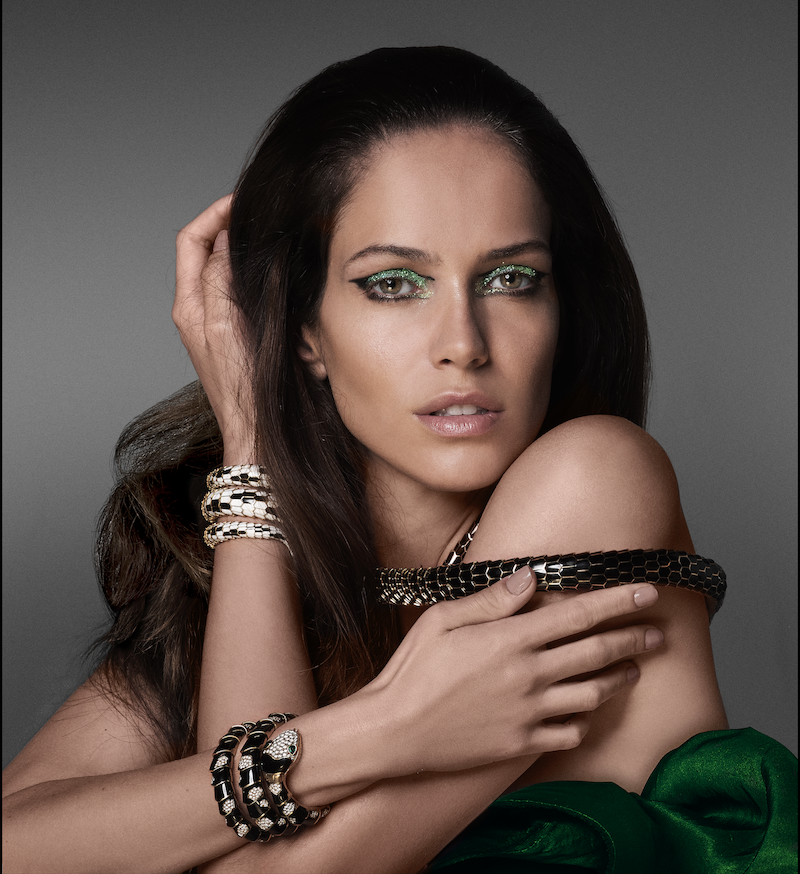 From haute couture to jewellery and watchmaking
It's not only jewellers that have become fully-fledged watchmakers. There are also a number of fashion companies that have succeeded in establishing themselves as quality watchmakers, unimpeded by the superego that sometimes constrains traditional watchmakers.
The best example of that is Chanel. In actual fact, when Karl Lagerfeld finally agreed – after two requests – to become Chanel's artistic director in 1983, the company was in serious decline. He gave it phenomenal impetus by returning to the source styles of Gabrielle Chanel, strictly and systematically imposing her codes, the logo with the double C, on which he played, the black and the white, the camellia, etc.
Historically, jewellery was part of the legacy, so to speak, of Gabrielle Chanel, who loved playing with accessories and created her first luxury jewellery collection, Bijoux de diamants, in 1932 – much to the displeasure of the jewellers of Place Vendôme, who did all they could to have her exhibition cancelled. But it wasn't until 1993 that Chanel launched its own line of jewellery. Since then, the company has put its signature to some beautiful designs in the high-jewellery domain, a department headed today by Patrice Leguéreau, such as the recent Escale à Venise collection.
"Gabrielle Chanel created her first luxury jewellery collection in 1932 – much to the displeasure of the jewellers of Place Vendôme, who did all they could to have her exhibition cancelled."
Where watches are concerned, the real successes are of course well-known, not only the J12 but also the Boy-Friend, the Première and others, and we can appreciate the constant, steady way Chanel has built up its own production tool step by step. But what I remember above all are the company's Métiers d'Art watches. The daintiest of them all has to be the Coromandel collection, inspired by the lacquer screens of the same name ornamenting the apartments of Gabrielle Chanel on Rue Cambon in Paris.
The Camélia Baroque Watch from Chanel's Escale à Venise collection
That's the real bridge to haute couture, because Chanel has pursued a consistent and highly intelligent policy of buying rare workshops of dying-out arts and crafts, such as feather-working, embroidery and parurerie, costume jewellery, millinery, etc. Across fashion, haute couture, perfumery, jewellery and watchmaking, Chanel is truly consistent.
The jeweller of feeling
Given the recent news, we can't not mention Tiffany & Co., the recent takeover of which by LVMH caused plenty of ink to flow. Tiffany & Co. is really a "jeweller of feeling".
Tiffany & Co.'s enormous strength lies in the fact that it's an emotional jewellery store, a jewellery store of tenderness. It's a relationship that can start at birth and follow you your whole life long. Unlike at other jewellery stores, at Tiffany & Co.'s you can find literally everything: jewellery of course, including some iconic pieces, but also photo frames, tableware for babies, key rings, objects symbolising love or friendship – and watches.
That's where the power of the brand lies. It's a very American phenomenon that says: create a strong bond with the customer, a bond that endures. That's what LVMH bought. At Tiffany & Co., you can start with some small item and then, via love trinkets, homewares, accessories, ascend to magnificent jewellery or designer pieces, such as the emblematic Bone cuff by Elsa Peretti, created in 1974, or the Fish collection designed by the architect Frank Gehry. Far from its conservative image, Tiffany & Co. also knows how to surprise.
The Bone Cuff by Elsa Peretti for Tiffany & Co.
"Far from its conservative image, Tiffany & Co. also knows how to surprise."
When you wear Tiffany & Co. jewellery, you certainly manifest your affiliation to a certain group, but above all you express a taste that corresponds to a certain historical American conformism. Tiffany & Co. is also a dream that is accessible to everyone, or almost.
Originally a small souvenir shop, the company was founded in 1837 and was the first to use sterling silver, the purest kind of silver. As for the famous pale turquoise colour of the box, that has been used since 1845. And let's not forget that the company specialised in diamonds from as early as 1848, and in 1871 became the diamond "king" when it bought the nearly 300 carats of rough yellow diamond that would become the Tiffany & Co. Diamond, for $18,000. That's how legitimate a jeweller the company is.
Among its vast range, Tiffany & Co. of course also sells watches. But even so, it can't be called a watchmaking company. At least not for the moment. But who knows exactly what LVMH intends to do with it?
Isabelle Cerboneschi created and hosts the online magazine ALL.I.C.