I
n an interview with Europa Star in October 2022, master jeweller Pierre Salanitro announced a new string to his bow, creating precious objects under his own name and in collaboration with brands, artists and schools: "Not watches, so as not to compete with my clients, and only one-of-a-kind pieces: jewellery, objects, games, art, etc.". He began with Talisman, a line of jewellery in collaboration with The Unnamed Society. Now, a few months later, he presents the first objets d'art from his S by Salanitro label.
Thursday March 23. The aristocracy of the watch world gathered at the Bailly Gallery to see Pierre Salanitro's latest creations, expecting jewellery. Instead, they discovered objects worthy of a twenty-first-century cabinet of wonders: masks in vermeil and diamonds, inspired by indigenous art; backgammon sets with checkers in titanium, diamond, sapphire, black diamond and ruby, and a monumental mirror embellished with a memento mori represented in fine stones, by the Geneva-based interior designer Aline Erbeia.
Pierre Salanitro introduced the evening's audience to objects worthy of a twenty-first-century cabinet of wonders.
From koi carp to masks
Pierre Salanitro is a renowned gem-setter. Salanitro SA, the company he founded in 1990, works for many of the most desirable watch brands. "But I wanted to create objects that would reflect who I am, objects straight out of my imagination." And indeed he has.
The spark for the project, which matured over a period of three years, came while Pierre Salanitro was travelling in Asia. At a dinner one evening, another guest, a koi carp enthusiast, told him about koi beauty contests and how the owner of the winning fish traditionally presents his close circle with a gift. As the conversation progressed, he asked Pierre Salanitro if he could reproduce his champion fish in lacquer and precious stones. The jeweller seized the challenge. This would be his first precious object and, we hope, one of many to come.
Pierre Salanitro is the founder of one of the most highly regarded stone-setting companies. Recently he launched his own label for objets d'art and jewellery.
Pierre Salanitro then got in touch with ECAL, Lausanne's famed university of art and design, with an idea for a collaboration. Fourteen design students responded to the creative brief to imagine an original object, anything other than a watch, that could be set with stones. Several projects caught the jeweller's eye, including one which he went on to make: masks.
Pierre Salanitro contacted ECAL with an idea for a collaboration. Fourteen students responded to the brief. Several projects caught the jeweller's eye, including one which he went on to make: masks.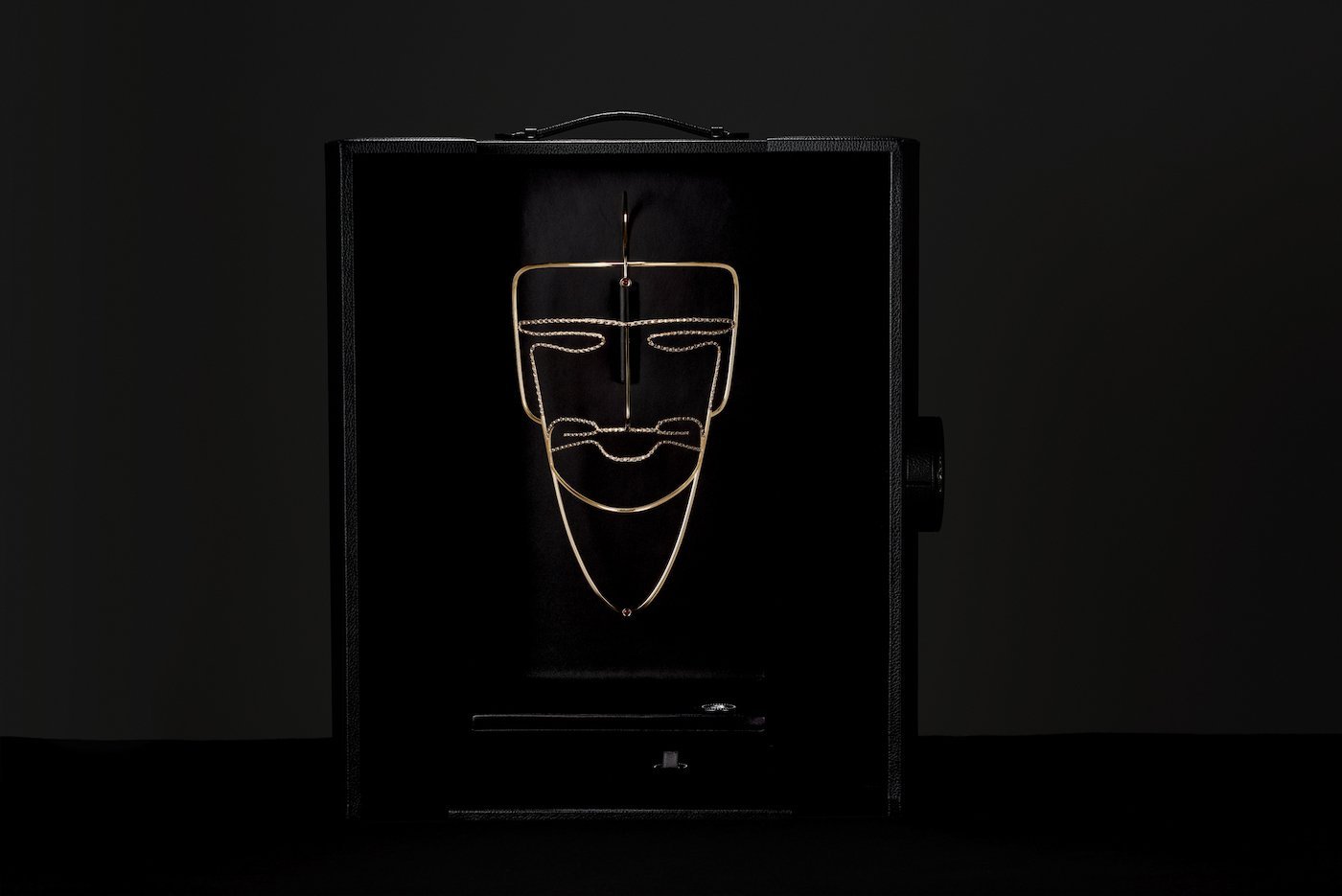 "The work must take precedence"
A mask is no ordinary object. We think of it as an amusing accessory or a disguise, but it has many other dimensions. A mask is an artwork shown in museums of indigenous art all over the world. More importantly, it possesses a magical force. In rituals, the wearer of a mask takes the identity of a spirit power. In many traditions the mask is a sacred object that connects the visible world with the invisible world. Artists in the early twentieth century – none more so than Picasso whose Demoiselles d'Avignon is the most literal citation – were more concerned with the shape of masks and their aesthetic value, yet we cannot overlook their thaumaturgic role.
"We looked at original, well-known masks to then interpret them creatively, from a contemporary perspective," says Pierre Salanitro. The first, which he's named Le Guerrier (the warrior), is inspired by the Mesoamerican Malinaltepec mask in hard stone, found in south-west Mexico in 1921.
Detail from the mask
Not unlike the faces painted by Alexej von Jawlensky, the mask crafted in Salanitro SA's workshops is a stylised version of the original. A few simple lines suffice. "We created our masks in vermeil, which is gold-plated silver, as it's a metal that was used for antique jewellery, but our Bespoke department can offer them in other materials at the customer's request." The mask is set with 214 white diamonds and two rubies using the serti descendu* technique, with the addition of delicate engraving. "The setting is deliberately subtle. We didn't want it to be the first thing to draw the eye. The work must take precedence."
The mask is a sacred object which in many traditions connects the visible world with the invisible world.
Backgammon and calavera
The second object on show at the Bailly Gallery is a backgammon set, or rather three backgammon sets, each different. The box is made from Swiss wood and bound in leather. The thirty titanium and leather checkers are set with black diamonds, white diamonds, sapphires or rubies. The points on the board are also gem-set. "The dice are precision dice which have been measured and weighed. However, the doubling cube [for raising the stakes in a game] is in titanium and diamonds. We have the expertise needed for setting this much harder metal."
The backgammon set imagined by Pierre Salanitro
The third object is a mirror embellished with a skull, inspired by Mexican calaveras and interpreted with 1,277 fine stones, "each of which has a symbolic value and a virtue." The mirror is a collaboration with the Geneva-based interior designer and designer Aline Erbeia, a long-time friend of Pierre Salanitro. Each year he aims to present ten new mirrors, inspired by different cultures.
The remarkable mirror created with the Geneva-based interior designer Aline Erbeia
Habitually, Pierre Salanitro works to customers' requirements. The objects he creates under his S by Salanitro label must satisfy a far more demanding client: his own imagination.
Thanks to his S by Salanitro label, the master jeweller can satisfy his imagination.
*Metal is carved to form the claws that secure the stones. The edges are then cut at the base to allow more of the stone to be seen.