"W
e said it at the launch of the bright red ceramic three years ago: almost all Pantone colours are within the reach of our ceramic." Hublot boss Ricardo Guadalupe made no secret of his satisfaction at the introduction of the new bright yellow Big Bang Unico Yellow Magic, which required two years of R&D. Steering well clear of the low-key retro trends that have taken hold of many manufacturers, Hublot is redoubling its efforts to create new products that have their own flashy charm!
In addition to the bright yellow ceramic, the brand is also introducing a model made entirely of sapphire (including the bracelet), and another fully set with diamonds. Indeed, when you're not content to reissue icons from the past, the challenge is to keep innovating, at the risk of being overtaken, as far as materials research and audacious designs are concerned, by competitors. It is this perpetual race for innovation that we wanted to discuss with Ricardo Guadalupe.
When you're not reissuing the same icons from the past, the challenge is that you have to constantly innovate.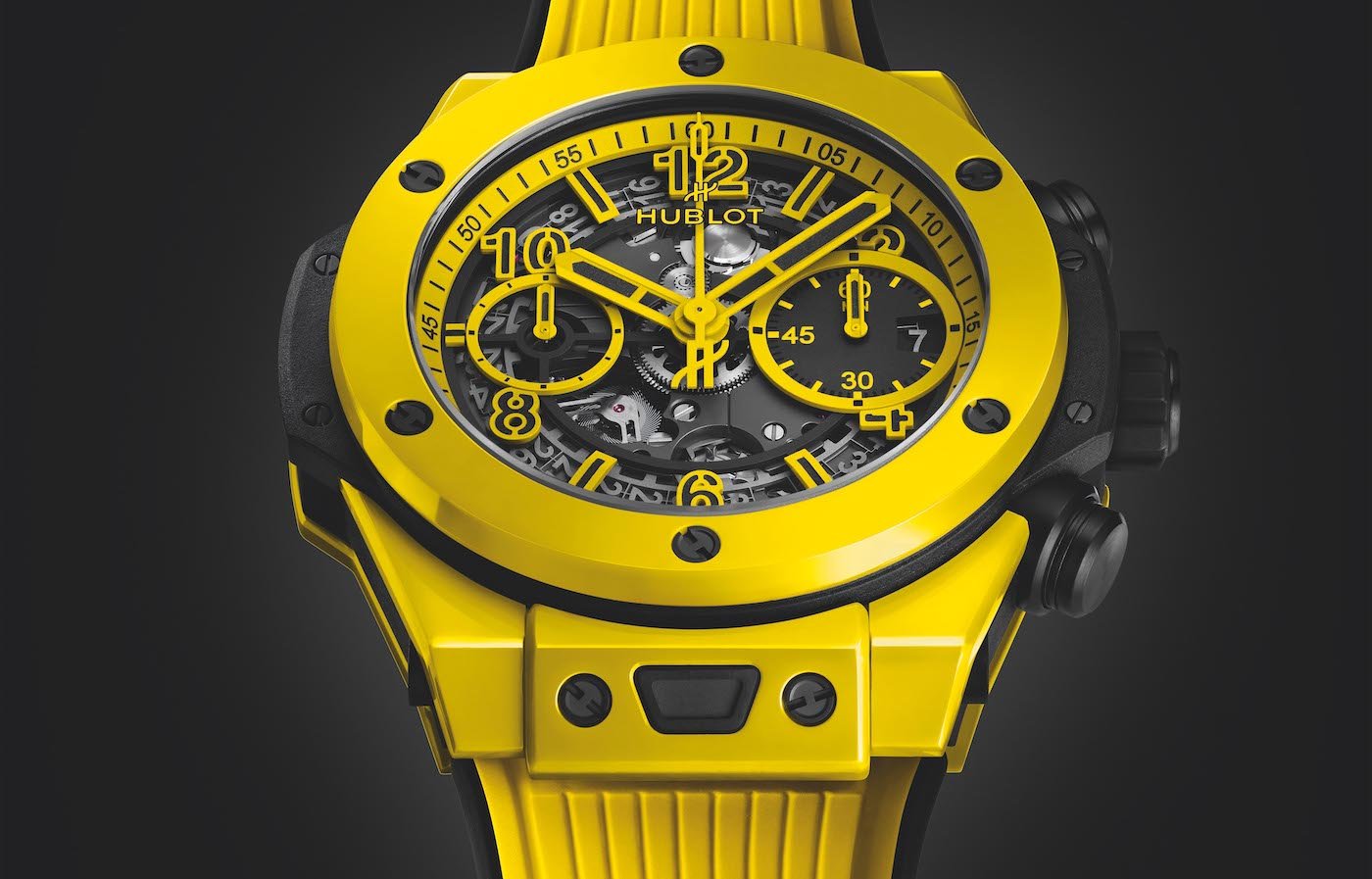 Europa Star: In 2021, you are continuing your experimentation with materials such as sapphire and the Yellow Magic ceramic. Can this vein of materials research, which is so specific to Hublot, be exploited indefinitely?
Ricardo Guadalupe: We started experimenting with certain materials very early on. These included ceramics, with our All Black model in 2006, which made a big impression. But we are no longer the only ones; many other brands, including some of the biggest, have followed us down this path. Since then, ceramic has become an increasingly popular material in watchmaking. To continue to differentiate ourselves, we have taken a new path with brightly coloured ceramics. And there is still a lot to do in that direction...
What were the main challenges in the development of the bright yellow ceramic?
When you are dealing with darker colours like navy blue or army green, it's less of a challenge than with bright colours. The first colour that comes to mind is bright red: this was certainly the most difficult to achieve because it was the first bright colour we interpreted in ceramics, with our Red Magic, which we introduced in 2018. We work with very high temperatures and high pressures, and there is always the risk of scorching the pigments. With this bright red, we really learned a lot and it allowed us to apply those lessons to other bright colours, including Yellow Magic today.
"To continue to differentiate ourselves, we took a new path: innovation with brightly coloured ceramics."
After red in 2018, its first brightly coloured ceramic, Hublot extends its palette to bright yellow on the Big Bang Unico Yellow Magic.
Do you have any other colours in the pipeline?
We do have other plans in the pipeline, including a bright orange. But it's important to know that it takes an average of two years to develop a new coloured ceramic – that's how long it takes to find the right shade and industrialise the research. With bright colours especially, small defects can be generated at different times in the manufacturing process. This is a constant challenge, but one that makes Hublot the leading brand in coloured ceramics.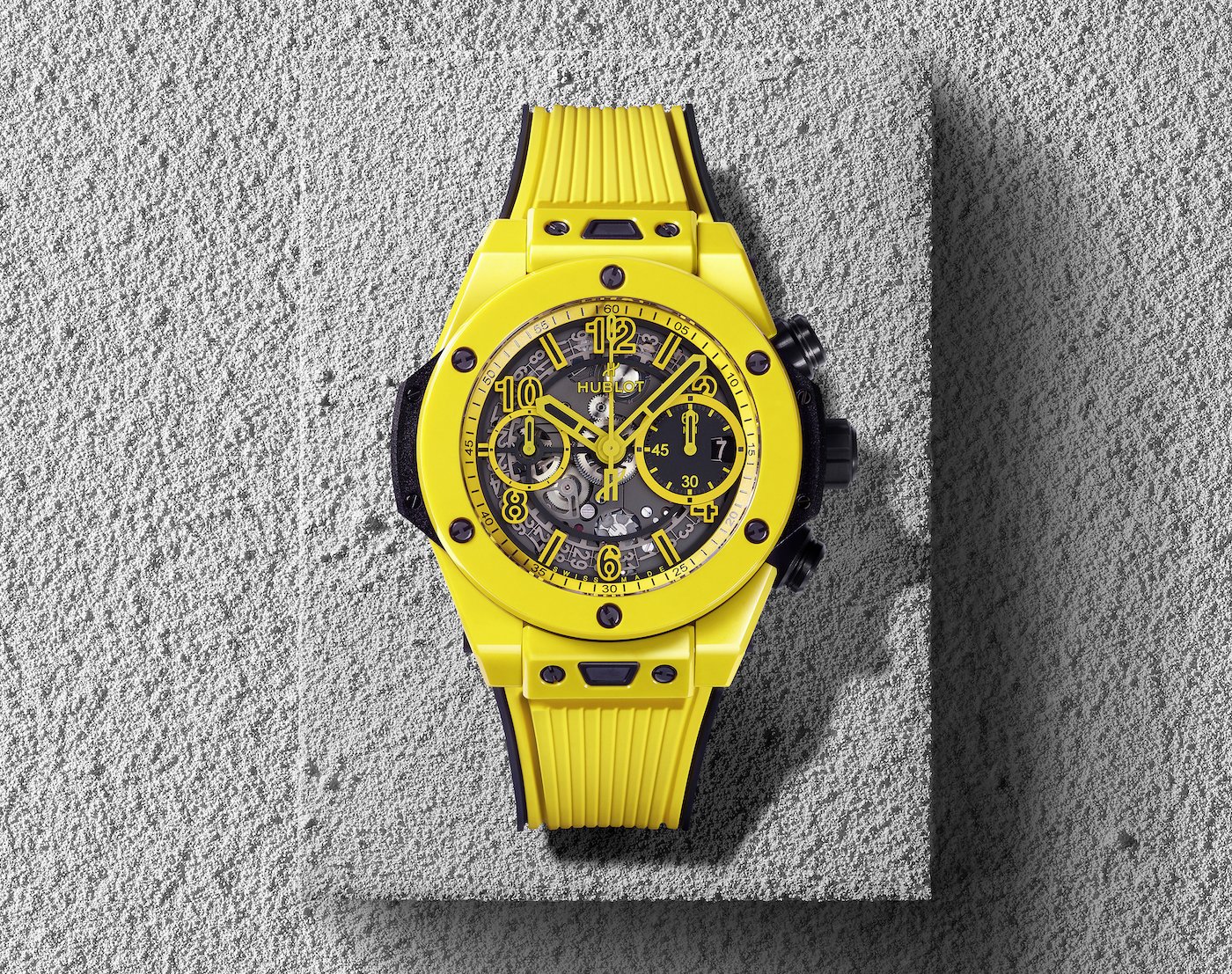 You are also using blue, white and grey ceramic in a new Big Bang series in collaboration with Swiss tattoo artist Maxime Plescia-Büchi (Sang Bleu)...
In order to differentiate ourselves, we must try to offer watches that can be polarising: that is the vocation of our brand. Whether it is with this Big Bang Sang Bleu II or the Classic Fusion recently created with the Japanese artist Takashi Murakami, inspired by his symbol of the animated flower, we are trying to achieve the perfect fusion between art and watchmaking, to better achieve the art of watchmaking. These collaborations go a long way, beginning from the very conception of the models – it is not "cosmetic". In the end, these models are works of art in themselves. And there is strong demand from customers for this kind of uncompromising design: I must admit that I myself have been surprised by their commercial success!
Hublot and Sang Bleu are collaborating on a new ceramic triptych, three Big Bangs in limited series.
Aside from these very specific models, you engage in "mass" sponsorship through football. How do you reconcile these two very different facets?
By using both to good effect. On the football side, we are more concerned with brand recognition than with specific models: it's about global awareness, getting the Hublot name into people's minds. On the other hand, through collaborations like the one with Takashi Murakami, we are able to reach new collectors.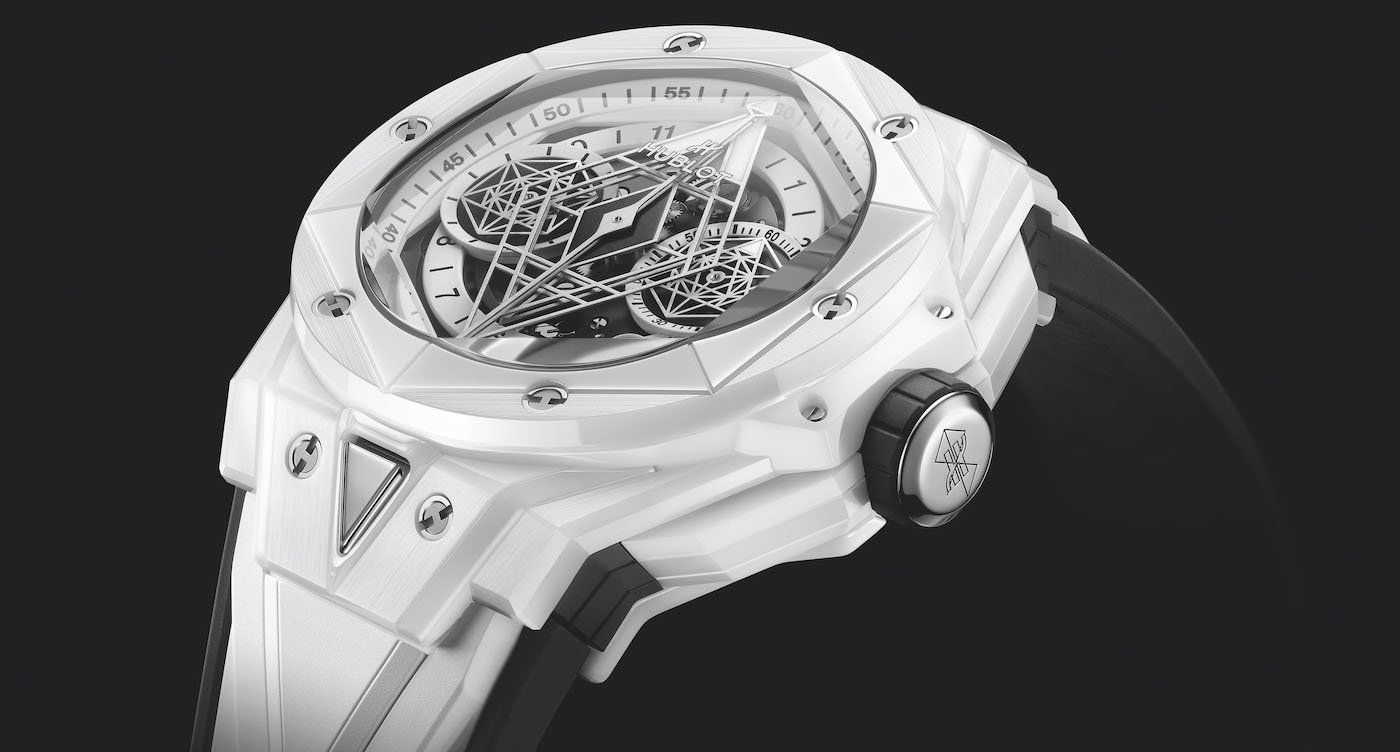 Vintage is popular: the trend is dominating the watchmaking scene and seducing younger generations. That's not necessarily good news for Hublot's style of watchmaking...
You're definitely not going to see Hublot on the vintage bandwagon! Even if we wanted to, we couldn't really because of our relatively recent history. I don't think you can ever really repeat history, and it's not our vocation anyway. We have only produced one reissue, that of our first model, to celebrate the brand's 40th anniversary last year. And even then it was not an exact replica of the Classic Original, precisely because we are not into nostalgia. That would not be the right approach for Hublot. We are following our own destiny, which is to constantly try to reinvent watchmaking through our innovations in materials but also in mechanics. The fact of revealing the movement is more than ever a part of the perceived value of a watch today. But in the end, everyone can have their own vision!
"You certainly won't see Hublot on the vintage bandwagon! We have only produced one re-edition, that of our first model, for the brand's 40th anniversary last year. And even then it wasn't an exact replica."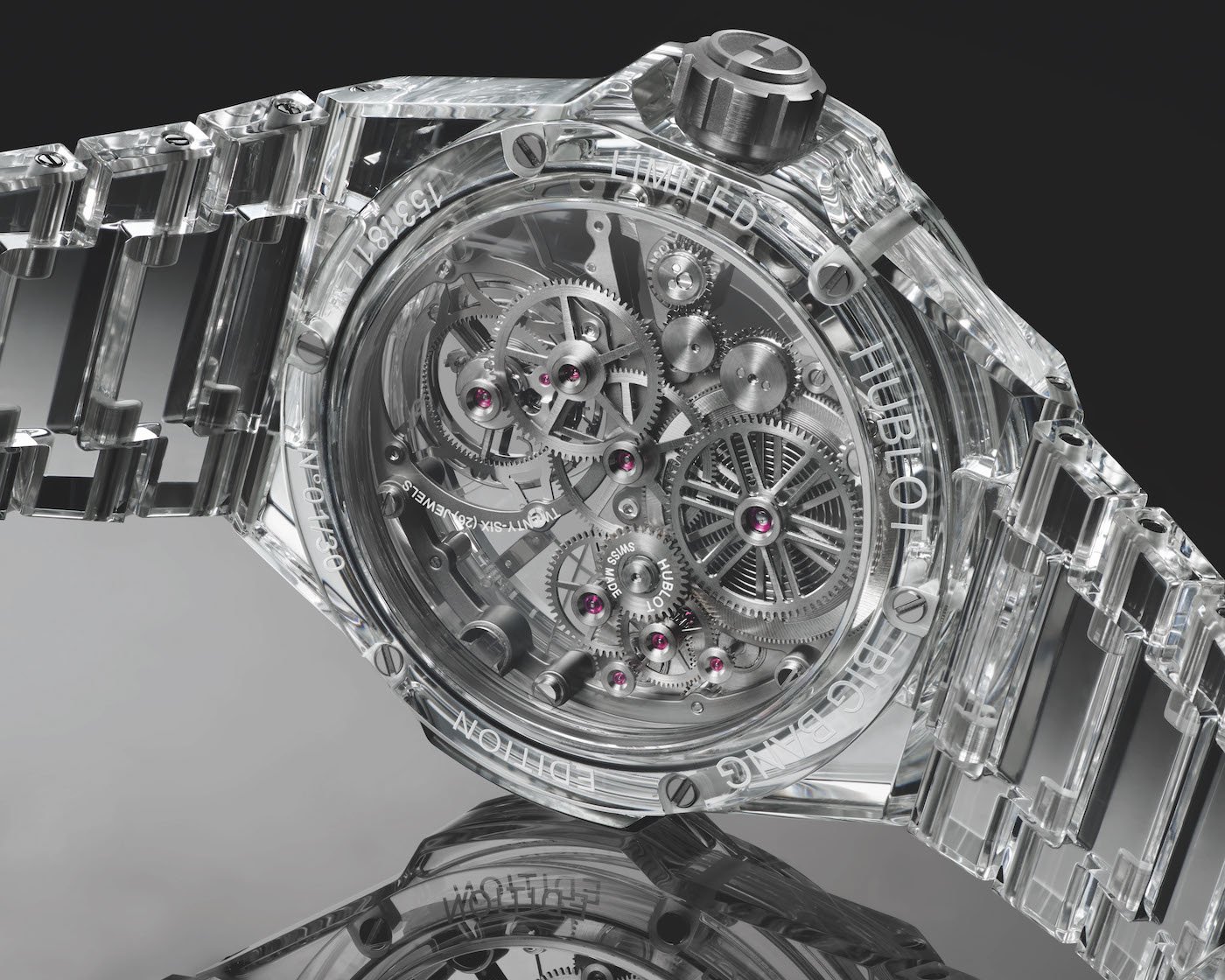 A further technical challenge this year concerns another material that is growing in popularity: sapphire. You've used it for the case but also for the bracelet of the Big Bang Integral Tourbillon Full Sapphire, which is aptly named...
Indeed, no compromise on this model: the material 'takes possession' of the piece – the sapphire itself drives the design of the watch. In 2016, we recorded a great achievement by releasing the Big Bang Unico Sapphire, our first sapphire watch. For this new development, the case of the new Big Bang Integral Tourbillon Full Sapphire has been reconstructed in its entirety to house the automatic tourbillon movement. The case is composed of no fewer than 37 components, five of which are made solely from sapphire. The goal was to remove almost all of the visible screws and overhaul the general geometry of the case to integrate it with the sapphire bracelet.
The bracelet was also a complex challenge: it alone comprises 165 components, 22 of which are made from sapphire. Of particular note are the titanium inserts we developed, which have been ultra-reduced to ensure they do not protrude from the sides of each bracelet link. It's a high-tech piece, the result of a very complex process.
"On the Big Bang Integral Tourbillon Full Sapphire, the material itself 'takes possession' of the piece."
A new integrated bracelet and a custom-made case in sapphire for the new Big Bang Integral Tourbillon Full Sapphire. Hublot has continued to invest in this path since its first sapphire watch five years ago.
Like ceramics, sapphire is being used by a growing number of brands... Is that what forced you to push the exercise of integrating this material so far?
We remain the leader in the industrialisation of this material because we started before the others and therefore have more experience. As with ceramics, research into sapphire continues to evolve constantly – even if, with this piece, I believe we are approaching the peak of our art... We were also the first to offer orange sapphire earlier this year with the Big Bang Tourbillon Automatic Orange Sapphire. It's natural to be followed by others – but we don't want to be outpaced!
These models, whether they are disruptive in design, materials or mechanics, also serve to illustrate our R&D capacity. By definition, their production is limited, although we could certainly sell more. For example, we produced 200 Classic Fusion Takashi Murakami watches. We could have sold almost ten times as many, but we want to maintain a sense of rarity and perceived value. All our Classic Fusion models, which make up a large part of our sales, benefit commercially from this knock-on effect.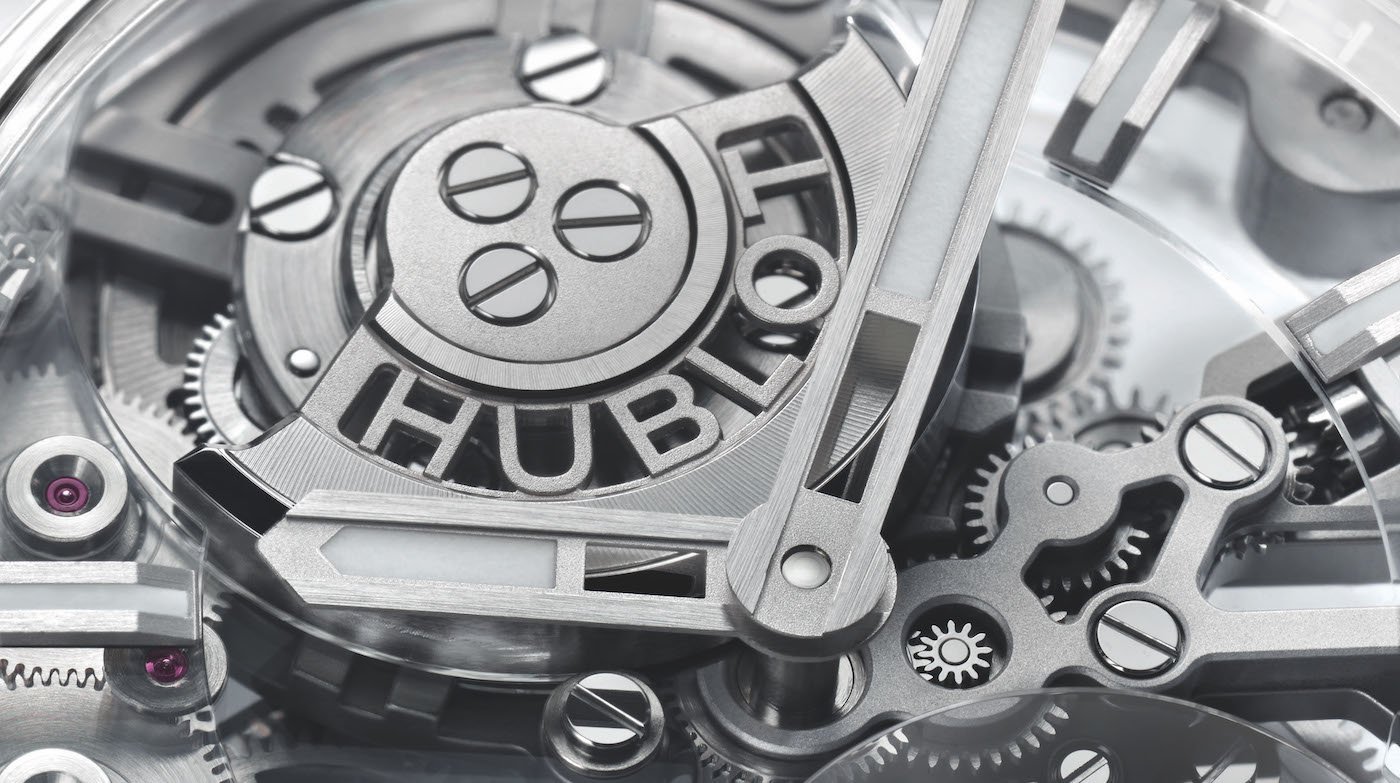 How do you see watch distribution in a post-Covid future? It no longer seems to be a problem to buy pieces costing tens of thousands of francs online...
It's true that e-commerce has accelerated, especially since 80% of our physical distribution around the world was blocked last year. We launched our own e-commerce platform in July 2020 but online sales are still limited at the moment. The idea was to be able to keep in touch with our customers. We are on a learning curve in terms of creating a good online customer experience; it's not enough to display an image of your watch with a price. Also, we still need to develop our network of physical stores, especially in mainland China.
The Big Bang Integral Tourbillon High Jewellery, a new fully set unique piece (484 baguette-cut diamonds totalling 31 carats)