T
he situation changes daily. And if you look closely enough, you can also see that projects which did not succeed in collecting the anticipated sum, or were just abandoned by their owners, are still in there. For some, it's a paradise, for others a long purgatory, and for a great majority a fatal slide into the cemetery of stillborn ideas. There, watchmaking does or dies, publicly. But it also continuously reinvents itself, and the show goes on. Here are eight examples among the hundreds of ongoing projects.
CULEM

SOLD ON GMT

Launched in May 2019 by Matthew Cule, "passionate about travel [he writes a travel blog] and fine watches", Culem quite logically devotes its first collections – Portal, Lights and Frame – exclusively to GMT watches. The dial features a three-dimensional world map, while on the back are engraved 24 destinations in GMT and BST zones. The watch is powered by the inevitable automatic ETA 2893-2 and encased beneath a sapphire crystal in an elegant and sober 40mm stainless steel case.
DEPANCEL

"FABRIQUÉ EN FRANCE"

Clément Meynir, originally from the French Jura region and a graduate of the Arts et Métiers science and technology school, launched Depancel in 2018. A contraction of Delage, Panhard and Facel Vega, famous French cars no longer in production today, the name says everything about his inspirations: cars and the industrial vision, and expertise "made in France". And he provides a perfect demonstration of these with Renaissance, an "anti-conformist" collection, the case of which echoes the superb grille of the Delage DB-120 of 1936. It is crafted, assembled, regulated and decorated in France. The movement is the excellent Miyota automatic calibre 9120. €499 if pre-ordered, retail price €649.
LARUZE

TOTEM CARRIES IT OFF

Laruze first saw the light of day on 1 September 2015 after a modest, but "400% successful", international crowdfunding campaign (€37,216) by Audrey and Cindy, two project creators who work for a fashion communications agency in Paris. In June 2019 they launched their first signature collection, the elegant Totem, comprising a three-hander automatic plus date, and an automatic chronograph, both powered by Seiko. But what really catches the eye is the interesting 40mm faceted steel case with a domed sapphire crystal. Rounding out the watch is an interchangeable strap system. Retail price: €495.
RICHARDT & MEJER

NORDIC BEAUTY

Born of a friendship and a shared passion, Richardt & Mejer was founded in Copenhagen in 2015. As its two founders say: "We make watches without any pretentions but are uncompromising as to their geometry, craftsmanship and design." A wholly Scandinavian attitude and aesthetic. Of this, The Lineup, their first collection, is a textbook example. Take the Automatisk / Moss, (Swiss-made calibre STP1-11) and its dual-layer dial in moss green, both matte and with sunray brushing. The case design is impeccably balanced in its Nordic simplicity. A great achievement, for sale on the site by subscription at $656. Future retail price $875.
SEQUENT

THE TESLA AUTOMATIC OF SMARTWATCHES

A genuine Swiss star on Kickstarter, having raised more than 1.2 million dollars in pre-orders in 2017, crowned this year with a Red Dot Design Award and already delivered to 135 countries, Sequent can pride itself on being the sole smartwatch to have a battery powered by an automatic movement. It converts the kinetic energy of your wrist to electrical power. Designed and perfected by the Zurich-based start-up Sequent, a leading smart-tech enterprise in the consumer health sector, the Sequent-SuperCharger2 explores the path of hybrid technology and solves – ecologically, brilliantly and tastefully, because the smart watch is simple and beautiful – the thorny problem of battery autonomy. A new and highly innovative sector that could also turn into a lifeline for the struggling segment of mass-produced mechanical watches. Price: from $179.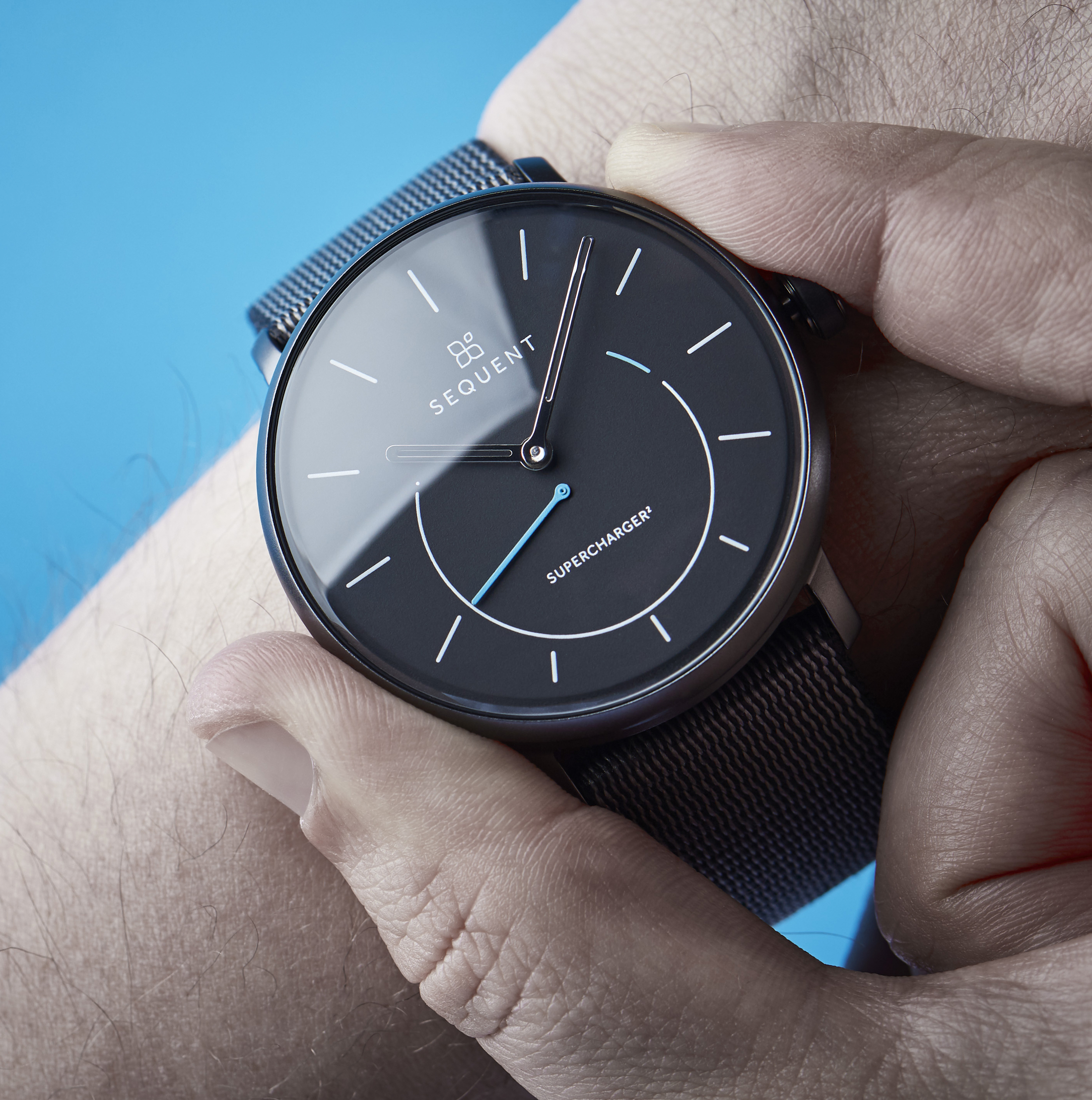 TEMPORE LUX

VINTAGE FROM MAJORCA

Based in Majorca, David Ramirez ran an online watch boutique for ten years before throwing in the towel and launching his own brand which, thanks to a successful Kickstarter campaign, will be kicking off in November 2019. Still online though, because you have to "remove all the costly intermediaries who are often responsible for the fact that product quality is not as high as the price. I know what I'm talking about". His first collection, The Vintage One, is a robust diving watch (down to 300m) with a steel cushion case, sapphire crystal and a rotating ceramic bezel. It comes in two versions: a three-hander plus date and a chronograph. Both are equipped with a Seiko or, for a supplementary charge, Sellita automatic movement. From €349.
XERIC

WITH THE SUPPORT OF NASA

In August 2019, Xeric, San Francisco, announced that its timepiece, the NASA Trappist-1 had received the support of 17,974 contributors, which made it the most popular watchmaking project on Kickstarter, with 5.4 million US dollars raised. It's a fine achievement for this young brand, now on its tenth successful Kickstarter campaign, whose aim is to flout the rules and shake things up with surprising watch propositions. Take the astonishing Trappist-1, for example, which has a grille on the dial inspired by the seven-panelled porthole, the Cupola, recently installed on the International Space Station. There are dozens of models in limited editions, with an automatic Miyota (retail price $450) or quartz (retail price $250) movement. Approved by NASA.
JW WATCH

THE JW-EX, STANDING FOR "EXAGGERATION"

JW Watch was founded in Hong Kong by Jason Chan, a watchmaker- designer, and William Shun, the founder of Memorigin, a brand specialising in tourbillons, and a shareholder in a major manufacturing outfit that "has produced mechanical movements for Swiss brands for 30 years". This marriage of a creator and major manufacturer allows JW Watch to offer highly innovative watches equipped with an original and exclusive skeletonised automatic movement, a beautiful and original finish and a power reserve of 80 hours. The chunky, polished steel case has three sapphire windows beneath which are displayed, on discs, the minutes (at 12 o'clock), the hours on the right and the seconds on the left, side by side with the – visible – balance. From €780 (retail price)