A
simple question: why launch a "new" top-end brand when the market is already cluttered and overflowing with all kinds of offerings? And, how do you go about it?
Xavier de Roquemaurel: I'll be frank. To launch or relaunch a brand means you've first of all hit rock bottom. In my case, I'd just left Ebel and I was out of work. In cases like that, you simply have to get back in the saddle. And you can't do it on your own. You have to be transparent, surround yourself with the right people and give everyone a chance. You also have to be prepared to struggle, to start by studying, thinking, assessing. And in the process of doing that, the very story of Franciszek Czapek became our main inspiration.
There were three of us in the beginning, our chairman Harry Guhl, the watchmaker Sébastien Follonier, and myself. Between 2012 and 2015, the year we presented our first watch, we focused on the story of Czapek, his heritage, values and so on. We had the impression that he was the fourth man, always sitting at our side. And we realised that in him we had a real treasure at our fingertips that was going to help us make something really beautiful.
Xavier De Roquemaurel, CEO
It's one thing to have a beautiful dream of creating a brand, but actually achieving it calls for more than just the product; you have to have a strategy, sufficient funding…
We took three strategic decisions right from the start, although they were largely intuitive (I'm not a fan of Excel tables and Powerpoint presentations). First of all, not to depend on a strong shareholder or billionaire so as to keep our independence and be able to grow at our own pace. Secondly, not to place our egos at the centre, but the product itself. The product should be everything. And thirdly, to start at the bottom and gradually work our way up the market. These three principles have always been our guide.
In line with your first principle of independence, you launched a crowdfunding operation in 2015, which is quite rare at the high end of the market, especially in haute horlogerie.
We ruled out the idea of a reference shareholder from the start. We said to ourselves we had to create as large a circle as possible of brand lovers. Our objective was to find 1,000 shareholders. Today, we've reached the 200 mark, but it isn't the number that counts, it's the quality of the exchanges that arise from this amplifying circle.
Each and every one of our shareholders has become an ambassador of the brand, each and every one has opened up their network to us, expanding our address book. So Czapek is growing, gradually and organically, rhizome-like, through networks. Of our shareholders, we expect them to become advisors, to give us their ideas and to assess and weigh up our own. One additional virtue of this way of working is the obligation it imposes on us to be transparent. That naturally results in a culture of collaboration.
The second principle: keeping your egos under control…
It's Franciszek Czapek who inspired us, his modesty. Although he was a great watchmaker, he never put himself forward. It was the product he put forward. And then he was a young man, a man of his own time, who disappeared mysteriously in 1869 at the age of 58. We didn't want a burdensome past, a huge personality weighing on the brand. We wanted to be both classic and very modern.
Principle number three: start at the bottom…
Starting "at the bottom" – which is a very relative notion – with a very beautiful, seven-day watch priced at CHF 10,000, was a must, because we were using crowdfunding. In any case we couldn't aim too high. But above all, we knew that it was more important to succeed in selling a watch than to build the brand right away.
It's through sales that the brand was going to be able to go upmarket and prove itself. In 2016, after our first Baselworld, we'd sold one watch. One! By the end of the same year, we'd sold 88. In the meantime, we'd also won the Public Prize at the 2016 GPHG. What better for us than recognition by the public.
We put everything we had into the product so that the buyers really got their money's worth. From the outset, the first two models were equipped with very fine, proprietary movements, developed and built for us by Jean- François Mojon of Chronode (read his portrait below). To put everything we had into the product, we were very frugal, working with very low fixed costs, and we asked our partners to make a special effort.
Lastly, I'd like to add a fourth principle: to make something beautiful. The compulsive quest for a product of beauty down to the slightest detail. Giving shape to modern elegance.
This strategy, to use a word that's not really to your taste – let's rather say this attitude – has it borne fruit?
We haven't attained our targets, but profits were higher than anticipated. To make things absolutely clear, we've been working since 2012, our first fiscal year being 2014. Together with 2015 that was the period during which we established (and re-established) the name and brand of Czapek. It was the period of preparation. 2016 was our first year of trading and 2018 our first profitable year. Our culture is like that of a tortoise that moves slowly forward day after day, without making any strategic 90° turns. There's no reason for it to run, but you thought it was there, under that lettuce, and suddenly you find it over there at the bottom of the garden (laughs).
And how would you define your profile in the watchmaking landscape today?
An independent brand has to choose between a niche approach, price or differentiation. You have to be clear about where you stand in a market of high-end, independent brands which, okay, is continuously expanding, but which today accounts for about 1 percent and will never exceed 3 percent.
But within that, there's room for manoeuvre. Watchmaking know-how has spread worldwide, it has grown incredibly. People are thirsting for genuine quality, beauty, authenticity, beyond the slogans. I would say that we offer haute horlogerie at a different price, between CHF 10,000 and CHF 30,000. Incidentally, our average price is CHF 18,000. So we really opted for differentiation. By nature, we can't be an ultra-niche watchmaker, we have to grow by volume, by means of differentiation. But let's be careful when we talk of volume, we're talking of sales of 100 to 1,000 watches a year.
Place Vendôme Tourbillon Ombres
But before that, you still have to cross successive thresholds, face issues of critical mass…
Yes, but if you stop, you're dead. It's very intensive work. You go through learning phases, especially how not to rush as if your tail was on fire (laughs). You have to avoid cash-burn like the plague, be wary of bottlenecks.
What we're seeking with our product is a horological ideal, half-way between artisanal and industrial production. As far as rising volumes are concerned, one quite crucial threshold is that of 350 items. At that stage, decisions need to be taken, because you can start thinking about integrating additional activities. I'm thinking of laser engraving, certain types of polishing and other things. That kind of integration helps save time, for example. At the next stage, you can start producing internally elements on which you can make real savings. So you make efficiency gains. These are all critical choices that the "tortoise" will take when the time comes.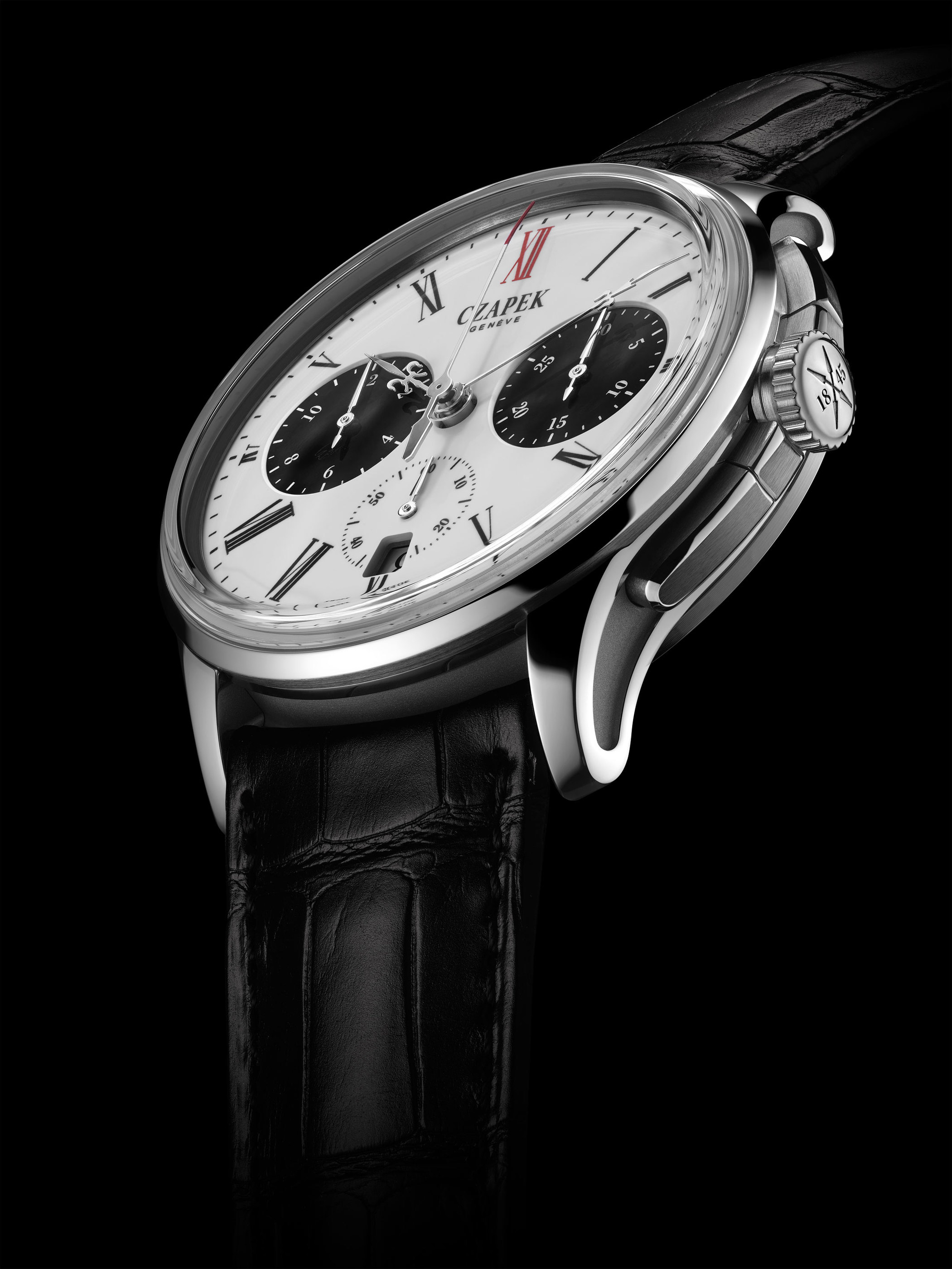 Are you also thinking of the holy Grail of any independent watchmaker, building your own movement?
Since we're purists, of course we're thinking of it. More than that, we're already working on it. It will be a basic movement, 36-41mm, for men and women, and it is being designed in-house. And the watchmaker Emmanuel Bouchet is building the prototype. On the basis of this movement, which we'll present at Baselworld 2020, we want to develop of series of complications that will also enable us to present a new "smart and sporty" style of watch, a new segment at Czapek.
So how would you define Czapek in nutshell?
(Thinks and concentrates): It's the spirit of a great nineteenth- century watchmaker, his culture of beauty and his shared passion, which have made it possible to make something unique today.
FRANCISZEK CZAPEK
1811 Birth of Franciszek Czapek in Semonice, in the kingdom of Bohemia (now the Czech Republic). He emigrated to Poland with his family in his youth, retaining Czech and Polish citizenship.

1832 Franciszek fled to Switzerland following the collapse of the Polish uprising, in which he actively participated. A gifted watchmaker, he soon founded his first company, "Czapek & Moreau", with a local partner, and gallicised his name to François.

1839 François Czapek and Antoine Norbert de Patek, both Polish emigrants, survivors of an insurrection that had forced them to flee, met in 1836. This encounter changed their lives. Czapek invited his countryman Patek to delve into the realm of watchmaking. Together they founded the company Patek, Czapek & Cie on May 1. 1839.

1845 The partnership between François Czapek and Antoine Norbert de Patek lasted six years, during which they created several exceptional timepieces. At the end of their contract, in April 1845, they dissolved the partnership. Both men continued producing timepieces. Czapek founded Czapek & Cie on May 1st,

1845, with a new partner, Juliusz Gruzewski.

1850 Czapek was quickly recognised as one of the greatest watchmakers of the nineteenth century. Purveyor to the Imperial Court, Watchmaker of His Imperial Highness, Prince Napoleon. At its height, the company had boutiques in Geneva, Warsaw and Paris, Place Vendôme. He wrote a book on watchmaking, one of the first of its kind ever written in Polish.

1869 Czapek disappears mysteriously.
Discover more of The New Haute Horlogerie portfolio here below.