ALCHEMISTS CU29
The Alchemists' ambition is huge, nothing less than "to incorporate a whole ecosystem into their first watch collections [with] projects related to sustainable development, professional reintegration and philanthropic activities."
Their first step has been to develop an innovative alloy, Cuprum 479, a patented blend of gold, silver and over 80% copper. This sustainable alloy has no need of surface treatment, is machinable to minute tolerances, can be hand-polished, is "more stable" than 18K gold and offers "beneficial qualities for the body, powerful antibacterial action" thanks to its high copper content, which is a major catalyst for the formation of red blood corpuscles, as well as supporting the immune system and protein and lipid metabolism.
The inaugural timepiece, the Cu29, is a demonstrative watch featuring a variable inertia balance and weight screw at 8 o'clock, a power reserve between 10 and 11 o'clock, indicated by a cursor moving along a peripheral gear bar graded from 0 to 72h, and a selected function indicator (W for wind and S for set) placed between 2 and 3 o'clock. The hour dial in grand feu enamel or stone is placed at 12 o'clock and displays the hours (red hand) and minutes (white hand), while the seconds are displayed off-centre at 6 o'clock. The ring, calibrated into 60 trailing seconds, covers the Cu29's two barrels. The calibre is 100% produced in-house.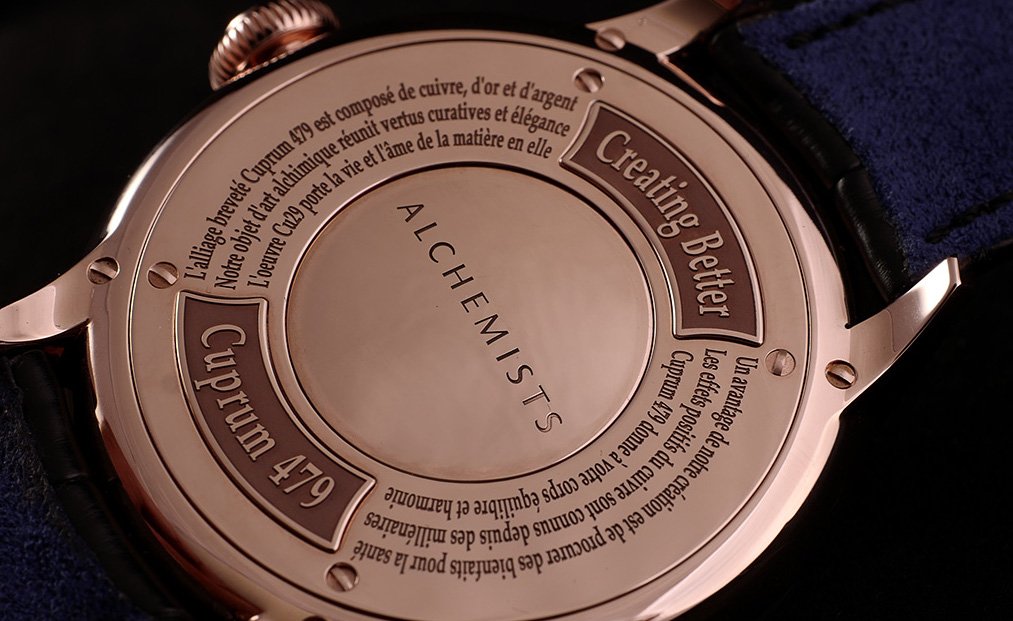 DEWITT ACADEMIA SLIDE
From his childhood in the French countryside Jérôme DeWitt has retained an undiminished passion for fun mechanisms, which he discovered by observing spectacular farm machinery. After the endless screw he presented earlier this year, here is a watch that tells the time by means of tiny slides that glide progressively from the top to the bottom of two rails. The individual hour plates show the current hour when in a horizontal position. But when a new hour begins its glide, the previous hour plate returns to its vertical position in a continuous progression. It's an imposing 49.2 mm diameter timepiece in a titanium case.
Price: CHF 52,000
ARNOLD & SON TIME PYRAMID TOURBILLON
Inspired by the regulators created by John and Roger Arnold more than two hundred years ago, as well as by the antique British clocks characterised by their skeletonised vertical design and conical fusée system, the Time Pyramid Tourbillon displays a one-of-a-kind architecture. The vertically rotating linear gear train connects the two mainspring barrels, which are arranged serially (at 6 o'clock), to the tourbillon escapement (at 12 o'clock). Built on three levels, the tourbillon, flanked by two power reserves, sits above the off-centre hours and minutes dial in sapphire crystal.
Price: This superlatively finished timepiece comes in 18-karat red gold (CHF 46,800) or steel (CHF 37,150).
RUDIS SYLVA OSCILLATEUR HARMONIEUX IN ROSE GOLD
Jacky Epitaux, the man at the helm of Rudis Sylva, is one of the most endearing people in the watchmaking industry of the Jura. Together with a team of the best artisans and watchmakers in the region, ten years ago he launched his Oscillateur Harmonieux, a major invention made up of a regulating organ with two balances connected by means of a sophisticated system of teeth.
These two mainsprings, mounted opposite one another in a cage which executes one rotation per minute, are deployed asymmetrically, supplying continuous energy to the regulating organ and eliminating all gravitational effects when in a vertical position. It is described as "better than any other existing tourbillon". Just under 100 examples of this superbly finished watch have been delivered worldwide, with "zero customer returns", says Jacky Epitaux.
Price: For its 10th anniversary, the Oscillateur Harmonieux is available in titanium (CHF 200,000) or rose gold (CHF 250,000).